Lyadov & Gorky Squares, Nizhny Novgorod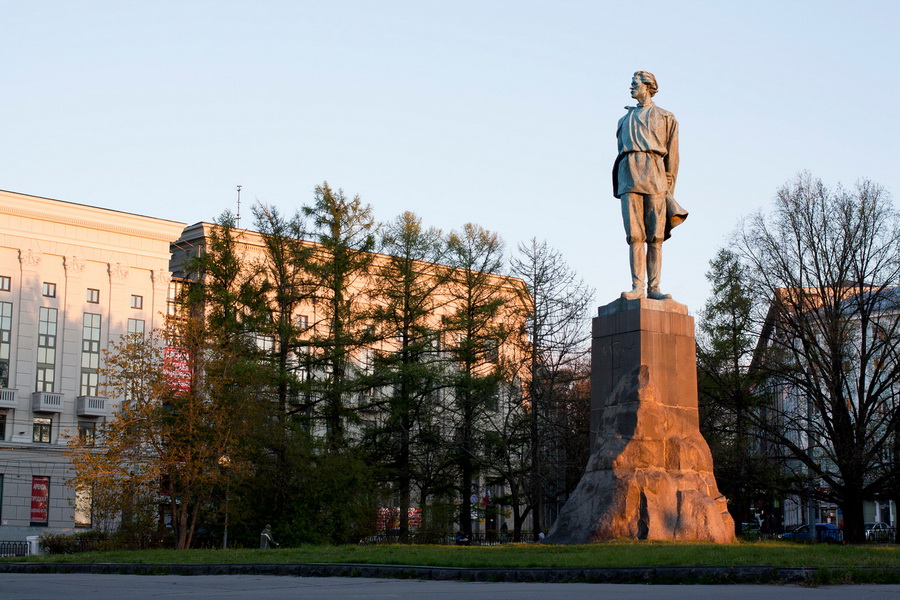 Lyadov & Gorky Squares in the center of Nizhny Novgorod are perfect for relaxing walks in a historical environ.
Lyadov Square is the older of the two plazas. In the Russian Empire it was named after one of its landmarks, Holy Cross Monastery (Krestovozdvizhensky), before simply being referred to as Monastery Square. It was renamed in honor of the revolutionary Soviet leader Martyn Lyadov after his death in 1947. For a short time the square was again renamed after French author Romain Rolland before the name again reverted back to Lyadov Square.
Today Lyadov Square boasts of several landmarks. Across from Holy Cross Monastery is Widows' House, a three-storey home built in 1887 by a merchant named Nikolai Bugrov. True to its name, the shelter was equipped to house needy widows for free and also welcomed orphans and street children, who were housed and educated at the expense of Bugrov. In 2014, a monument was erected on Lyadov Square in memory of the benevolent merchant.
In 2015, a memorial commemorating the Cross of Christ was erected in the center of Lyadov Square. The monument consists of beautiful figures of Constantine's mother Queen Helena, Patriarch Macarius of Jerusalem and a replica of the cross.
Not far from Lyadov Square is Maxim Gorky Square, named in honor of the acclaimed 19th-early 20th century Soviet author. Located at the intersection of Maxim Gorky Street and Bolshaya Pokrovskaya Street, the area was little more than a marsh until Nicholas I visited Nizhny Novgorod in the 19th century and approved a plan for the city's makeover. A local architect designed the layout for the plaza in 1842, and in the coming years a prison, prisoners' school and a boys' shelter were added to the square at the expense of a local noblewoman.
In the late 19th century, one of the largest bazaar in the region was held on Maxim Gorky Square every Wednesday. The market attracted crowds from the surrounding villages, some of whom would spend the night camped out under the open sky. During Soviet times this bazaar, by then called "Srednoy" (Wednesday), was relocated to modern Belinsky Street.
In the early 20th century, a primary school dedicated to Emperor Alexander II was built on Gorky Square. The school was followed in the 1930s by additional city monuments, including Aviation Technical School and a communications house. In the post-World War II years, reconstruction work carried out on the square resulted in a beautiful new layout which was supplemented in 1952 with the Monument to Maxim Gorky.
Lyadov & Gorky Squares are well worth a visit for anyone who is interested in tracing the development of Nizhny Novgorod in the 19th and 20th centuries.