Rukavishnikov Mansion, Nizhny Novgorod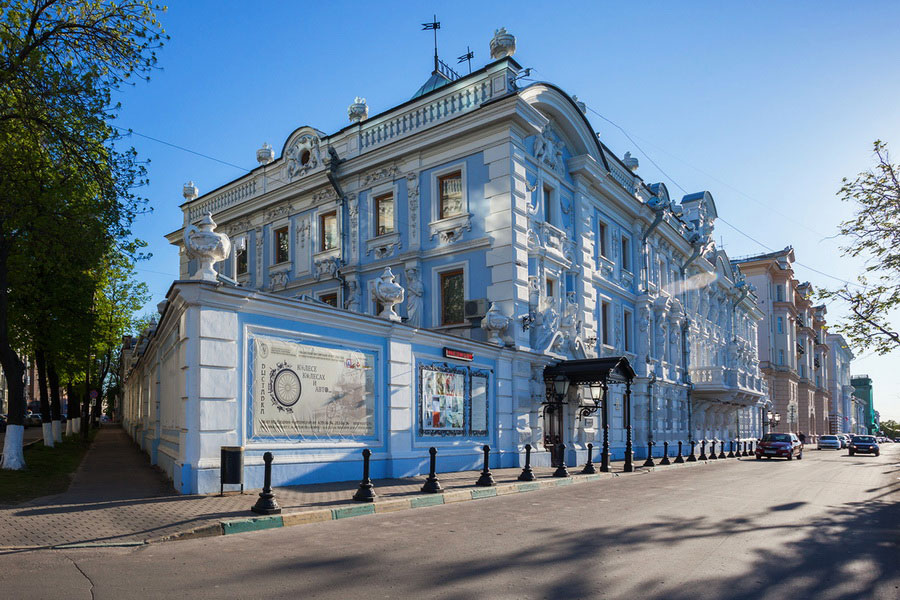 Rukavishnikov Mansion in Nizhny Novgorod is the pride of the city and one of its most striking attractions. This former estate of a millionaire merchant family is reminiscent of a palace and continues to astonish visitors while providing glimpses into the 19th-century Russian aristocracy.
The now-famous building on the Upper Volga Embankment was originally a two-story, classicist-style stone mansion which was built in 1840 by a local merchant. The estate was purchased by Mikhail Grigorievich Rukavishnikov, a merchant of the first guild, and renovated in 1877 to resemble an Italian palazzo. Reconstruction of the home was carried out by a team of architects, engineers and Mikhail Mikeshin, a St. Petersburg artist best known for his monuments "Millennium of Russia" in Veliky Novgorod, "Catherine II" in St. Petersburg and "Bogdan Khmelnitsky" in Kiev.
The palace occupies the eastern corner of the property and faces the Upper Volga Embankment. The estate includes the main house, a two-story wing, stables, a brick fence with a gate and a service building which was constructed in the spirit of eclecticism popular at that time. The mansion has no less than fifty rooms which were intended for a family of eight. The original building was even expanded to include additional wings and a third floor. Rukavishnikov Mansion was the first building in Nizhny Novgorod to have a functioning elevator and electricity. In 1906, a state-of-the art water supply system was installed in the home.
The blue and white palace is plastered with stucco, its window piers embellished with caryatid figures and the second-floor balcony supported by Atlantes. The estate's interior decorator remains unknown, yet his work is phenomenal. As you enter Rukavishnikov Mansion through an ornate, massive door, you will find yourself before a white marble staircase lined with mirrors which are framed by sculptures. The interior is decorated in expensive art parquet and luxurious décor, and on the wall of the first floor is the Rukavishnikov family tree.
The rooms of the mansion impress with their opulent designs, particularly the large rococo-style living room and the picturesque plafonds in the ballroom and anteroom. Even the cozy courtyard is tactfully decorated with a beautiful fountain and a veranda.
The Museum of Local Lore was located inside Rukavishnikov Mansion until 1994, when the home became a branch of the Nizhny Novgorod State Historical and Architectural Museum-Reserve. The original living quarters on the third floor of the house are now dedicated to the history of another famous Nizhny Novgorod family, the Sheremetevs. Rukavishnikov Mansion also houses a permanent exhibition called "Museum Mosaic" and a history room which introduces visitors to famous local merchants and entrepreneurs. Temporary exhibits which focus on local history and architecture are rotated throughout the year.