Christmas Stroganov Church, Nizhny Novgorod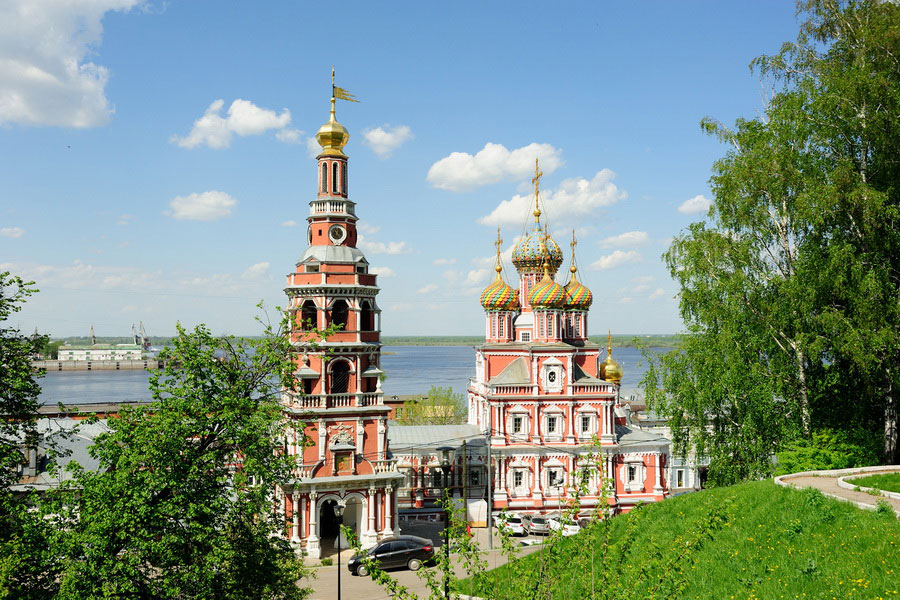 Christmas Stroganov Church in Nizhny Novgorod is distinguished by its colorful exterior and delicate ornamentation. Regarded as one of the finest examples of Russian architecture, it was built in the Stroganov baroque style and embellished with decor of extraordinary beauty. Situated among peaceful, rolling hills, Christmas Stroganov Church has stood for centuries as a testimony of endurance and triumph.
History
Christmas Stroganov Church was built along Nizhny Novgorod's Rozhdestvenskaya Street and named after its patron, a local merchant named Grigory Stroganov. Construction began in 1696, yet just before its completion in 1701 the entire building was destroyed in a fire.
Grigory Stroganov's widow resumed construction of the church after her husband's death. The restored church was consecrated in 1719 but was closed just three years later by order of Peter the Great. Services resumed only after the death of the emperor in 1725.
Fires were a common occurrence in Nizhny Novgorod in those days, and on more than one occasion they did not spare Stroganov Church. Full restoration of the damaged church was carried out from 1807-1812 at the expense of Count Alexander Sergeyevich Stroganov. Half a century later the cathedral's bell tower began to tilt, and within 20 years it had shifted more than a meter from its original location. The bell tower too was restored in 1887.
The Soviets made plans to demolish Christmas Stroganov Church in the 20th century, but thanks to the efforts of its abbot, Father Sergius, it was salvaged from destruction. The church served as a museum for the remainder of the Soviet era before being returned to the Russian Orthodox Church in 1990 and rededicated three years later.
Architecture
The five-domed Christmas Stroganov Church is now the architectural pride of Nizhny Novgorod, and its most distinctive feature is undoubtedly its luxurious carvings. Rich stucco molding with ornamentation in the shape of grapevines, flower wreaths and fruits adorn its colorful outer walls, giving it a pleasing, elegant appearance. The interior decor of Stroganov Church is no less astonishing. Light streams in through the drums and windows in the upper tiers of the small prayer hall, flooding the gold-covered iconostasis with sunshine. The iconostasis itself is magnificent, having been cut from linden and assembled without the use of a single nail or any glue.
Christmas Stroganov Church stretches from West to East and is accompanied by an octagonal bell tower. In the tower's first tier is a solemn arch which serves as the main entrance, while belfries occupy the third and fourth tiers.