Upper Volga Embankment, Nizhny Novgorod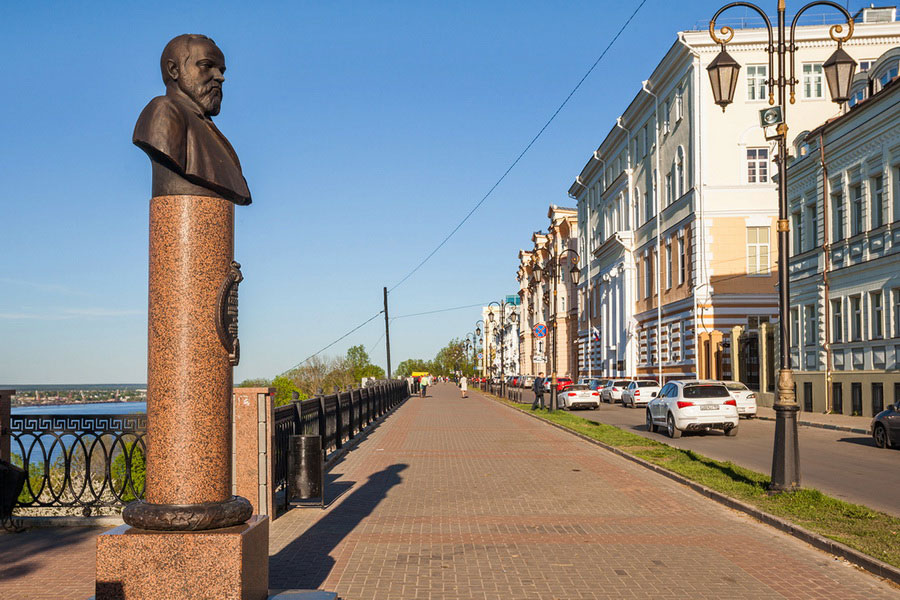 Upper Volga River Embankment in Russia's Nizhny Novgorod attracts with pilots' monuments, picturesque views of the Volga River and scenic streets lined with historic merchant estates which create a lasting impression on travelers.
History
Upon visiting Nizhny Novgorod in 1834, Emperor Nicholas I was immediately entranced by the Volga landscape and ordered the area be built up and beautified. Transformation of Upper Volga Embankment began shortly thereafter, beginning with a spacious boulevard and a city park called Alexander Garden. Streets along the embankment were then paved with cobblestones and lined with picket fences and new stone houses.
During the Soviet era, many historical buildings in the area were irreparably damaged or demolished, including St. George Church after which the river shore had previously been named. Hotel Russia was later built in its place and the street named in honor of the former secretary of the Nizhny Novgorod Provincial Committee, Andrei Zhdanov. Despite these changes, the street's historical appearance was maintained and today it still beckons guests to relax amid its merchant homes and views of the Volga.
Guests to the river shore are greeted with a tall monument to test-pilot Valery Chkalov, while the staircase named after him offers wonderful views of the Volga River. Near Alexander Garden is a model of the Nieuport aircraft in which military pilot Pyotr Nesterov made his famous loop in the early 20th century, while a monument to the pilot himself stands at an intersection nearby.
Notable among the embankment's pre-revolutionary buildings is the merchant Sirotkin's house, designed by the owner to be a museum even before his death. His wish came true, and since 1924 it has housed the Nizhny Novgorod State Art Museum. Nearby is Rukavishnikov's Manion which now houses a branch of the Nizhny Novgorod Historical and Architectural Museum. The mansion itself stands out for its white and blue tones, luxurious finishing and unusual architecture.
House of Railway Workers is a monument to the era of Soviet constructivism and serves as a contrast to the surrounding pre-revolutionary architecture. A seven-storey building, it blends harmoniously with the general view of the river shore while contrasting with the lower surrounding buildings. One such building is the neoclassical Kamensky Estate which belonged to wealthy steamship owners in the early 20th century. A family cache with heirlooms which was discovered during renovations on the house can now be seen in the local history museum.
Another architectural masterpiece along Upper Volga Embankment is Nizhny Novgorod State Technical University, built by Emperor Nicholas I in a Nikolaev classical style to house the Marinsky Institute for Noble Maidens for impoverished women. At the very end of Upper Volga Embankment is a building erected at the beginning of the 20th century by the son of the merchant Rukavishnikov. It formerly housed the Red Cross Hospital before being converted into a gerontology center.