Assumption Cathedral, Rostov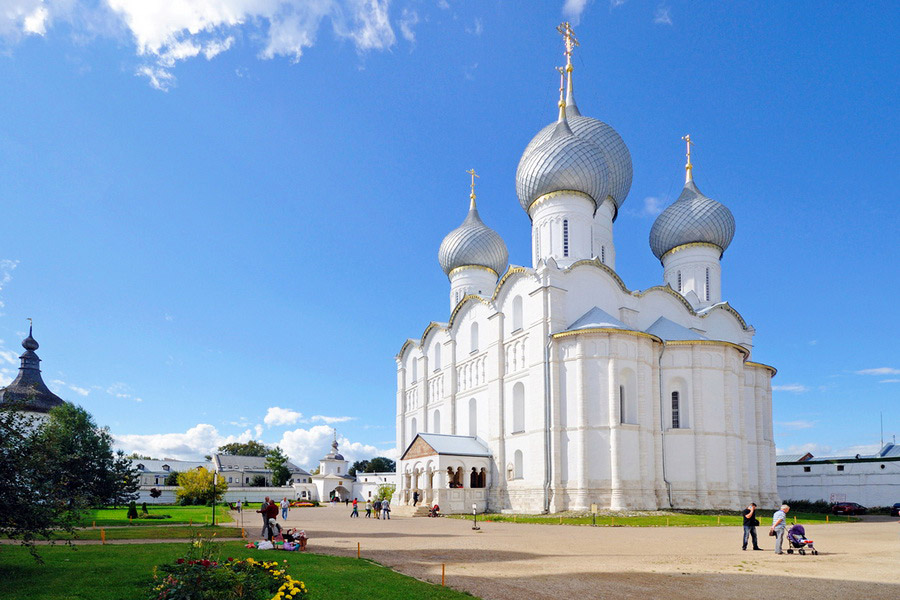 In the center of the city there is the Cathedral Square. There you will see the oldest church in Rostov, the magnificent Assumption Cathedral, which was founded in the time of Yaroslav the Wise. First a wooden church appeared on the central square. It burned down in 1060.
In the time of Andrew Bogolyubsky, in 1161-1162, the site was used for the single-domed stone temple. However, the building lasted only for a few decades - in the beginning of the 13th century it collapsed. The temple was repeatedly burned and rebuilt. Only in 1473 on the site of the ancient temple was erected a magnificent new five-domed cathedral, which today is the architectural treasure of ancient Rostov.
In 1314 the infant Bartholomew, the future St. Sergius of Radonezh was baptized there. In the years of 1682-1687 the famous bell tower of the Assumption Cathedral was erected. There are 15 bells on the belfry. The biggest among them is the Sysoy, weighing 32 tons. Its chime could be heard far beyond the borders of Rostov.