Monastery of Deposition of the Robe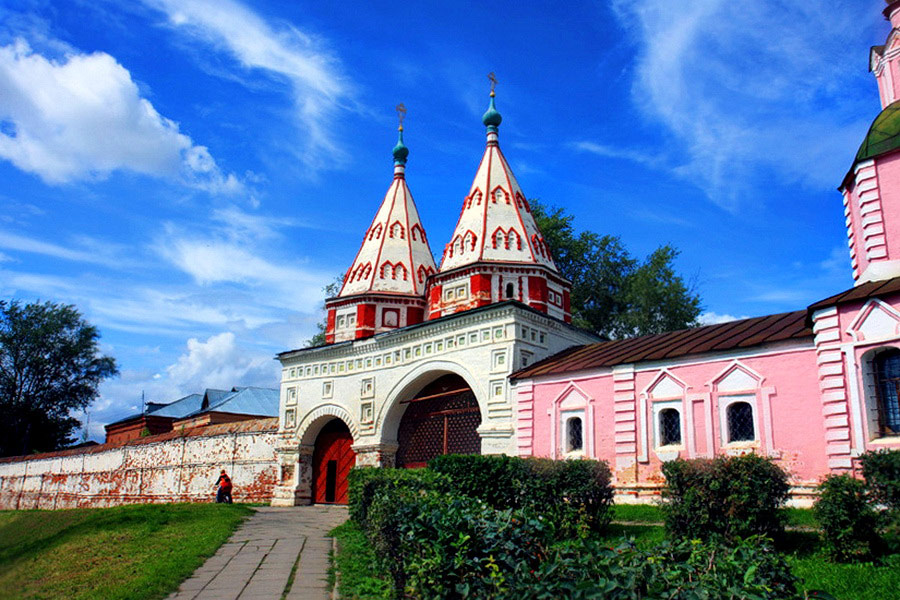 source: lipilin.ru
This convent was founded in the 13th century by Suzdal Bishop, John. The Monastery of Deposition of the Robe is perfectly visible from any point of the city, because it is situated on a hill right in the center of Suzdal. The monastery was made famous by the nun Euphrosyne of Suzdal. According to the legend, it was her prayer that averted the disaster from the monastery during the invasion of Batu Khan, which affected all the monasteries and temples of the city.
The main temple of the monastery is the magnificent Cathedral of the Deposition of the Robe. It was built in the 16th century. The Cathedral's design differs from other Suzdal architecture.The Cathedral of the Deposition of the Robe is crowned with three heads. The central facade is decorated with the figured portals. The southern portal – with semi-columns, the northern - with white stone inserts.
The special attraction of the Monastery of Deposition of the Robe is the Holy Gate (1688) in the southern wall of the monastery. It is a masterpiece of Suzdal architecture. Once the gates were the ceremonial entrance into the monastery, so the architects made it very ornate and colorful. The gate has two arches richly decorated with stone carvings and glazed tiles. On the white surface in the stepped recesses the beautifully colored tiles stand out. The fine tents over the gate based on low faceted towers with tiny windows are decorated with false dormer windows and crowned by small domes.
The later structure of the Monastery of the Deposition of the Robe is the bell tower standing 72 meters tall. This is the tallest building in Suzdal. The bell tower was erected in 1813-1819 to commemorate the victory over Napoleon. The architect created it in classic style - the Empire. The tiered bell tapers upwards and ends with a small elegant onion dome. At the base of the bell tower there is a vaulted passage.