Sviyazhsk Assumption Cathedral and Monastery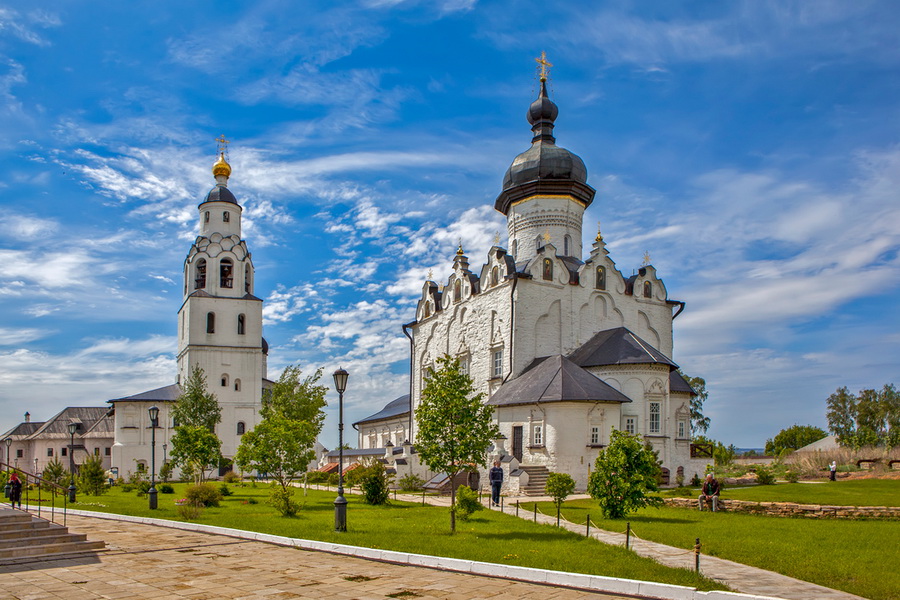 One of the most famous sights on the island town of Sviyazhsk is Sviyazhsk Assumption Cathedral and Monastery, also referred to as Bogoroditsky-Uspensky Monastery. Built in 1556 in conjunction with the formation of the Kazan diocese, it is now a UNESCO World Heritage Site comprised of magnificent medieval churches.
Its founder and first abbot was Archimandrite Herman, who later became the second archbishop of Kazan. Through his efforts, Christianity spread in Tatarstan and Sviyazhsk Assumption Monastery became the center of the Orthodox Church in Kazan and the Middle Volga Region. Herman was canonized after his death and his belongings are now regarded as the monastery's most valuable relic.
In 1923, during the USSR's Anti-Religion Campaign, the chest containing Archbishop Herman's holy relics was opened, a sacrilegious act which purportedly caused a devastating tornado on Sviyazhsk. Soon thereafter the monastery was converted into a prison and later used a psychiatric hospital.
After Sviyazhsk Assumption Monastery was returned to the Russian Orthodox Church in 1997, services and monastic life resumed at the complex. In 2000, the remains of Archbishop Herman were discovered in the cemetery of Church of Yaroslavl Miracle Workers in Kazan and returned to Sviyazhsk Monastery.
The unique architecture of Sviyazhsk Assumption Monastery is unrivaled in the Middle Volga Region. Of particular interest is St. Nicholas Church, built in 1555 from hewn stone. In the lower tier of its 43-meter-high bell tower, the tallest building in Sviyazhsk, was a secret passage which led outside the monastery. After being converted into a smokehouse during the Soviet era, its frescoes became covered in a thick layer of soot. Shortly before restoration work on the murals commenced, the faces of the saints suddenly became visible again, an occurrence which many deemed a miracle.
Assumption Cathedral (1556-1560) was designed by the architects of St. Basil's Cathedral in Moscow and is significant for its unusual 16th-century frescoes, most notably a rare image of St. Christopher depicted with a horse's head. A portrait of Ivan the Terrible is also kept here.
Sviyazhsk Assumption Cathedral and Monastery remains an active hermitage. Its most recent addition, added after restoration was completed in 2019, is a memorial exhibit to Archbishop Herman.