Valday, Russia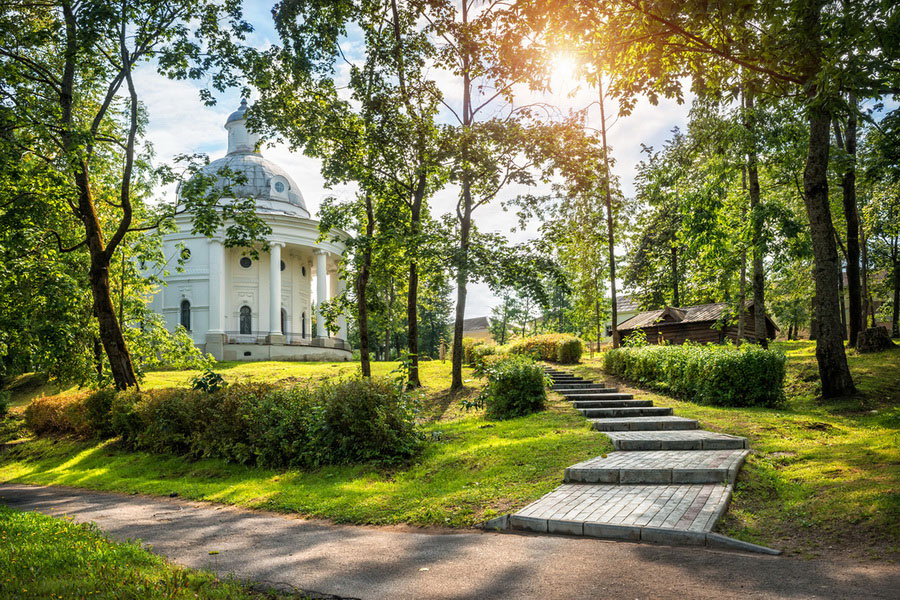 Museum of bells, Valday
Tours, Attractions and Things To Do in Valday
Valday, Russia (also spelled Valdai) is a historic city located between Moscow and Saint Petersburg in Novgorod Region. Near the city is the gorgeous natural Lake Valday, from which both the city and the famous forum called Valday Discussion Club derived their names.
The earliest written mention of Valday was found imprinted on a birch bark dated to the mid-12th century, from which we know that in the 9th century, the serfs of a man named Yakov and his son, Klim Demekhov, were living in a village called Valdayskoye Selishche.
Increased ties between Moscow and Veliky Novgorod in the Middle Ages gave impetus to the development of overland transport routes that ran through Valday. Craftsmen and artisans charged with maintaining the logistics and infrastructure of these routes began to settle along the roads commonly used by horse-drawn transport. The number of courtyards in the village of Valday increased by severalfold, and soon the wooden Paraskeva Church, complete with a bell tower and six pillars, was erected.
In 1703, Emperor Peter I founded St. Petersburg, the new capital of Russia, on the Neva River. To develop his city, he ordered the reconstruction of a dirt road which connected the former capital with the newly established one. This road in turn made it possible to increase the volume of trade, improve services and develop infrastructure along the trade route. The road took several days to traverse, and businessmen began stopping for meals in the scattered settlements, including Valday. It was at this time that the famous Valday bagels grew to fame, becoming popular even along the Volga piers.
Valday's commercial and strategic value did not go unnoticed. With a population of two thousand people, it was promoted from village to city status by decree of Empress Catherine II in 1770. It retained its name, yet a new milestone in its development had begun. Fifty forges in the city serviced the carts and wagons of those passing through, while also churning out household utensils for the townspeople and nearby village peasants. Handbell casting was created, which gradually developed into general bell casting. Valday bells, some of which weighed several tons, became so popular that they were even mentioned in literary works.
Construction of a railway line in 1851 resulted in the reduced use of the roads running through Valday, which naturally led to a decline in trade. The bell-making industry managed to cope with the new challenges and to continue large-scale production. Bells began to be sold not only in Russia, but also in European countries, where they still adorn cathedrals. By 1927, however, local bell production had ceased.
Valday has retained its small-town feel, with a current population of about 14,000 people. Its past is still palpable in its historic streets: On Molotkovskaya Street, vestiges of the old blacksmiths' shops can still be seen, while Gostinopolskaya Street is known for its trade stalls and markets.
Tourists to Valday, Russia will appreciate the history preserved in the Valday Bell Museum, Museum Bell Center, Holy Trinity Cathedral and Iversky Monastery. For outdoor experiences, visit the Great Valday Trail and Valday National Park, the latter of which is situated in the beautiful Valday Hills.