St. John the Baptist Church, Yaroslavl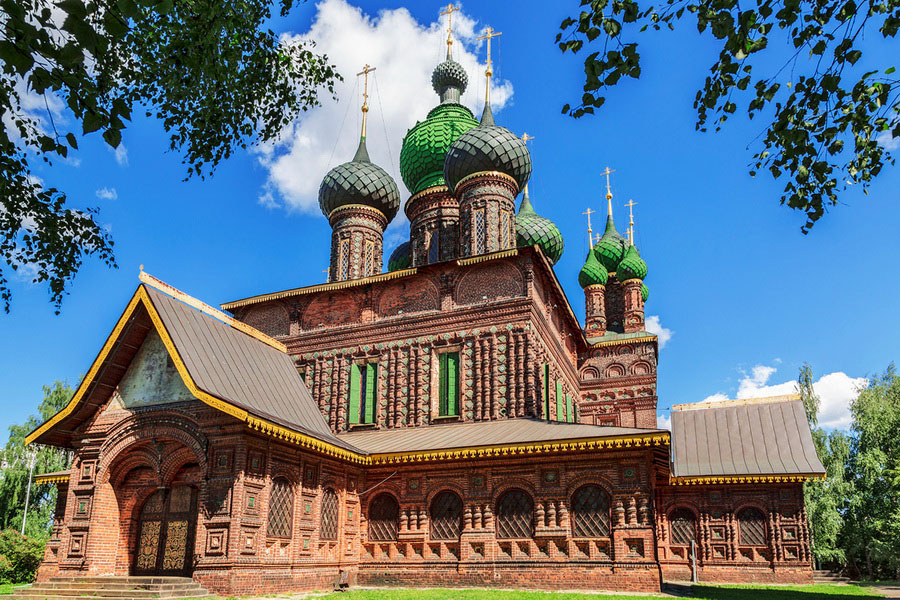 St. John the Baptist Church in Yaroslavl of the Russian Federation is the most renowned building in the city, which considering that the town is brimming with significant historical sites truly speaks of its quality and allure.
It is believed that an abbey called Ascension Convent once stood alonside St. John the Baptist Church. After the convent was destroyed in 1609 by the Poles, parishioners worshipped exclusively in the wooden Church of Saint John the Baptist until it burned down in 1659, leaving residents of Yaroslavl's Tolchkov District without a church for more than a decade.
Construction of the fifteen-domed St. John the Baptist Church, this time built with stone, began in 1671 and lasted for 16 years. Funds for its construction were collected by residents of Tolchkov which, thanks to its skilled tanners who sold their products in England and Holland, was the richest district in Yaroslavl. The newly erected stone church resembled Church of St. John Chrysostom in the city's Korovniki District and dwarfed the existing Yaroslavl churches and cultural buildings. In 1690, a forty-five-meter tall bell tower was built next to the church in the Moscow Baroque style.
The chapel's inner decor was painted by a troop of 16 artists led by famous iconographer Dmitry Plekhanov and chief interior decorator Fyodor Ignatiev. To complete their masterpieces, the painters employed the most state-of-the-art techniques known in the 17th century. More than 500 frescoes were painted in one year alone, and these murals are still regarded as the pinnacle of 17th- century Russian art.
During the Soviet regime's clampdown on religion in the 1930s, the church was shuttered and remained abandoned for decades. Today, the church is part of the esteemed Yaroslavl Museum Reserve. St. John the Baptist Church in Yaroslavl has been awarded the status of a Monument of History and Culture and continues to leave many awestruck with its splendor and décor.