Sapaev Mari State Academic Opera and Ballet Theater, Yoshkar-Ola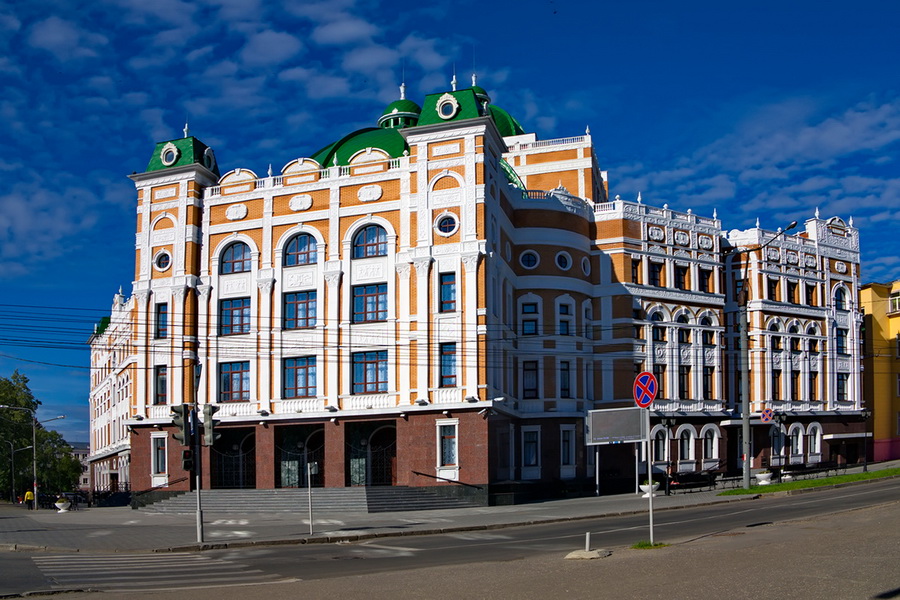 Sapaev Mari State Academic Opera and Ballet Theater in Russia's Mari El Republic is one of the nation's leading theaters which attracts creative young directors, talented choreographers, aspiring artists and adoring audiences. Located along the scenic Volga River near the famous Sheremetyevo Castle, the theater is a recent addition to the city yet has quickly made a name for itself through the promotion and development of opera and ballet art in Mari El.
Theater History
The founding of Mari Music and Drama Theater in 1968 was one of the most significant events in the cultural life of Mari El. The theater officially opened in 1969 with the premiere of the long-awaited local opera Akpatyr, a Mari heroic-romantic story produced by the young and talented Eric Sapaev. The performance was based on a drama of the same name by Mari playwright Sergei Chavain.
In 1972, the Musical Theater separated from Shketan Drama Theater, and a year later an eager audience was treated to the sensational premiere of the national ballet Forest Legend. In 2005, an updated version of the legendary ballet was staged, its premier timed to coincide with the opening of the Yoshkar-Ola Theater Festival which is now held here annually.
The theater continued to enjoy great success in staging both international productions and national classics. In 1994, the President of Mari El changed its name from Mari Music Theater to Sapaev Mari State Academic Opera and Ballet Theater, in honor of the beloved composer's contribution.
Modern Theater
Sapaev Mari State Academic Opera and Ballet Theater remains the pride of Mari Republic and its main creative platform. Since 2011, the theater has served as a venue for opera and ballet festivals. In 2014, it moved to its current building near the Volga, a regal and artistic playhouse that includes modern equipment on par with that of its most renowned European counterparts.
The theater is famous for its advanced choreography, which typically includes elements of Mari national dances. Their repertoire has continued to expand over the years, and thanks to the faithful work of Konstantin Ivanov, the current head of the theater, several major theatrical festivals are held at the theater annually. A number of soloists who are well-known in Russia's theatrical circles regularly perform on its stage, and it is the only theater in Russia where Trionfi Orff has been performed.
Whether you are able to attend a performance or simply come to tour the building, a visit to Sapaev Mari State Academic Opera and Ballet Theater is a great way to support the performing arts in Mari El Republic.