Tajik Culture - Dances
Traditional Tajik Dances

Girl with a Jug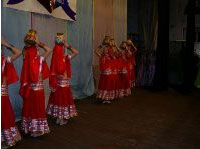 Plastic movements of body, head and especially subtle elaboration of arm movement play an important role in Tajik dances. "Girl with a Jug" is especially commonly-danced in Pamir region of Tajikistan.
This dance consists of two parts. The first part is a moderate, smooth and calm one. The girl with a jug on the shoulder goes down to a spring where she fills the jug with water. Then she washes her hands and face, drinks water, moistens and smoothes the hair with wet hands.
The second part is livelier, its tempo is growing. Having admired with her reflection in water, the girl rejoices and dances. This part of the dance is based on the movements of hands and body.
At the end of the dance the melody gains a moderate tempo again. The girl taking the jug filled with water goes slowly away. All this is performed very softly, plastically and at the same time very simply. The movements and facial gesture should be extremely expressive.
Eagle Dance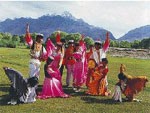 The dance main movement is an imitation of eagle wingbeats in a fly and its bangling in the air. The origin of the Eagle Dance confirms once more the ritual of death-bill of saint and ancestor spirits and veneration of mountain eagle in Tajik social heritage.
The Eagle Dance typical melody measure of 7/8, 6/8, 5/8 creates the feeling of eagle bangling in the sky. The people of senior generation pay special attention to make the body graceful and the performance agile and plastic in the Eagle Dance. Male dancers move freely and gracefully, hyperbolizing the movements performed. The women dance also more feely and gracefully.
The Eagle Dance among the Tajiks is one of the kinds of arts and crafts. People can take part in it if they wish, that is why there are no strict rules in its performance. In the places where the Tajiks live one can always watch a majestic scene – the men playing the flute made of an eagle bone, the women playing the music with tambourines in hands and the people dancing the Eagle Dance with hammer and tongs.