Dushanbe - Capital of Tajikistan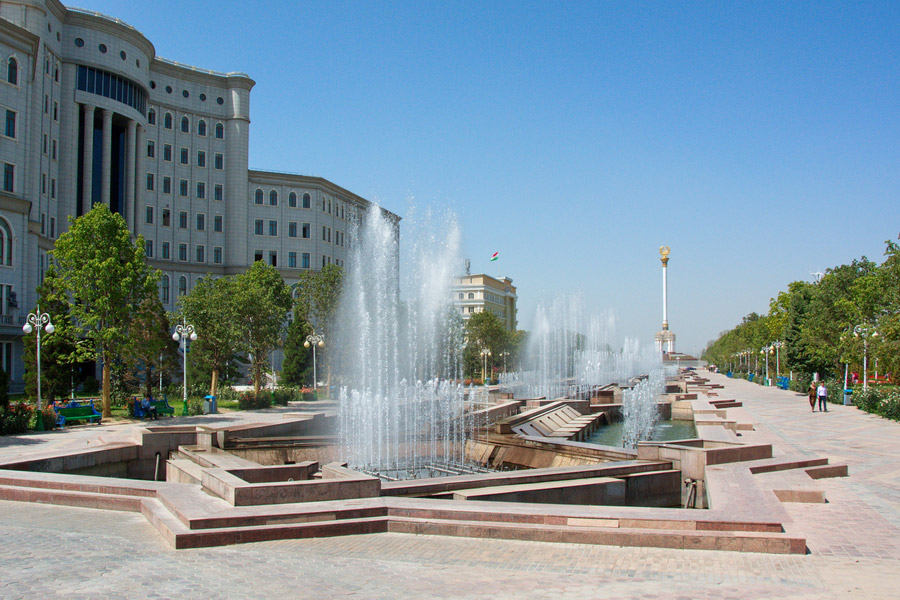 Dusti Square, Dushanbe
Tours, Attractions and Things To Do in Dushanbe
Dushanbe Travel Guide
Dushanbe, the capital of Tajikistan, serves as the country's largest city and a hub for its scientific, cultural, economic, and industrial activities. With a population exceeding 1 million in a country of about 10 million, Dushanbe is an important focal point.
Situated in Tajikistan's southern region, within the Hissar Valley, Dushanbe experiences a subtropical inland climate. Summers here can be scorching, while winters are generally brief.
"Dushanbe" translates to "Monday" in Tajik—a nod to the city's longstanding tradition of hosting bazaars on this day of the week. Covering nearly 130 square kilometers, the city is bisected by the Varzob River, also known as the Dushanbe River. The nearby Varzob Gorge is a popular destination for both locals and tourists.
Dushanbe today is a cosmopolitan city that hasn't lost touch with its cultural roots.
Dushanbe tours offer a captivating look into the capital of Tajikistan, providing a rich blend of history, culture, and natural beauty for travelers to explore. Whether you're interested in ancient artifacts at the National Museum, picturesque parks ideal for leisurely strolls, or sampling local cuisine, Dushanbe tours are a fantastic way to experience the city's multifaceted attractions. Choose from walking tours that navigate the vibrant bazaars or opt for excursions that lead you to the breathtaking landscapes surrounding the city. With the insight of local guides, these tours bring the spirit and history of Dushanbe to life, making them an unforgettable component of any visit to this Central Asian treasure.
History of Dushanbe
The territory now known as Dushanbe has a rich history dating back to the 3rd century BC. By the 17th century, a small village had emerged at a crossroads where trade typically occurred on Mondays—hence the name Dushanbe. In 1676, the village was home to about 8,000 people.
The first formal map of what would later become a city was drawn in 1875. Then known as Dushanbe-Kurgan, the settlement was part of the Bukhara Emirate and featured a fortress that included caravanserais, mosques, workshops, and several hundred houses.
In 1922, Dushanbe became the capital of the Tajik SSR. The city was renamed Stalinobad in 1929, coinciding with significant infrastructural developments such as the laying of railroad tracks and asphalt roads, replacing the former trails. In 1961, the city reverted to its original name, Dushanbe.
Up until the 1930s, Dushanbe primarily consisted of one-story adobe houses. However, the 1950s and 1960s saw extensive urban development. Nowadays, although the cityscape predominantly features low-rise buildings, there are notable exceptions like the 22-story Dushanbe Plaza business center.
Whether you're drawn by its historical depth, cultural richness, or the unique blend of old and new, Dushanbe offers a fascinating look into the essence of Tajikistan.
What to Do in Dushanbe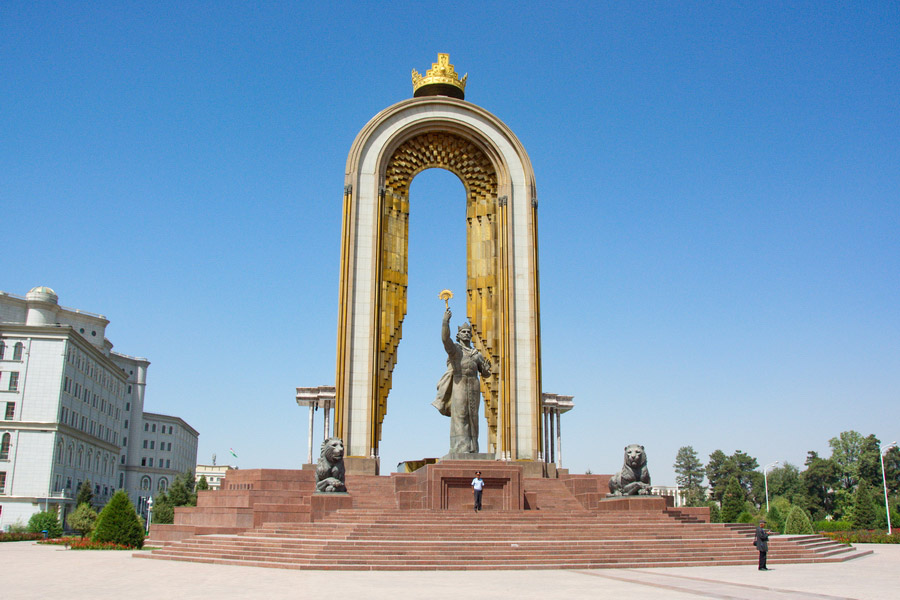 Many of Dushanbe's buildings showcase a rich blend of national motifs, adding a distinct cultural flavor to the cityscape. Take, for example, the Rohat Teahouse. This iconic spot, built in 1958, was named the world's best teahouse by CNN Travel in 2017. Adorned with Tajik-style columns, open terraces, and intricate glass mosaics, it's an architectural marvel that has stood as a symbol of Dushanbe for over six decades.
If you're interested in architecture, you won't want to miss a stroll through the city's older sections. There, you'll find many homes elaborately decorated in the Tajik national style, complete with eye-catching columns, arches, statues, high reliefs, and patterns.
Another standout landmark is the Palace of the Nation, the presidential residence and one of Dushanbe's key symbols. Built in 2008 in a neoclassical style, this imposing structure took eight years to complete and is dedicated to Ismoil Somoni, the founder of the first Tajik state. It even scored a "silver" rating in a 2015 list of the world's most impressive presidential palaces, second only to the White House.
Adjacent to the Palace is a flagpole flying Tajikistan's national flag, recognized as the world's second tallest. The flag itself is 60 meters long, weighs 420 kilograms, and soars at a height of 165 meters, making it visible from almost anywhere in the city.
Dushanbe's main square, Dusti Square, epitomizes the city's ever-changing landscape. Established in 1961 and named for the Tajik word for "friendship," the square has undergone various transformations. A statue of the famous poet Ferdowsi replaced one of Lenin in 1991, and in 1999, an imposing monument dedicated to Ismoil Somoni was added. This monument is complemented by a towering arch, crowned by a golden circle with a 5-meter diameter. Inside the platform that supports the arch, you'll find a museum containing a replica of the ninth-century Bukhara Mausoleum of the Samanids.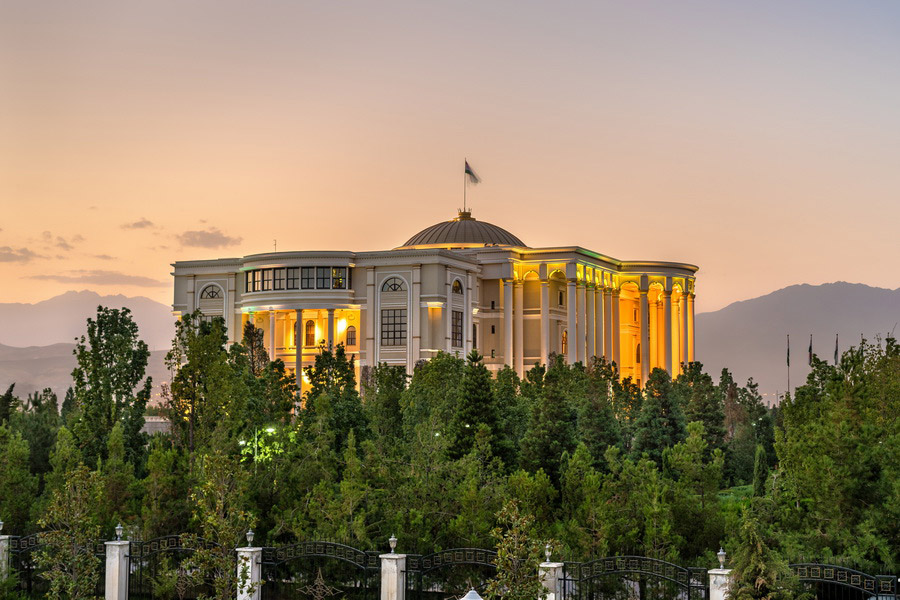 Lastly, the National Library of Tajikistan deserves special mention. Recognized as Central Asia's largest library, it houses a collection that has grown from 1.5 million items in 1946 to over 6 million today, including rare manuscripts from luminaries like Ibn Sino, Ferdowsi, and Rudaki. Attracting over 100,000 readers annually, the library's modern nine-story building, constructed in 2012, is designed to resemble an open book.
The Central Cathedral Mosque of Dushanbe, also known as the Juma Mosque and named after Khoja Yakub, is Tajikistan's largest, with a capacity to host 120,000 people. Spanning an impressive 12 hectares, the mosque was under construction from 2009 to 2019, making it a relatively new addition to the city's religious landmarks.
Another notable site is the Ismaili Center, built in 2009, which serves as a hub for Muslim religious and cultural activities. With its medieval-inspired architecture, the center not only attracts devout Muslims but also plenty of secular tourists. The venue frequently hosts fairs, exhibitions, and a range of cultural events.
St. Nicholas Cathedral, built in 1943, stands as one of only six Orthodox churches in Tajikistan. Located adjacent to the cathedral is a cemetery known for being the final resting place of prominent scientists and cultural figures from various nationalities. Additionally, the cathedral is home to a spiritual and administrative center where Russian language courses are available to the public.
Since 1974, the Catholic Church of St. Joseph has been serving the community from its location near the airport. It's one of just two Catholic parishes in the country, making it a unique religious institution in Dushanbe.
For those more interested in arts and entertainment, the Kokhi Navruz Cultural and Entertainment Center is a must-visit. Also known as the center for handicrafts, this breathtaking facility is frequently cited as one of Tajikistan's most beautiful buildings. Opened in 2014, its inaugural guests were the heads of the Shanghai Cooperation Organisation states. Now open to the general public, the center's various halls—Guliston, Didor, Zarandud, and Arzhang, among others—are guaranteed to impress even the most discerning visitors. Covering an expansive 35,000 square meters, the center showcases a plethora of handmade art and offers amenities such as a souvenir shop featuring national crafts, as well as a billiards room, bowling alley, cinema, and much more.
Dushanbe Museums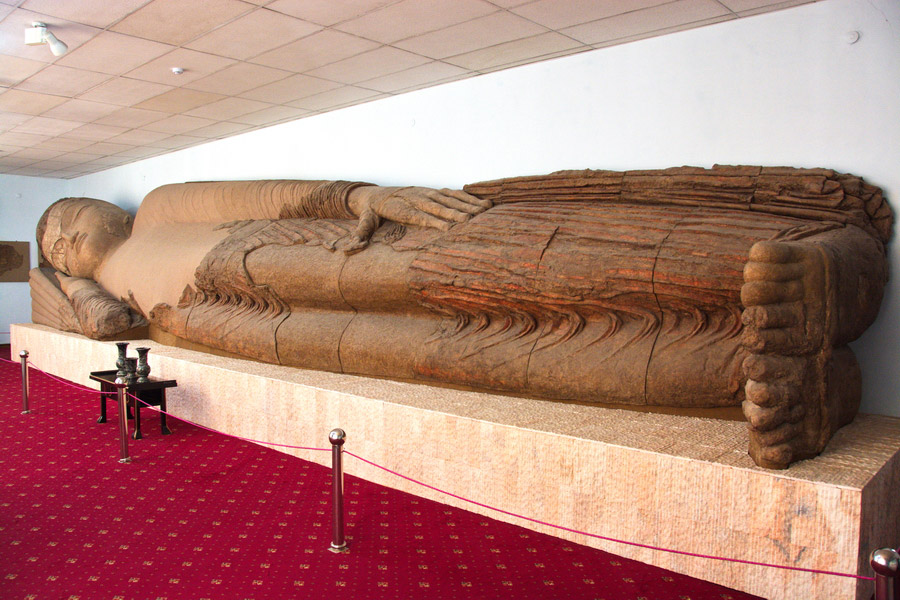 There are 8 museums in Dushanbe.
For those who are passionate about history, the National Museum of Tajikistan is a must-visit. Spanning 15,000 square meters, the museum is home to 22 exhibition halls that cover everything from ancient to modern history. You'll discover the intricacies of Tajikistan's decorative, fine, and applied arts, explore its literary heritage, and much more. With over 50,000 items on display, there's no shortage of fascinating artifacts to peruse.
Another standout is the National Museum of Antiquities. It holds some remarkable treasures, like the "Queen of Sarazm" artifact unearthed in the Sughd region, and a 12-meter tall Buddha statue discovered near Kurgan-Tube in the 1960s. Both of these exhibits are candidates for UNESCO World Heritage designation. The museum's collections go back as far as the Bronze Age and the 4th millennium BC.
For those intrigued by Central Asian culture, the Museum of Geology, Museum of Ethnography, and Archaeological Museum offer a treasure trove of exhibits.
The Gurminj Museum of Musical Instruments provides an intriguing experience not just for music aficionados but for anyone interested in Tajik culture. The museum displays around 100 traditional Tajik instruments, along with exhibits that shed light on the culture of the Pamiris. The venue also hosts a variety of cultural events, including lectures and concerts.
Dushanbe Theaters
There are 8 theaters in the capital of Tajikistan.
The S. Aini Tajik Academic Opera and Ballet Theater is the most famous theater of the country. It was founded in 1936. It mainly stages plays based on the works of national composers. The most famous productions are the operas "Rudaki" and "Amir Ismoil", the ballet "Two Roses" and "Yusuf and Zuleikha".
The Tajik Academic Drama Theater named after A. Lakhuti and the Russian State Drama Theater named after V. Mayakovsky gather full halls.
The State Youth Theater named after M. Vakhidov stages plays in the Tajik language.
The State Puppet Theater will appeal to children with its performances, and adults will appreciate the unique mosaics of the facade.
Entertainment, Parks and Shopping in Dushanbe
Parks of Dushanbe
Dushanbe, the capital of Tajikistan, offers an array of public spaces that cater to people of all ages and interests.
Omar Khayyam Park of Culture and Recreation spans 10 hectares and features attractions for both children and adults. Meanwhile, the park bordering Youth (Komsomol) Lake is often cited as one of the city's most picturesque spots.
For those who prefer leisurely strolls, the "Bogi Rudaki" city garden underwent a renovation in 2007 and now offers a tranquil space filled with trees and benches. It's a go-to destination for retirees and parents with young children.
The Botanical Garden of the Academy of Sciences, established in 1933, is a feast for the eyes. Its entrance is beautifully designed in traditional Tajik style, and the garden itself showcases flora from around the world, including some species listed in the Red Book of endangered plants. The garden's greenhouse is a popular winter destination for newlyweds.
Shohmansur district park features a charming children's railroad that's been in operation since 1936. The park also offers a library, play areas, and plenty of greenery.
S. Aini Park of Culture and Recreation, situated along Dushanbe's main avenue, boasts an array of amenities such as gazebos, terraces, a teahouse, and a fountain. A mausoleum dedicated to the Tajik writer Sadriddin Aini serves as the park's focal point.
For quiet, shaded retreats, Kuibyshev and Mironenko squares are local favorites, providing a respite from the summer sun.
Victory Park, dedicated to World War II, features a memorial square with an Eternal Flame and other poignant monuments. Accessible via a suspended cable car, the park offers an experience that captivates both young and old.
Children's City Park stands out for its vibrant architecture and peaceful atmosphere, devoid of noisy rides. Peoples' Friendship Park, established in 1975, remains a beloved escape for Dushanbe locals seeking a calm environment.
Luchob Park houses a memorial square—locally known as Luchob Cemetery—that became the final resting place for eminent Tajik cultural figures in 2017.
Beyond the city limits, you'll find several resorts and health spas with expansive parklands.
Shopping in Dushanbe
For shopping and entertainment, Dushanbe offers a range of malls like Dushanbe Mall, Siyoma Mall, Sitora, Barakat Plaza, Yakhont, Ashan City, Arbat, and Munisa Mall, where you can find clothing, dine at food courts, and catch a movie.
If you're on the hunt for local crafts, head to the Safariyon and Mehrgon bazaars or stores like Tilla Teppe, Silk Road, and Noor Art Gallery to find unique and colorful items.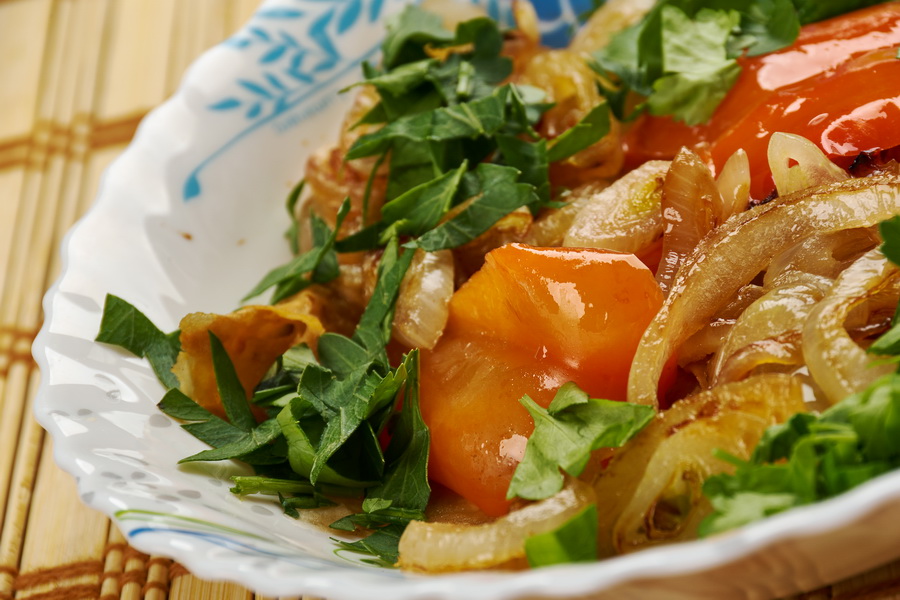 In Dushanbe, you're never far from a tasty meal, whether you're dining at a formal restaurant or grabbing a bite at a cozy café tucked away in a residential neighborhood. The city offers a culinary tapestry that includes not just local Tajik dishes, but also flavors from Uzbek, Italian, Japanese, American, and Caucasian cuisines.
When it comes to native Tajik fare, plov and kurutob are the stars of the show. Plov is a hearty blend of rice, meat, carrots, onions, and spices, and it's a staple that you'll find not just in traditional Tajik eateries but also in some European-style restaurants. Kurutob, on the other hand, is a specialty dish featuring thinly sliced veggies and crumbled flatbread soaked in a tangy, sour-milk base. You can sample this unique dish at specialized spots known as kurutobkhona.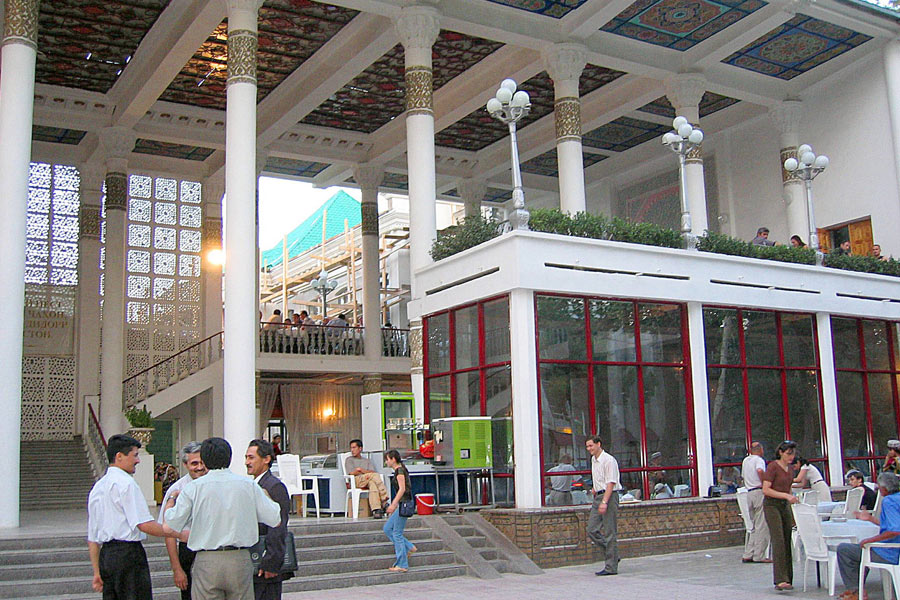 For an authentic taste of Tajik cuisine, consider dining at places like Toki Teahouse, Rohat Teahouse, Buhoro Restaurant, Mino Teahouse, and Saiyoh Kurutobkhona.
Vegetarian Options
While Dushanbe doesn't have restaurants or cafés exclusively for vegetarians, you won't be left hungry. There are Indian and Asian establishments that offer a range of delicious, meat-free options.
Coffee Culture and Bakeries
Coffee culture is on the rise in Dushanbe, with new coffee shops sprouting up regularly. For a top-notch coffee experience, head to Jeffrey's Dushanbe, Coffee Moose Dushanbe, or Shakar Coffee Houses. Italian restaurant Il Patio is another must-visit for coffee enthusiasts.
As for bakeries, they're a bit scarce in the city, but the French bakery Akhsan comes highly recommended. Many of Dushanbe's coffee shops also serve a selection of mouthwatering pastries, so you can get your caffeine and sugar fix all in one place.
City Transport in Dushanbe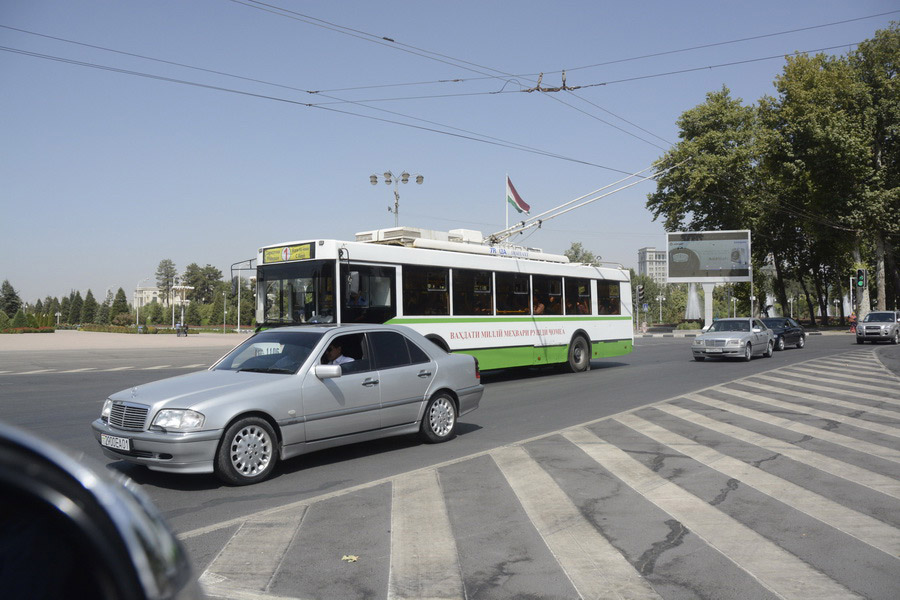 Dushanbe has a robust transportation network, featuring 26 bus routes and 8 trolleybus lines. While most buses are modern and air-conditioned, their punctuality can be hit or miss. They generally stick to the schedule only on Rudaki Avenue; elsewhere, buses tend to leave the terminal only when full. Trolleybuses offer a more pleasant ride, being less crowded, but they too wait to fill up before departing, which can result in waits of up to 30 minutes.
You can pay for both buses and trolleybuses using a CityCard. Paying with cash is also an option but is more expensive.
Shuttle Buses (Marshrutki)
The most popular form of public transport is the shuttle bus, or "marshrutka," with 49 routes crisscrossing the city. They're frequent and fast but often flout traffic rules, contributing to city congestion.
Taxis
Multiple cab services operate in Dushanbe, many of which have convenient mobile apps. Rates are fairly consistent across services: about 10 somoni ($0.8) for the initial 3 kilometers, and 2.5-3 somoni ($0.2) for each additional kilometer. Taxi companies also provide cars for business trips and special occasions like weddings.
Car Rentals
Various car rental agencies offer everything from economy to luxury vehicles. While most agencies have websites, rental rates are usually not disclosed online; you'll need to visit in person for a quote. Also, it's a good idea to book your car in advance, as on-the-spot rentals are limited.
Alternative Transport For those interested in more active forms of transport, Dushanbe offers several bike and electric scooter rental services located throughout the city.
How to Get to Dushanbe
The most straightforward way to get to Dushanbe is by air via its international airport, which serves various destinations including CIS countries, Istanbul, Delhi, and Dubai. Airlines such as Ural Airlines, UTair, S7 Airlines, Flydubai, Turkish Airlines, Uzbekistan Airlines, and Air Astana all operate routes to Dushanbe. The national carrier, Somon Air, also offers several domestic and international routes.
For train enthusiasts, there is a regular service from Moscow to Dushanbe.
Driving to Dushanbe through Uzbekistan is another option, though it's a lengthy journey.
Languages Spoken in Dushanbe
Tajik is the official language, spoken by about 80% of the population both publicly and in private. Russian and Uzbek fill in the gaps, with Russian serving as the common language for interethnic communication, as established in the Constitution of Tajikistan. English has been growing in popularity, especially among students and younger people.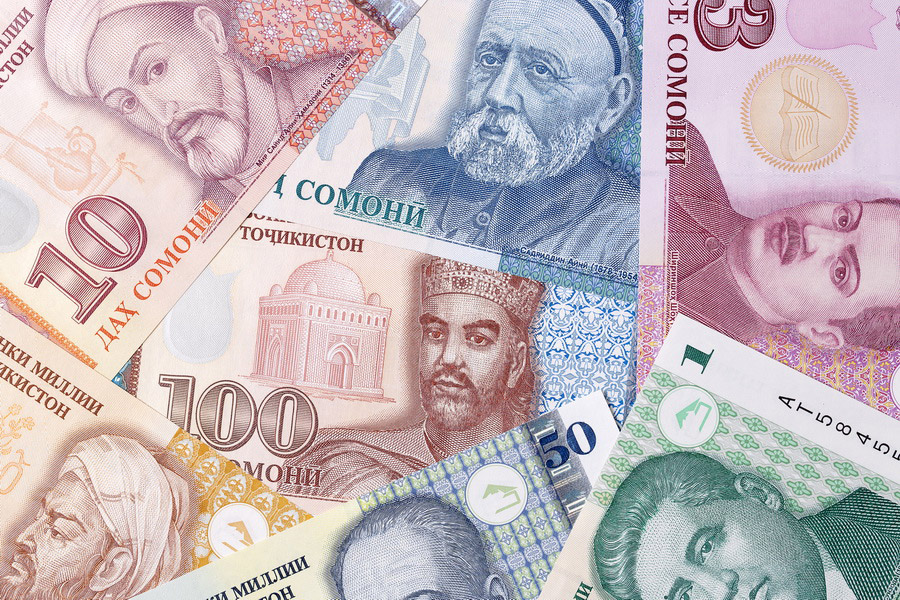 The national currency of Tajikistan is the somoni, named in honor of Ismoil Somoni. Prior to 2000, the Tajik ruble was the currency in use. Transactions are predominantly carried out in somoni.
Most local establishments like cafes, stores, hotels, and gas stations accept cash and Tajik national cards. However, the acceptance of Visa and MasterCard can be inconsistent. While many places do accept Visa, MasterCard is rarely an option. It's advisable to carry sufficient cash to avoid any inconveniences.
If you're planning a trip to Dushanbe, it's smart to bring cash in either dollars or euros, as these are easily exchangeable at local banks. Using international credit cards at ATMs can be problematic. Although such ATMs exist, they often run out of cash quickly.
While some businesses do accept cash payments in rubles or dollars, it's not recommended. Exchange rates can vary widely from one place to another, often to the disadvantage of the customer.
Safety Tips for Dushanbe
Overall, Dushanbe is a fairly safe city with a dedicated tourist police force. However, it's always a good idea to exercise common sense and caution. Avoid leaving personal items unattended, and it's advisable not to wander around alone after dark.