Garm-Chashma, Tajikistan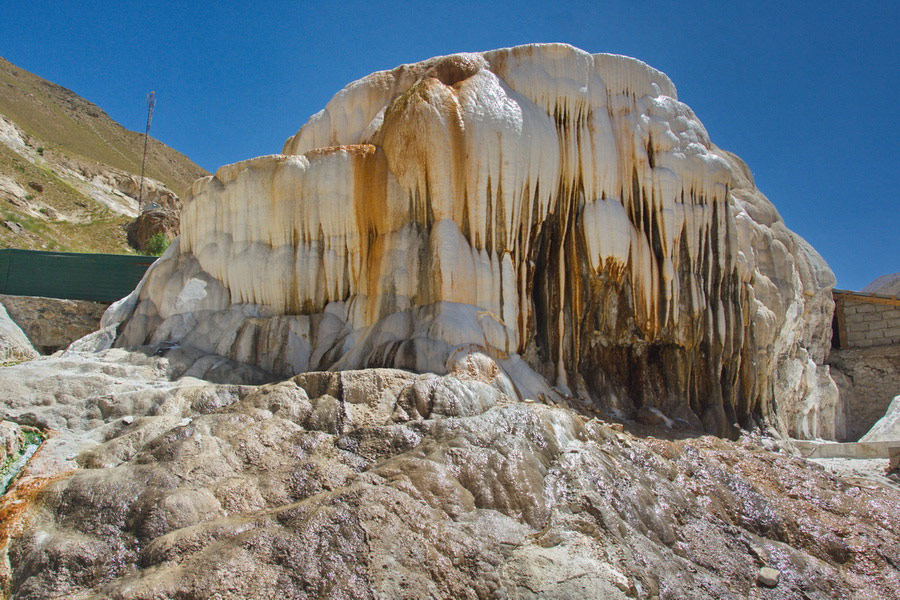 The Garm-Chashma resort constructed in 1957 next to mineral water springs. It is the most well-known balneological resort of Pamir. The curative properties of Garm-Chashma mineral water is recognized far beyond the country.
Hot mineral water spring Garm-Chashma (hot spring) is located 2,325 m above the sea level, on the western slope of the Shahdarya Ridge in the average watercourse of Garm-Chashma river. The age of the spring is over few thousands years. The mineral water rises on the surface from great depths in the form of gushing forth small and large jets of 10 cm to 1.5 m. One jet gives from 5 to 7 liters of hot water a second. The water is muddy from limy deposits with and contains balls of calcium.
The sediments of such balls and limestone form a travertine mound ending with a number of natural bowls - pools of various sizes with a water mirrors ranging from 0.5 to 20 sq. m half a meter depth. They are filled with hot water of turquoise color containing iron, aluminum, magnesium, strontium, fluorine and other elements. The water is also rich in hydrogen sulfide, silicon acid and carbonic acid.
There reigns a favorable climate which in combination with balneotherapy yields good results in curing some diseases of cardiovascular and nervous system, locomotor apparatus as well as skin and gynecologic diseases.
The hot spring as a rare gift of nature has attracted attention of local population; the people were cured in its waters, received healing or at least pain relief. This was why Garm-Chashma got its reputation of holy water spring. There in the end of the 19th century the local inhabitants built altars - small niches in the rock near the place where water comes onto the surface; they put there various sacred objects and burning lamps.