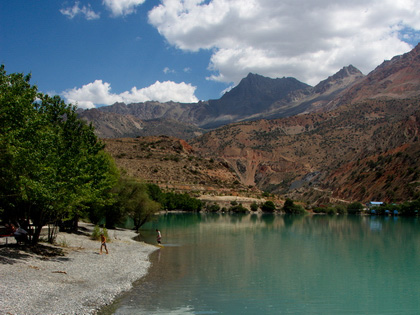 During Iskanderkul Lake Tour you will enjoy the genuinely beautiful landscapes where snow-capped Hissar mountains are touching the sky. You will cross the high-mountain pass Anzob only in one day, see the legendary Lake Iskanderkul, ice lake Zmeinoe, 38-m high waterfall and taste the Tajik dishes in a cozy guest house.
There is a big luggage of impressions waiting for you. Memories of this short trip will remain for a long time. Do not miss your chance to put the next tick in your travel list.
Tour itinerary:
Dushanbe – Iskanderkul Lake – Dushanbe (130 +130 km, 3+3 hrs)
Our guide and driver will meet you at the lobby of your hotel in Dushanbe. Transfer to Iskanderkul Lake, known as a lake of Alexander the Great. The area of the lake is 340 ha. According to the legend, the Iskanderkul Lake was named after Alexander the Great, known as Iskander in the East. People say that Alexander the Great's path to India passed by this lake. Lunch at traditional homestay "Dilovar". Exploration the surroundings of the lake: five springs, Zmeinoe lake (Snake lake), walking to 38m high waterfall which is called "Fan Niagara". Return to Dushanbe in the afternoon. End of the tour.
Price includes:

Transportation;
English-speaking guide;
Lunch.