Abul-Fazl Mausoleum near Ashgabat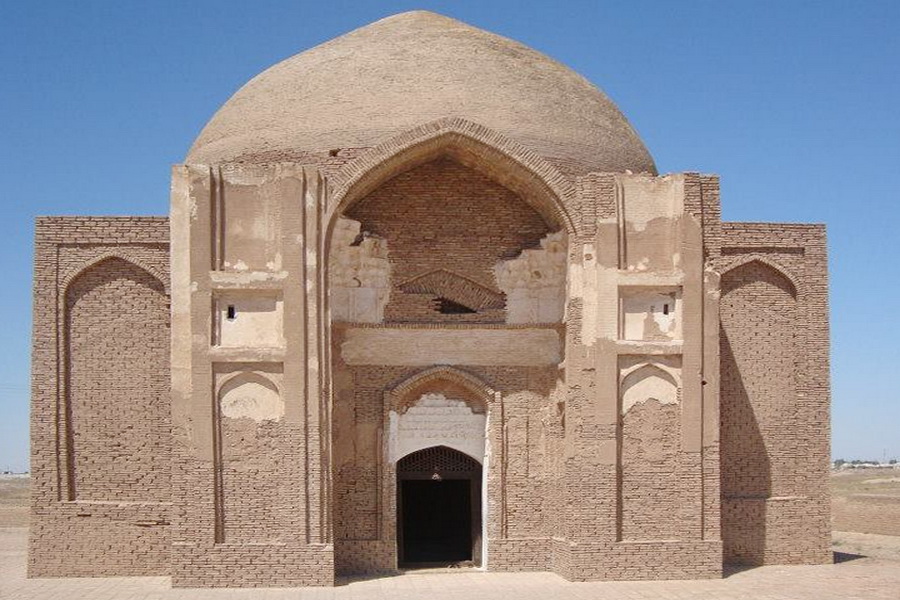 Constructed in the 11th - 12th centuries above the tomb of Muslim mystic Abu-Fazl, it is famous for its magnificent proportions and finish earned it the fame of one of the most significant monuments of medieval architecture not only in Serakh oasis but also entire Central Asian region.
Abul-Fazl mausoleum located 300 meters to the south the powerful citadel of Old Serakhs is a bright specimen of Serakh architectural school which was notorious worldwide in the Middle Ages.
Being rather small the mausoleum amazes with its monumentalism, refinement of forms, completeness and harmonious proportionality of design. The exact date of its construction is the year of 1024. In the 19th century the memorial inscription on the portal of the mausoleum was deciphered. It says that "in the year out 1425 from Timurid dynasty by the order of Sultan Shahrukh the building was repaired, expanded and the portal was added". Indeed, during the Mongolian pogrom of 1221 the mausoleum suffered heavily. It was reborn owing to Timurid rulers. During the reconstruction of the interior and exterior up the mausoleum were decorated by alabaster stalactites. The interior was considerably altered, the portal was reconstructed.
Not long ago the mausoleum underwent another reconstruction.
Today the mausoleum represents a monumental composition with our powerful parallelepiped in its foundation. At the height of 5 meters the parallelepiped "turns into" a hexahedron, then - into duodecimalhedron and, finally, into a cylindrical drum. A huge dome symbolizing the firmament crowns this magnificent structure.
The entire complex is made of burnt bricks. The walls are decorated with amazingly skilful dual brickwork. The mausoleum is surrounded with a gallery connected by two spiral staircases on the right and on the left from the entrance. The height of the mausoleum is 14.07 m. As a rule, the mausoleums similar to Sarkhas-Baba used to be coated with blue or turquoise tiles. Unfortunately, they haven't survived.
Today Abul-Fazl mausoleum is one of the main relics of Turkmenistan. Numerous Islamic pilgrims frequent the mausoleum.