Turkmenbashi Ruhy Mosque near Ashgabat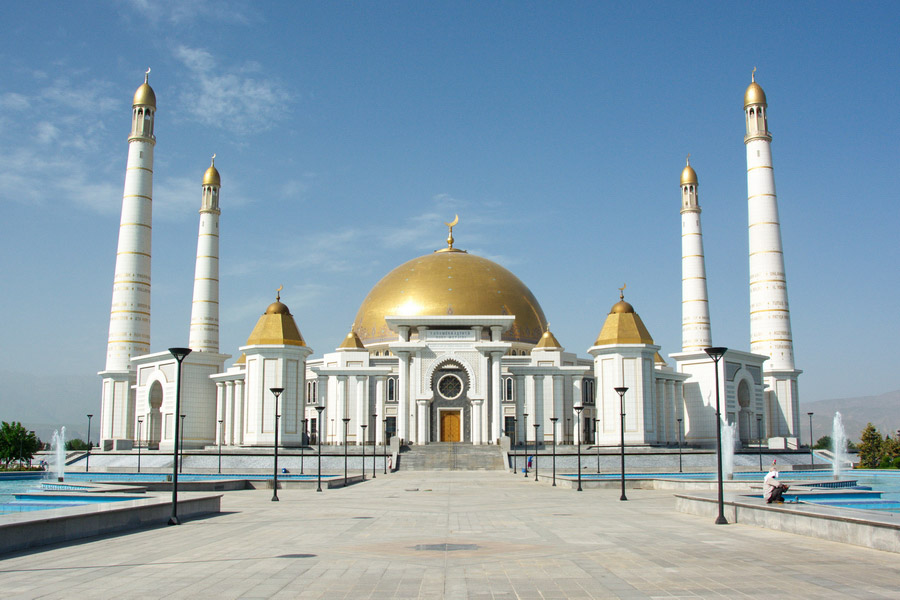 The Mosque built in honor of Turkmenbashi
Eleven kilometers to the west of Ashgabat there stands the largest mosque in Central Asia and main mosque of Turkmenistan – The Turkmenbashi Ruhy Mosque. Like all other buildings of the period of independence it differs with its immensity and grandiosity.
The mosque was built in 2002-2004 on the initiative of Turkmenbashi and named after him. Its word-for-word translation means "the mosque of Turkmenbashi spirituality" or "the mosque of spirit of Turkmenbashi". By the way the mosque is located in Gypjak – the Turkmenbashi native village.
The construction of the mosque cost to Turkmenistan $100,000,000. The whole complex is built in white marble by French company Bouygues. The total area occupied by the complex is 18,000,000 m2. The mosque itself is a one-domed building, surrounded by 4 minarets. The height of the mosque is 55 m, and that of the minarets is 91 m to symbolize the year 1991 – when Turkmenistan gained independence. The building is accessible through 9 entries with arches. Around the mosque there are numerous fountains as though the mosque stands on the water and it makes the mosque look very good.
The mosque walls are traditionally decorated with suras from Koran and also phrases from Rukhnama – the book on spirituality and morality written by Turkmenbashi himself. Due to this fact the mosque is not recognized by many Muslims.
Inside the mosque there is a huge praying hall with white columns and richly painted celestial blue dome. The heated floor is covered with a huge hand-made Turkmen carpet. The mosque can accommodate about 10,000 people, but visitors are usually few there. Under the mosque there is an underground garage capable to park over 400 cars.
Near the mosque, there is the Turkmenbashi Mausoleum – more modest in décor and size. Turkmenbashi himself is buried in the central sarcophagus, and around it, there are three more sarcophagi with his mother and two brothers, and one in addition, which is empty – a symbolic sarcophagus with the name of Turkmenbashi's father, buried in another place.
Turkmenbashi's mother and both of his brothers are known to die during the earthquake of 1948. As far as Turkmenbashi himself concerns, he had a narrow escape: that very day, he got up early and went outside for a walk.
Opposite the entry to the mausoleum, there is a memorial complex, erected in memory of the people killed by the earthquake of 1948.
The Turkmenbashi Ruhy Mosque is a national asset and pride of the Turkmen people. Its image can also be seen on a national currency – 500-TMT banknote.