Adventure Tourism in Turkmenistan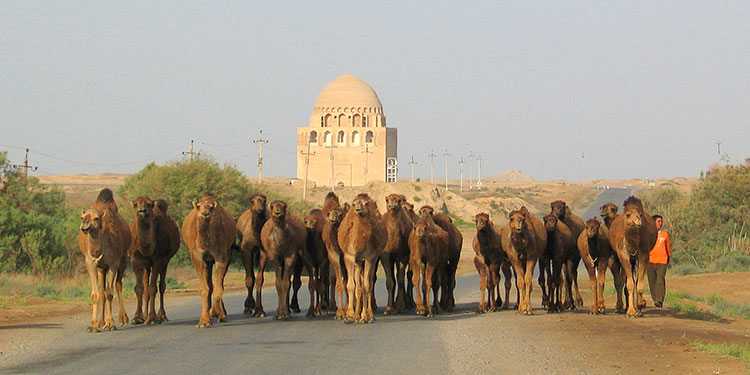 Camels and Sultan Sanjar Mausoleum on the Background
Adventure tourism in Turkmenistan is a discovery of some of the most unusual natural marvels of Central Asia, each of which reflects the country's unique personality and holds the promise of an experience wholly unlike any you've encountered before.
Race through wild foothills on one of Turkmenistan's world-famous Akhal-Teke horses, akin to the Ferrari of the equestrian world. Zigzag through the country on an unforgettable overnight train ride. Uncover dunes and remote settlements as your intrepid local guide introduces you to the best of Turkmenistan.
Camp on a cliff in the breathtakingly gorgeous Yangykala Canyon, whose multihued formations are likened to the Grand Canyon (minus the crowds). Sleep under the stars near Koytendag State Nature Reserve in eastern Turkmenistan, famed for its mysterious collection of footprints known as Dinosaur Plateau, or hike the ridges of the Kopet Dag Range just a few kilometers from the border with Iran.
Your Turkmenistan tour could take you off-roading for days through the expansive Karakum Desert, one of the hottest destinations on the planet, where you'll likely see far more scrubby camels than fellow human beings. Within the desert's sultry confines is Darvaza Gas Crater, a gaping man-made cavity whose underground natural gas reserves have been continually burning since 1971. Photos fail to do justice to this phenomenon, which is best appreciated under the pitch-black sky on an overnight camping experience. Then there's Dekhistan, the ruins of a former oasis town now considered the most isolated 'city' in Turkmenistan and another great desert camping spot.
Despite its predominantly desert terrain, Turkmenistan adventure travel offers aquatic attractions in the unlikeliest of places. Go for a dip in the underground sulfuric waters of Kow-Ata Lake, whose naturally warm waters are purported to have healing properties. Hike through mountains to discover waterfalls or the renowned Kainar Baba Lake in southern Turkmenistan, whose glistening droplets are a source of drinking water for the region. And of course, the Caspian Sea coast along the western border offers days of swimming, sunbathing and exploration, a well-earned reward for having traversed the country's rugged interior landscape.
Adventure tourism in Turkmenistan can even take you beyond the country's jagged confines on a dual Uzbekistan-Turkmenistan tour, where crossing the border is often an adventure in itself. Whatever route you choose, this audacious land is not likely to disappoint.