Turkmenistan Tourism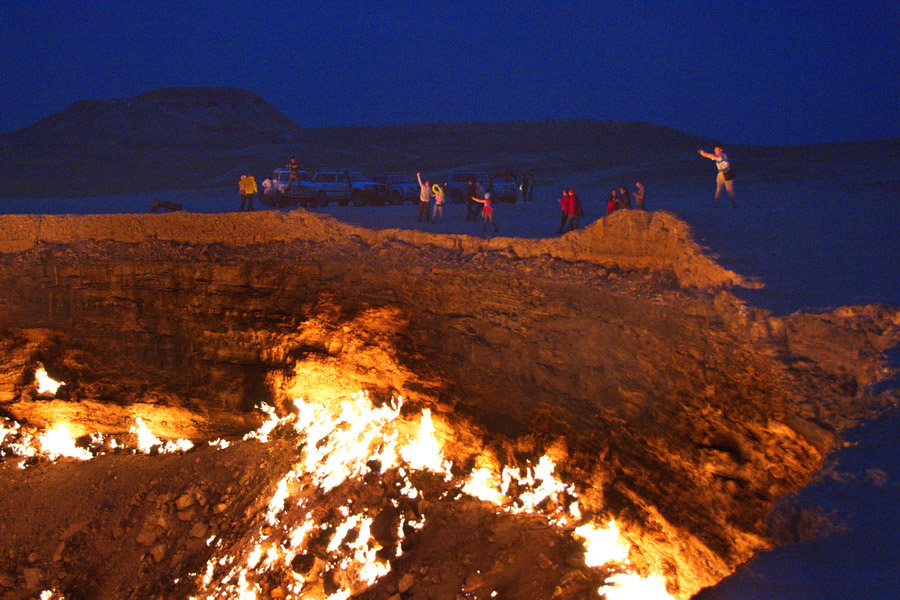 Darvaza Gas Crater
Land in the Karakum Desert
Turkmenistan tourism has much to offer to the travelers looking for the off the beaten track adventures. Architectural, historical and natural sights are full of mystery and not overcrowded with tourists yet. Awe inspiring ruins of ancient cities, legendary Akhaltek horses, gas crater Darvaza burning for decades in the middle of desert, Dinosaurs' plateau, where were pre-historic pangolins according to legends, turn your Turkmenistan travel into once in a lifetime experience. There you will find resemblance to Shakherezada tales: hand-made waived carpets with beautiful patterns, honey melons, pilaf (Central Asian favorite dish), colorful tyubeteykas (headdress) and gowns.
Historical and Cultural Tourism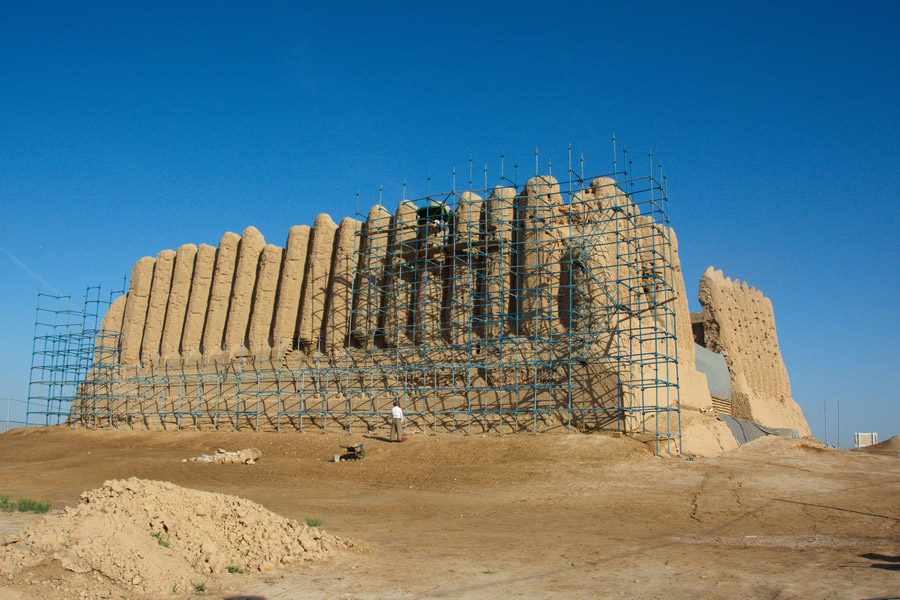 Major Kyz-Kala, Merv
For those, who fancy history, Turkmenistan tourism will amaze with grand palaces of the Timurids and the Khorezmshakhs dynasties, madrasas and mosques once well-known in the Islamic world, rich libraries and observatories. There are also numerous ancient monuments of the human history such as ruins of Nisa, the capital of the Parthian Kingdom, and remains of Amul-Chardjuy, the town of the 11th century not far from Turkmenabad. Read more...
Adventure Tourism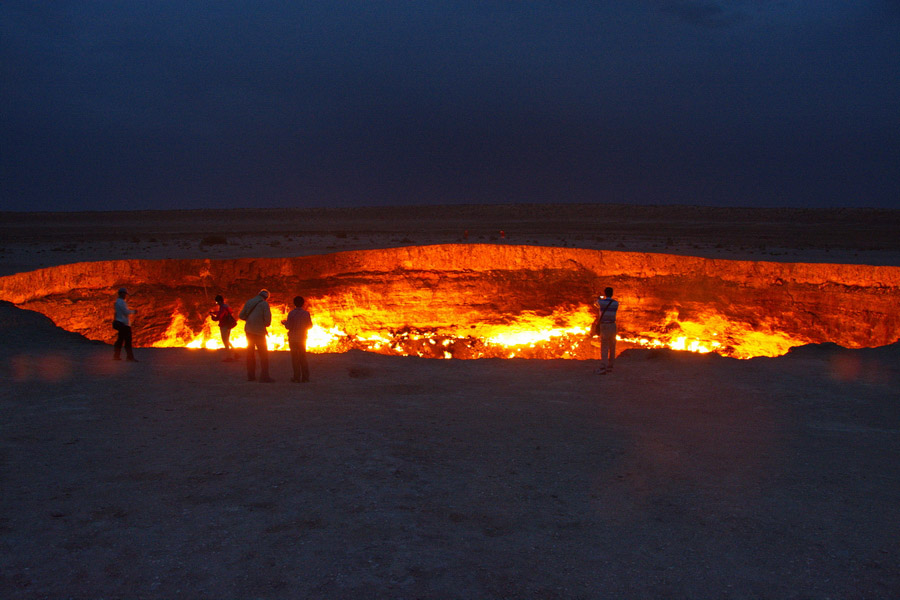 Darvaza Gas Crater
For connoisseurs of natural diversity, Turkmenistan is one of the best places as it has everything: green valleys with flower beds, warm sands of Karakum desert that is one of the hottest spots in the world, waters of the Caspian Sea and of course, natural marvels of Central Asia – Kou-Ata Lake fed with warm hydrogen sulfide sources, burning crater Darvaza and mysterious dinosaurs' plateau. Read more...
Short Tours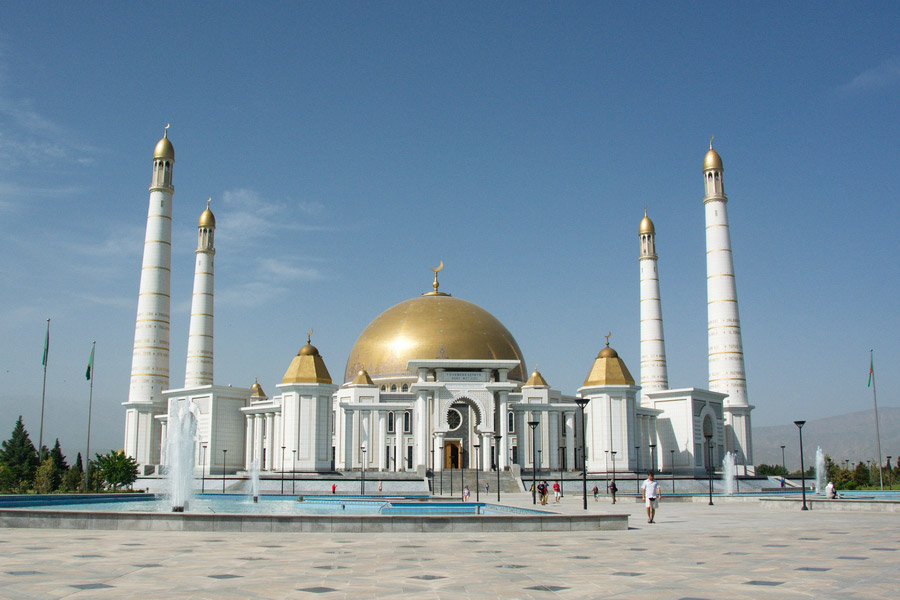 Turkmenbashi Ruhy Mosque, Ashgabat vicinities
Ashgabat, the city with the highest density of white marble-clad buildings in the world, is ideal for weekend trips. It has been listed by the World Guinness Records Book for this fact. There are ruins of ancient cities of Kunya-Urgench, Merv and Nisa in the surroundings, and you can learn more about the modern history of Turkmenistan in Ashgabat itself: you will see many monuments dedicated to the former leader of the nation Turkmenbashi, admire the Asian craving for erecting gigantic architectural constructions and understand what personality cult means in Turkmenistan. Moreover, Turkmenistan tourism development is reflected in infrastructure improvement; there are some very nice hotels, famous restaurants and popular night clubs, and variety of goods in modern shopping malls that are not any worse than in any other part of the world. Read more...
Recreational Tourism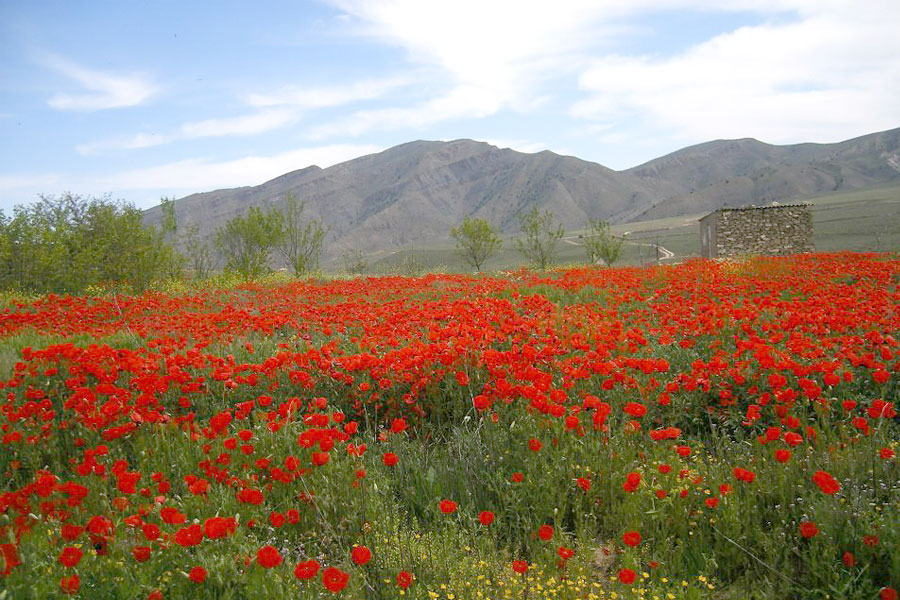 Nokhur Village
Recreational tourism is one of the highlighted parts of Turkmenistan leisure industry. Avaza National Tourism Zone has been created and being developed on the shores of the Caspean Sea. It is expected to complete construction of the recreational zone by 2020. Even now you will see there a sunny "sea city" with a clean beach and warm waters. Avaza offers comfortable hotels and kids' health and recreation centers, aquaparks, casino, sport complexes and other entertainment facilities.
Although Turkmenistan can absorb any traveler for any long, majority of our tourists prefer combining Turkmenistan tour with the other Stans of Central Asia. No matter whether you go for a separate Turkmenistan tour, or a visit to this land will be a part of a big Central Asian tour, traveling to the country of Akhaltek horses, huge reserves of natural gas and prehistoric sights enlisted by UNESCO, will stay with you forever.