Turkmenistan Trip Planner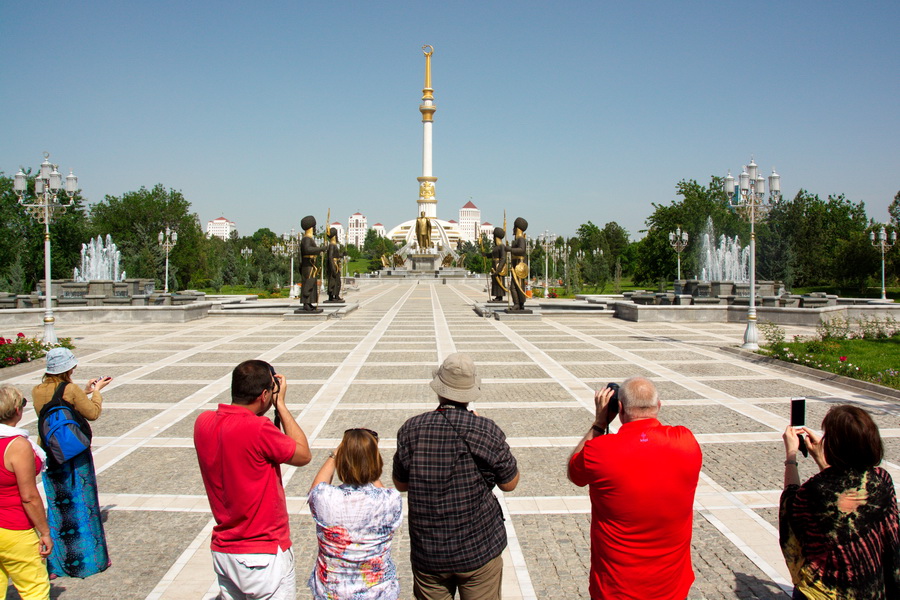 Turkmenistan Trip Planner | Independence Park
What do you need to know before your trip to Turkmenistan
Turkmenistan is an interesting country with lots of sights, monuments, unique culture and traditions that have been preserved since ancient times. Trip to Turkmenistan will amaze even a veteran traveler. The purpose of the present page is to familiarize you with practical information that will help you to get ready for the once-in-a-lifetime trip.
Visa
Tourists may enter the territory of Turkmenistan only with valid entry visa. One needs to apply for visa support (invitation) to obtain a visa to Turkmenistan. Visa applications are reviewed by the Immigration Service of Turkmenistan during 3 weeks. Visa can be collected at the Embassy of Turkmenistan or at the border point on the condition that there is a visa support. Also, 10-day visa can be obtained upon arrival at the International Airport in Ashgabat.
Reservation
Turkmenistan is not the best option to plan itinerary and travel independently; a competent travel agency is more preferable to ensure you will skim the best what this country offers for tourists. Before your travel to Turkmenistan, we recommend you to make a reservation at the hotel and book a tour in advance. This will prevent problems with accommodation and organization of tour route in Turkmenistan; also will save your time.
How to get to Turkmenistan
The best way to get to Turkmenistan
The most convenient way to get to Turkmenistan is an air-flight to Ashgabat. International flights to/from Ashgabat are operated by national air-carrier "Turkmen Airlines", and few international airlines. It is important to book tickets in advance to ensure their availability. It is not possible to travel to Turkmenistan by train or bus, as the country does not have direct connections with neighboring countries. We also do not recommend traveling to Turkmenistan by car, since this is very tiring and includes crossing several borders on the way. From Azerbaijan to Turkmenistan it is possible to get by ferry, which runs between Baku and Turkmenbashi on certain days, but there is no exact schedule. The ferry departs the port as soon as it is a fully loaded and good meteo conditions. The duration of one-way trip is from 12 to 15 hours.
Arrival in Turkmenistan
Registration
Upon arrival in Turkmenistan, any foreign citizen should receive an immigration card where hotel stay will be marked. Every foreigner arriving in Turkmenistan should apply for a registration in the Tourism and Sports Department of the Republic of Turkmenistan within three working days, not considering the entry day.
Accommodation
There is a big choice of 4- and 5-star hotels in big cities of Turkmenistan such as Ashgabat, Dashoguz, Turkmenabad and Turkmenbashi. In smaller cities and outside the capital, one can find mainly 2- and 3- star hotels. Regardless of the level of the hotel, we recommend you to check availability of hot water in the shower and a private bathroom when booking a hotel.
Cash and credit cards
It is better to exchange money in banks, hotels and exchange offices. Banks are open Monday to Friday, from 09.30 to 17.30. The most common exchange currency is US dollars. Most of the currency exchange offices do not accept banknotes issued before 1996, torn and old ones. It is recommended to bring cash in small USD banknotes. There are Visa Card ATMs in Ashgabat. Import and export of local currency is prohibited for foreigners. Import of foreign currency is not limited, but its amount should be declared. Export amount should not exceed the numbers on the declaration. In order to avoid problems at the customs, it is recommended to keep the receipts from currency exchange offices and shops. Credit cards are accepted only in the office of the VneshEkonomBank (The State Bank for Foreign Economic Affairs of Turkmenistan), few big hotels and restaurants of Ashgabat, as well as in the offices of airline companies. It is impossible to pay with the credit card outside of Ashgabat. Travelers' checks can be exchanged only in VneshEkonomBank and National Bank of Turkmenistan in Ashgabat.
List of restricted medication in Turkmenistan
There are some medications prohibited to import into Turkmenistan. As a rule the list consists of sedatives, painkillers and sleeping pills. Click here to download the list of restricted medications for personal use.
Departure from Turkmenistan
Preparation for departure
The procedure of departure at the airport is simple: you need to check-in for the flight, pass the customs control and passport control, proceed to the security checkpoint and take a flight. For international flights, travelers are recommended to arrive at the airport 2-3 hours before the flight. Make sure to check availability of passport, immigration card issued by OVIR and air-ticket before leaving the hotel.
Handmade crafts and souvenirs
At the control checkpoint, a customs officer may ask to show handmade crafts and souvenirs that you have purchased to make sure you do not deal with illegal export of goods that are of cultural value or antiquaries. Export of precious stones, musical instruments, art and archeological exhibits, antiquaries, etc is possible only at the availability of documents proving legality of the purchase. In order to export carpets from Turkmenistan, it is necessary to have a certificate from the Museum of Carpets in Ashgabat, that the carpet does not hold any historical value. Besides, it requires a tax payment depending on the size of the carpet.