Turkmenistan Visa: Entry Requirements, Application Process, and Support Services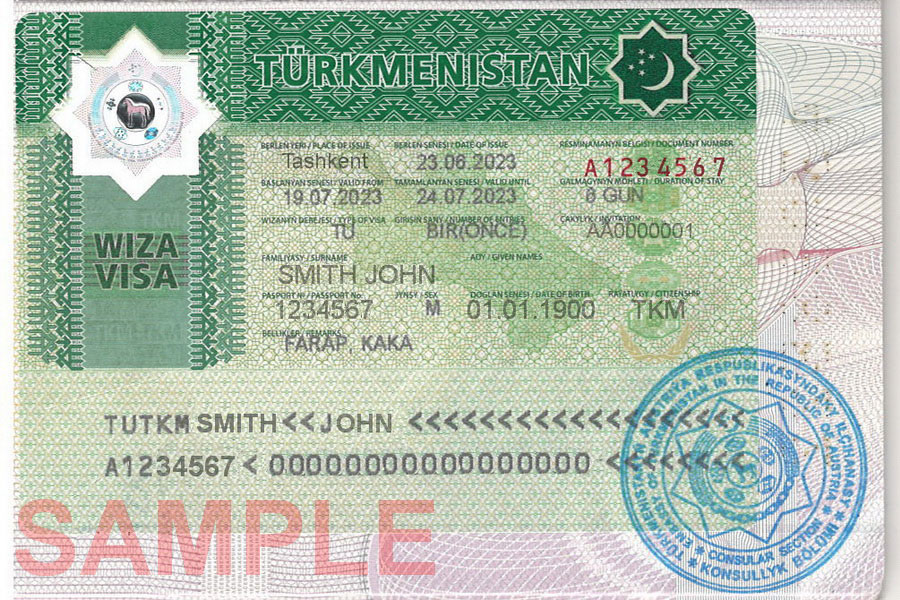 Last updated: July 3, 2023
Visa Support and Services for a Smooth Trip to Turkmenistan
After a prolonged isolation due to the Covid-19 pandemic, Turkmenistan has opened its borders for tourists starting from March 6th, 2023. However, besides the usual visa, tourists will have to take a PCR test at the border (costing approximately $43, payment in cash).
Turkmenistan Visa Requirements and Application Process
Turkmenistan visa is required from all foreign nationals to enter the Republic of Turkmenistan. Tourist visa to Turkmenistan is issued by the Immigration Service of the Republic of Turkmenistan on the basis of application from a licensed travel agency in Turkmenistan. The approval period usually varies between 3 - 4 weeks. The Immigration Service reserves the right to deny a visa application without any explanations. Approved visa application, which is also referred to as Turkmenistan Visa Support, is faxed directly to the embassy or consulate of the Republic of Turkmenistan in the country where the traveler will receive visa. Visa can be obtained upon arrival at Ashgabat airport and certain land borders based on approved visa application.
Advantour Visa Support and Services
Advantour organizes private and group tours to Turkmenistan via reliable local partners. All of our tours include the Turkmenistan Visa Support.
Turkmenistan Visa Support Conditions
Visa Support is part of the travel services package, which contains:
Turkmenistan Visa Support letter;
Entry Travel Pass;
Registration in Immigration Department;
Meeting at the border by a representative;
Hotel accommodation to the choice;
Airport/Border meetings and transportation throughout the tour program
Accompanying guide.
Turkmenistan Visa Costs and Application
Visa will cost from $50 to $150, depending on recipients' country of citizenship and urgency. The fee must be paid in cash in United States Dollars (USD) only at the embassy, at Ashgabat airport and land borders with the visa application.
The following will be required from you for Turkmenistan Visa Support:
Color copy of valid international passport (full page that clearly shows all text, photo, signature and bar code);
One recent color passport-size photo;
Any other name(s) used before (e.g. before marriage);
Marital status (single, married, divorced, widowed);
Duration of stay (from/until);
Number of entries;
Point of entrance and exit in Turkmenistan;
Full name and date of birth of spouse;
Full name(s) and date(s) of birth of child(ren);
Home address (full address of permanent residence; not the address of temporary residence);
Name of educational institute (name of institute of last/highest educational certification, city and country);
Field of study (department, faculty, field/direction/specialization, for example medicine, economics, engineering, linguistics, management, history, law);
Work position (position/function/title of current job, for example economist, engineer, medical doctor, retired, housewife, student);
Place of work (name and place of work and address);
Place of obtaining Turkmenistan visa (embassy and name of city, or on arrival at land border or airport);
Previous visits to Turkmenistan (year, month and purpose).
Where to apply for and obtain Turkmenistan Visa?
Tourists may apply for a visa at any Turkmenistan embassy or consulate abroad and obtain it on arrival at Ashgabat airport, the Turkmen land border at Farab (Bukhara, Uzbekistan), Shavat (Khiva, Uzbekistan), Khojeyli (Nukus, Uzbekistan); Gaudan (Bajgiran/Mashhad, Iran), Bekdash (Aktau, Kazakhstan).
Visa is not issued at the land borders of Serakhs (Iran), Serhetabat (Afghanistan) and Turkmenbashi (the Caspian Sea Port).
Turkmenistan Visa Application Requirements:
Two completed visa applications;
Valid passport and its copy. Passport must have at least six months validity period from the day of entrance to Turkmenistan;
Two passport size photos glued to the applications;
Visa fee;
Approved Turkmenistan Visa Support;
Stamped, self-addressed envelope, if the embassy agreed to serve by post.
Turkmenistan Transit Visa
Transit visa for Turkmenistan can be obtained without LOI. It is available at all Turkmenistan Consulates upon presentation of valid onward visas or relevant ticketing where applicable. No transit visa is available at any Turkmenistan border points including Ashgabat airport.
Important Note on Turkmenistan Visa Regulations
Kindly be advised that Turkmenistan authorities have tightened visa regulations and have been quite strict lately with issuing letters of invitation. We encourage applying for it as early as Turkmenistan law permits (3 months prior to the date of exit from Turkmenistan). We suggest booking refundable tickets or purchasing them after the letter of support has been issued.
Feel free to reach out to us for support with your travel plans in Turkmenistan. All of our travel arrangement will include the Turkmenistan Visa Support.
How to Read Turkmenistan Visa: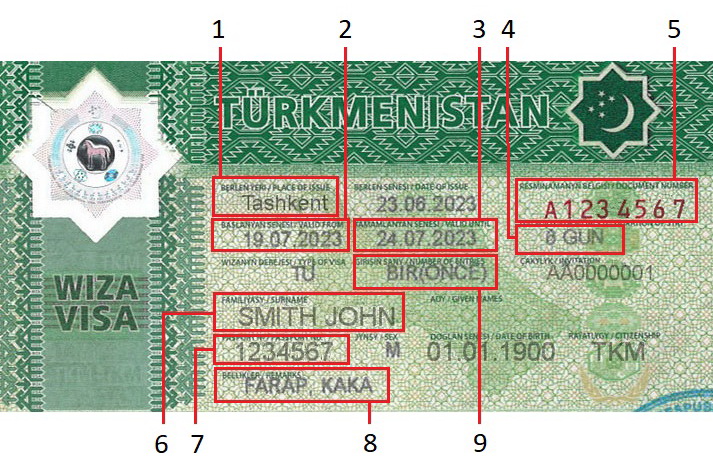 1. Place of issuance of visa to Turkmenistan.
2. Date of entry to Turkmenistan.
3. Date of exit from Turkmenistan.
4. Number of days in Turkmenistan.
5. Number of issued visa.
6. Name of visa recipient in Turkmenistan.
7. Passport number of the visa recipient.
8. Border points for entering and leaving Turkmenistan.
9. Visa multiplicity to Turkmenistan.
Visa to other Central Asian countries: