Vacation in Turkmenistan

10 things to do in Turkmenistan
Turkmenistan is an absolutely unusual country that despite historically being interconnected with its neighboring countries considerably differs from them. Like on the territory of modern states of the region, the route of the Great Silk Road was passing here, mighty kingdoms and civilizations were growing that lasted for centuries and millennia and what is left now is the dust falling from the walls reminding of merciless rulers and cruel conquerors and great thinkers of the time. For a traveler who would like to spend vacation in Turkmenistan and explore all beauty of the country where there is a sea, deserts, mountains and oases; where they weave amazing carpets and breed beautiful racehorses; where they cook wonderful dishes and sing old songs even a year won't be enough to seize in. But there are 10 things to do in Turkmenistan that anyone visiting the country should consider.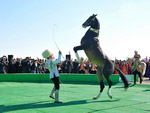 1. See akhaltek racehorses. Turkmen horses are famous around the whole world. They are gifted to queens and presidents. Songs are written and monuments are erected in their names. Akhaltek horses are an important article of the export. Having few of those in the stable is a pride of any horse breeder in the world. Akhaltek horses have always been used as warhorses. They are also great for falconry riding. They say that Turkmen horses are as fast as a bird and can even take over a falcon. Thus they are often given names of strong birds: Lachyn – falcon, Burgut – eagle, Durna – crane, Garagush – blackbird, Melekush – dun bird. They never hitched cards to the Akhaltek horses and never used as a means of carriage. They may give in the speed to English horses, and dressage to German horses. But clever, graceful and beautiful Akhaltek horses are superb in vaulting contests and in circus. The significance and influence of Akhalteks in life of Turkmens is hard to overestimate. The racehorse is depicted on the coat of arms of the country. There is an official state holiday "The racehorse day". If you are in Ashgabat, make sure you go and enjoy watching them in the hippodrome "Bedev" and buy if not the racehorse itself, but a souvenir with its image for a keepsake.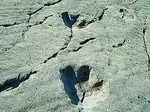 2. Touch the fossilized dinosaur tracks. Turkmen "Dinosaur plateau" has worldwide fame - a large limestone slab on the hill with the size of four football fields with numerous footprints of dinosaurs. The uniqueness of these large three types of tracks of ancient dinosaurs (Megalasaurus, Iguanodon and Tyrannosaurus) in the western slope of the Kugitan range is not only that it is the largest reserve of dinosaur tracks in the world, and not even that the longest fossilized paths stretch for few hundred meters. In its time, the scientific world was amazed with the fact that six tracks were similar to the tracks of humankind type of foot size 43. Immediately non-scientific rumours appeared about aliens that arrived with UFO 140-200mln years ago and even about the "Dinosaur chasers". Take a trip and see it for yourself.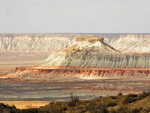 3. See "fire fortresses" of Yangi-Kala Canyon. It is rare where you can make such beautiful photos as in Yangi-Kala Canyon where once there was old sea. Appalling sheer steeps that are unusually cut with the winds and rains fall down for several hundred meters. Here you can watch how rocks change its colors depending on the light and the time of the day. Bright white under the afternoon sunshine, canyons are especially beautiful in the sunset when everything around gets into fiery red color. In the sunset you will see "fire fortresses" as described in the novels of John Ronald Reuel Tolkien (author of The Hobbit, The Lord of the Rings and etc.) and Zelazny (author of Lord of Light, The Chronicles of Amber, Isle of the Dead and etc.). The Canyon is a wonderful place for hiking, tenting, and racing in jeeps. You will rarely find a canyon in a standard tour program, so make sure you plan your trip to a fairy-tale.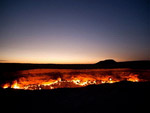 4. Come around to the "Door to Hell". In the beginning of the 70's this was a usual place near the village Derweze that means "gate" in Turkmen. But in 1971 geologists opened a cavern where they fell down the big hole together with equipment and transport. So they decided to burn it off so that the cavern doesn't release poisonous gases. "Fire will stop in a few days", - would they say to calm down the dwellers of the Derweze village. Since then half a century has passed, and the fire is still burning. Flames sometimes reach 15m in height. Village dwellers were moved and its harmless name gave the crater its sinister name "Door to Hell". Crater has turned into the most interesting and mysterious sights of Turkmenistan, annually attracting numerous tourists. In daylight, it looks a hole in the ground and only by coming closer you will see hundreds of fire flames in a 20-m crater. The evening sight is completely different – the crater slowly submerges into the darkness lit by red flames. The impression from flaming crater increases from the fact that it's only a desert around for many kilometers. Also note, that if you take a trip there, that it is 90km in the desert to the nearest shop.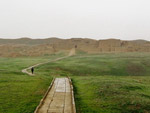 5. Take a trip to 2300 years back in time. There is a unique ancient monument not far from Ashgabat –the ruins of Parthian fortress "Old Nisa" included in the UNESCO World Heritage List. The fortress was a residence of the Arshakids dynasty and the capital of well-known Parthian Empire from 3 B.C. to 3 A.D. was Old Nisa (named Mitridarkert in ancient times) was a complex of a fortress (with a shape of a wrong pentagon), a square and a bastion. Fortress walls would get 9m width in the foundation and were firmed with 43 rectangular towers. The architecture of Old Nisa that has so beautifully absorbed antique traditions of Ellada, Roman Empire and eastern states, has no analogy in Central Asia. They would celebrate events of holy rulers of Parthia in palaces and temples, inside the Old Nisa there were wine stores and empire treasury. Only grand ruins have survived to our days. But they still impress with their arched walls, exquisite brick laying, and smart architectural techniques.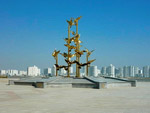 6. Recognize a revived city. There are no capital cities in the world that were not wiped off the map and then were revived again. Only two cities of Japan come to mind that were victims of bombing. The capital of Turkmen SSR Ashgabat was awfully destroyed by an earthquake in 1948 that according to official records, took lives of about 10 thousand people. These numbers are more than the ones in Nagasaki and about the same as in Hiroshima. People of Ashgabat remember that date – they have erected an expressive monument though the best monument is a modern city itself with its beautiful palaces, business-centers, fountains and alleys. Make sure you visit the biggest bazaars that are located in the historical part of the city: "Tekin bazaar" and State Trade Center "Gulistan" that people call "Russian bazaar". There you will learn what is a Turkmen bazaar and Turkmen cuisine: meat soups (chorba, gaynatma, dograma), fried meat (govurma, govurdak), Caspian sturgeon or starry sturgeon baked in "tandoor", smoked or grilled, pies "ishlekli" and "gutapi".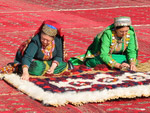 7. Understand the language of a Turkmen carpet. The whole world knows Turkmen carpets and Akhaltek horses. Not every tourist can buy and take away a pedigree racehorse. But it is possible to take a wonderful Turkmen carpet carrying the memory of the centuries in its patterns that is 50 years old (even a small carpet for an armchair) – this is just a must. In the Ashgabat Carpet Museum you will learn about the history of carpet weaving art, that every Turkmen tribe had its specific pattern; and hear legends that in the patterns (locals say "geli" ) covenants of a legendary predecessor Turkmen Oguz Khan had been weaved into the carpets. In the Museum, you will also see old precious carpets and the biggest carpet that is 301 square meters weaved in our days. A carpet you may buy all over the country, but it is rather convenient to do it in a state shop. As it would enough to present the receipt at the customs, whereas a purchase from a private person may require to go to the Expertise Committee at the Ashgabat Carpets Museum. Surprise and amaze everyone at home with a Turkmen hat made of wool ("telpak"). It is great both in cold and hot weather.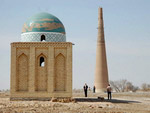 8. Feel thousand years of history in Kunya-Urgench air. The ancient capital of Northern Khorezm for many centuries had been a rich city of a flourishing state with a great buildings, skillful masters. Large cultural and trade medieval centre was also famous for the Academy of Sultan Mamun ibn-Mamun. A legendary figure Avicenna, a great scientist Biruni and many other significant thinkers of that time lived and worked in Kunya-Urgench. Rich capital of the Khorezm-shahs state attracted not only scientists and masters. Although Arab conquest by Makhmud Gaznevi strengthened the state, but conquest of the Mongol Horde of Genghis-Khan and numerous suppressions of Kunya-Urgench by Tamerlan armies completely destroyed the previous might. When the Amu-Darya River changed its course, lands were abandoned for ages. Time is ruthless and remains of the bygone might and beauty of Kunya-Urgench reached our days quite ruined. But there are still few madrasas, mausoleums, minarets and fortresses that have survived. One of them is a mausoleum of Khorezm Shakh Tekesh. A 60-m high minaret of Kutlug-Timur, built in 1011, mounting over the area was considered the tallest tower in the entire Central Asia. It has survived the Mongol invasion in 1221. Vacation in Turkmenistan will not be complete without a visit to Kunya-Urgench.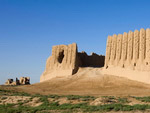 9. Walk along the shadow of the ancient city of Central Asia. Merv oasis was settled in the era of Margiana civilization in the 3-2 centuries B.C. The origin of Merv is full of secrets, only one thing is clear - the first writings mentioning it appeared in Avesto chronicles approximately point at 8-6 centuries B.C. Merv had lived many ups and downs throughout its history. It had been one of the centers of the Parthian Empire. After the Arab conquest, Merv had turned into a book center thanks to the dozens of libraries. As noted by the contemporary scientists, when Seljuks governed buildings of Merv were grander than the ones in Baghdad and Constantinople. This is an interesting turn of the history. As the result of the Mongol invasion, the city was completely destroyed. Later the son of the great conqueror Amir Temur – Shakhrukh rebuilt the city with its palaces, squares and fortresses, though not for long. Current ruins of Merv are five ancient villages: Erk-Kala, Gyaur-Kala, Sultan-Kala, Abdullakhan-Kala and Bayramalikhan-Kala. The mausoleum of sultan Sanjar Dar-al-Akhir (1140 B.C.) is worth noting. The unique characteristic of this 40-m erection is its legendary dome built by two thin brick shells. Many archeological findings discovered during excavations of ancient cities may be seen in a great Museum of History of Merv. Make sure you visit this place, the city that had been included into the UNESCO World Heritage List.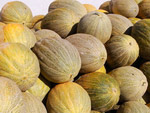 10. Dive in a melon paradise. Turkmen melons are in one line with Akhaltek horses and Turkmen carpets. They are a pride of the country. Annually, every second Sunday of August, the country celebrates a special holiday – Turkmen melon day (Gawun bayramy), contests of breeders and melon growers are organized. There are about 430 kinds of melons grown in Turkmenistan. Besides, earlier sorts ("Kyrk-gunluk") ripen in May and the latest ("Garry-Kyz") in October. Considering the point that the autumn sorts may be stored for several months, melons in Turkmenistan are a year-round delicacy. The smallest sort of melon is "Dessemaya" with a diameter of 5-6cm and 50-60gr in weight. The largest one is of "Myhmansovar" sort (Hospitable) that is a meter long and 20-25kg in weight. Popular sorts of melons are "Vakharman", "Gulyabi", "Gurbek", "Azgyn", "Garpyz gavun", "Shekerpalak" and "Gara Gotur". Turkmen melons are not only delicious, but also have healing properties and have lemon, oxalic, apple acids, vitamins C, B, E, B6, B1, B2, B15, PP, magnesium, phosphorus, sulfur, chlorine, manganese, iron, copper, fluorine, zinc. They use melons to make jams, juices, sweets, halva (idjan), syrups and dried pieces (gavun kak). Turkmen agronomists try to introduce consumers new varieties of melons and regenerate historical types. Make your vacation in Turkmenistan sweet – try at least a dozen of melons. It is easy as a pie in Turkmenistan.