Chor-Minor, Bukhara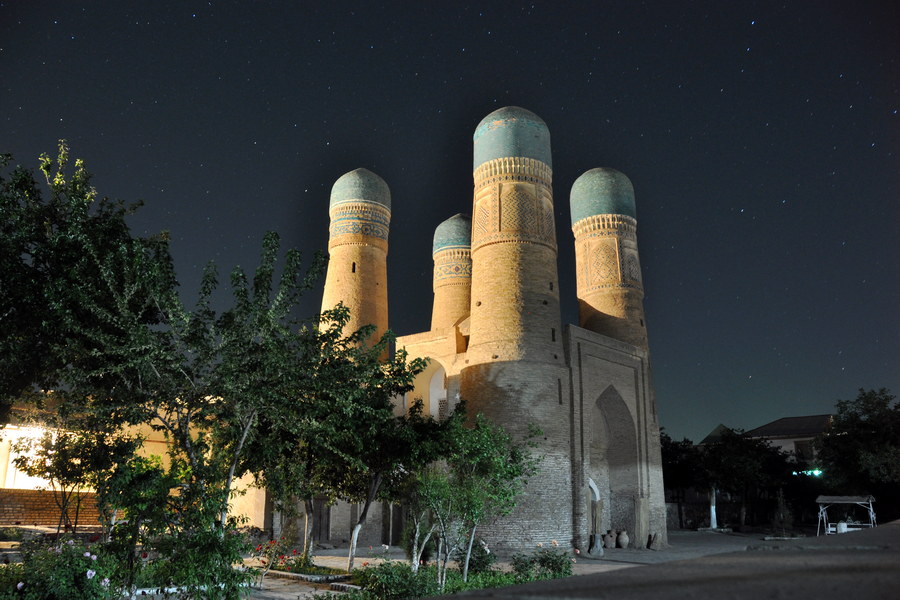 Speaking of the Bukhara's unusual monuments, first of all, we should tell about the Chor-Minor madrasah. It is located right behind Lyabi-Khauz, in the open space. "Chor–Minor" is translated as "four minarets". This name is well justified: the corners of the square-rectangular madrasah building are really decorated with four small minarets crowned with blue domes, different in decors from each other.
Each of the four minarets is of a different shape. The towers' décor elements are believed to reflect the religious-philosophical understanding of the world's four religions. At least, it is easy to see that some elements look like a cross, a Christian fish, and the Buddhist prayer wheel.
In front of the madrasah building there is a patio, with a centrally occupied small basin – hauz, lined with stone blocks, and several hujrs adjacent to the madrasah sides.
The madrasah is a well-preserved building, erected on money of the rich Turkmen Caliph Niyazkul. The date of the madrasah construction, referred to the year 1807, needs to be specified, because according to the archival documents the Caliph Niyazkul madrasah existed as early as the end of the XVII century.