Khodja Maggiz Mausoleum, Margilan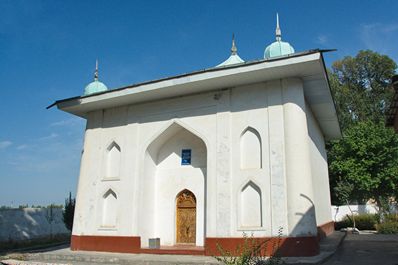 This mausoleum, built in the first half of the 18th century, can be safely attributed to the unique objects of Muslim culture. Its original structure is very rare in the architecture of Central Asia. Mausoleum of Khodja Magiz covered with a huge dome diameter 4,4 m, which lies on a drum, which is faceted at bottom and cylindrical at the top.
The facade of the tomb is divided into smooth rectangular panels with reliefs of floral design, composed of cast ganch tiles. Purity of form, noble proportions and exquisite decorative elements characteristic of this building, allow to relate it to the best memorial building Margilan. The combination of a mean range of paints with thread passes Margilan features antique style.