Top 10 Nukus Restaurants and Cafes
Nukus cafes and restaurants mostly present dishes of national Uzbek cuisine: shourpa, shasliks (kebabs), somsa. The most popular dish in Karakalpakistan is the beshbarmak. This substantial dish consists of boiled square noodle mixed with boiled meat and usually is served with vegetables and mutton broth.
In many Nukus restaurants and cafes you will find some classic dishes of Russian cuisine: okroshka, borscht, cutlets, as well as European dishes, cooked "in Uzbek style" due to use of oriental spices, local vegetables and etc.
The well-known restaurant Sheraton, situated on the central street of Garezsizlik, offers to taste the wide range of European dishes, prepared in Russian and Uzbek style. Close to it there is the restaurant Neo with similar cuisine. On the same street you will find a number of various cafes terraces and kebab-houses, where you may snack and relax with a company of friends over a glass of beer.
Print version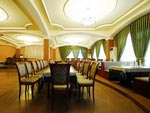 Address:
Tattebaev str, 21, Nukus
Phone:
+8361-224-00-03
Cuisine:
European, Uzbek (by request)
Working hours:
10:00-23:00
Popular dishes:
chakhokhbili, kuk-si soup, Turkish meat meal
Description:
Restaurant NEO is located in the centre of Nukus near the Central Bank of Nukus. Menu of the restaurant offers faifly large selection of various dishes, from soups to desserts
Print version