Traditional Uzbek Souvenirs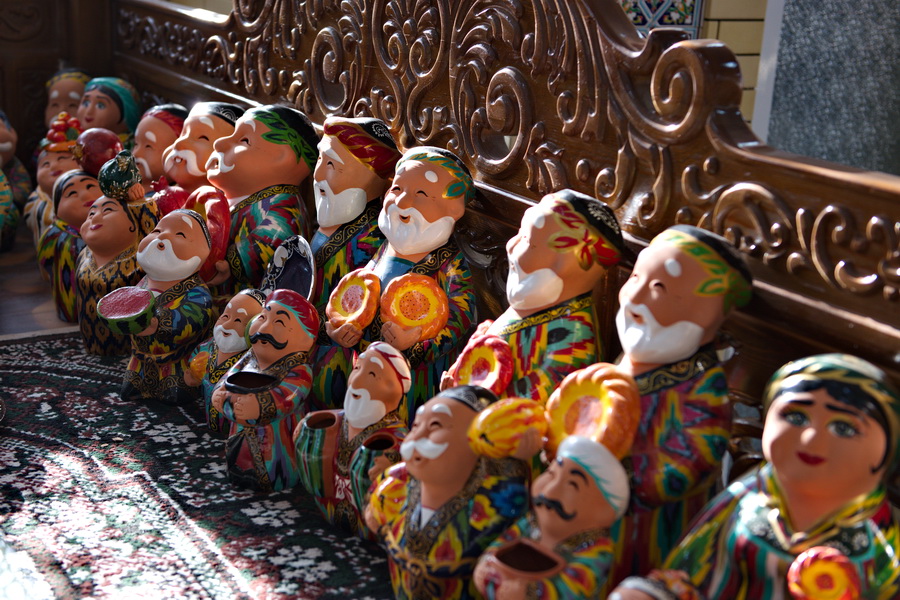 What's a trip abroad without souvenirs? Souvenirs aren't just gifts for friends and relatives, but also keepsakes, a part of the country that you visited. With its long history of master artistry and influences from far and wide, Uzbekistan is a perfect place to buy souvenirs for yourself or others. There is a wide variety of Uzbek souvenirs available, so this guide is designed to help you choose the best quality and workmanship.
Uzbek Ceramic Souvenirs
As you travel through the different cities of Uzbekistan, you'll find that each place has its own style of ceramics. The schools in each region differ from those in other regions, with differences showing up in the colors, designs, shapes, and ceramics techniques.
Rishton, in the Fergana Valley, is especially famous for its ceramics. The artisans here use a special blue glaze, called ishkor. Ishkor is made from natural minerals and plants, and gives the ceramics from this school a special blue tint not found anywhere else. Here you can find dishes traditionally decorated with pomegranate and almond flowers, or in the shape of a duck (called obdasta urdak).
Just 40 km (25 miles) from Bukhara is the small town of Gijduvan. Here, ceramics feature a yellow-brown base with green and blue patterns. The Nasrullayev family has been making pottery in Gijduvan for six generations using traditional materials and techniques, and their affordable prices (less than $10 for many items) make these ceramics a great Uzbek souvenir.
Deeper dishes, called lagan, and badia plates from Khiva have blue and turquoise patterns and wide rims, making them good for hanging on the wall at home. A hum vessel from Khorezm makes for a good vase, and a chiroki lamp will create a unique atmosphere in your home.
Various small hand-painted pottery figures can often be found near large monuments and in bazaars. There are often figurines of traditional heroes, miniature camels, tea-house owners with trays of tea, and watermelon traders carrying their wares are common, painted wearing traditional clothing and designs.
Carved Wood and Metal Art
Almost every Uzbek bazaar will feature lots of vendors selling knives, daggers, and even swords, all adorned with decorative carvings. A traditional Uzbekistan souvenir is a knife called pichok, with a unique form for the blade and handle. The most famous knives are made by the masters in the village of Chust. Light and elegant, they have a curved blade that tips up at the end and a dipped handle, with a sheath decorated in cloud patterns. When hit lightly, the dark steel blade makes a light tinging sound.
Jewelry is another well-developed area of metal carving. Jewelry from Tashkent, Bukhara and Samarkand is in demand not only as souvenirs from Uzbekistan, but also as accessories for special occasions, where you can show off the originality and unique design. Try on traditional kashgar-boldak earrings, or teardrop-shaped earrings with dangling charms. Also popular are silver bracelets with carnelian and necklaces with delicate turquoise beads, certain to give you an extra special air. For Uzbek people, jewelry is not only for decoration, but also serves as an amulet. For example, tumor is a gold or silver box with an engraved prayer, featuring a a talisman or miniature Quran inside.
While visiting Uzbekistan, it's impossible not to notice how much carved wood is available. Uzbek masters have perfected the art of intricate wood carving and painting, since for centuries, buildings were decorated with carved wood columns and doors. These carved pieces featured intricate floral patterns, which sometimes included the name of the artisan who carved them. You can buy a carved table and stools made of elm, walnut and juniper for your sitting room, or a laukh, a stand for the Quran made from a single piece of wood, without fasteners or hinges. Carved or painted wooden boxes, decorated with a floral pattern called islimi, are great for holding jewelry, makeup, or other small items.
Traditional Clothing, Fur, and Embroidery
Uzbek embroidery is noted for its originality and uniqueness. Suzani are traditional embroideries, most famous in Samarkand and Bukhara, that look like intricately embroidered carpets. Bukhara is most famous for its gold embroidery, made with fine gold thread and perfect for decoration around the house, while kashkadarya embroideries are noted for their handbags decorated with colorful traditional embroidery.
Bukhara is also famous for its fur coats and karakul fur hats. The warm, thick and shiny fur of the karakul sheep, from Bukhara, has a refined appearance and is quite useful in the cold.
Traditional festive clothing can also be a great Uzbek souvenir. Men's robes, called zarpachan, and women's coats, kamzul, can be found with gold thread embroidery. But the most popular item of clothing that people buy as souvenirs are traditional skull caps, called tubeteika.
Each region has its own design for tubeteikas. Chust tubeteikas are the most common. They are made from black satin with white embroidery, and the design features four peppers. The tubeteika is an essential part of traditional men's clothing, but women would also wear colorful caps. Women's caps featured various ornaments and even precious stones. Women's caps in Bukhara were sometimes embroidered with golden thread.
Fabrics and Carpets
Some of the most famous Uzbek fabrics are ikats, light silk fabrics with blurred designs. These fabrics are made by tying threads into intricate patterns and dying them. When the dyed threads are woven, the pattern reveals itself. Margilan is most famous for its silk and fabrics, with workshops using traditional techniques to make abr, adras and khan-atlas fabrics.
Carpets are another great Uzbek souvenir. Khiva, Bukhara, Samarkand, Kokand, Shakhrisabz, and Karakalpakstan all make rugs with different techniques and designs. Some workshops are even starting to bring back techniques and designs that have been lost to history by using natural dyes and patterns taken from old paintings. Carpets can be made from silk or wool, or a combination, and can be laid on the floor or hung on walls to decorate houses. Samarkand silk carpets are especially famous for their naturally soft pile and luxurious colors.
Uzbek Wine
Bottles of wine make for good Uzbekistan souvenirs. The most famous winemakers in Uzbekistan can be found in Samarkand. Uzbek wine is sold in shops near attractions, and sometimes tastings are held, where for a small fee visitors can taste red and white local wines.
Uzbek Musical Instruments
Uzbek musical instruments can make a great souvenir, not only for their elegant patterns and shapes, but for their rich, deep sound. From bowed instruments like the kobuz, setor and sato, plucked instruments like the dombra, ud, and rubab, to wood instruments like the surnay and koshnay, and drums like the doira and nagora, there's an instrument for all those who are interested.
Samarkand Paper
The first people to master the techniques of making mulberry paper outside of China were the artisans of Samarkand. Starting in the 10th and 11th centuries, they used the bark, silk fibers and flower petals of mulberry trees to make paper famous for its smoothness, color, and durability. Documents written on Samarkand paper have been preserved for centuries in museums around the world and are in good condition even today. This paper was especially prized for calligraphers for texts, artists for miniature paintings, and bookbinders for books.
Tips for Travelers:
While we are sure you'll find some wonderful souvenirs in Uzbekistan, it's important to remember that there are bans and customs restrictions on the export of art objects and antiques. In particular, it is forbidden to export an item that is more than 50 years old or is of cultural value. Therefore, when buying paintings, carpets, or other pieces of art as a souvenir, it is best to have a receipt confirming that the object is not an antique and does not have historical or cultural value, as well as a certificate for export complete with a photo and description.
Uzbekistan's Best Souvenirs