Kazakhstan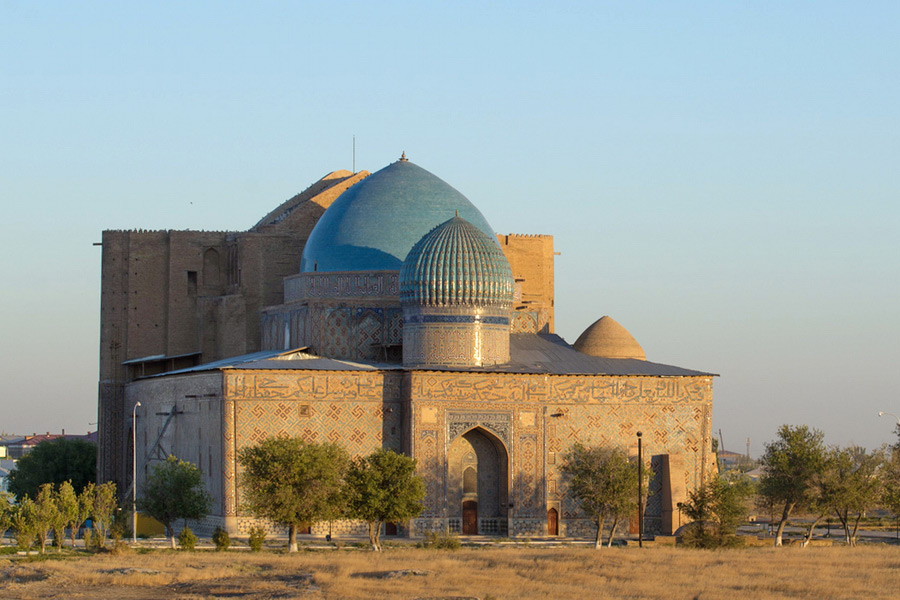 Kazakhstan Travel Guide
Geographically Kazakhstan is a part of Central Asia. Kazakhstan is more than twice as big as the four other Central Asian republics put together and is roughly half the size of mainland USA. The landscape of Kazakhstan is diverse. The northern forest-steppe turns into steppe, half-deserts and deserts in the South.
Kazakhstan is mineral rich. Enterprises involved in extraction and processing of coal, oil, gas, non-ferrous and ferrous metals play a leading role in the national economy.
The Republic is a multinational state inhabited with representatives of more than 120 nationalities. The main religions are Islam and Orthodox Christianity, but religious tolerant is the norm.
In recent years lots of mosques and churches are under construction and the number of religious people is growing. But Kazakhstan is not as religious as other republics of Central Asia, and as a heritage of the Soviet Union a great number of people are not religious at all.
10 Great Things to Do and See in Kazakhstan
Kazakhstan Cities
Almaty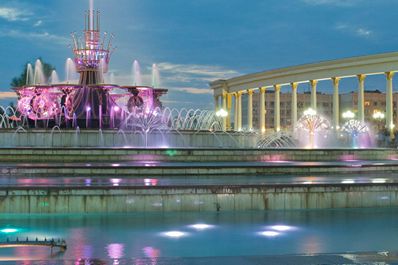 Almaty is the largest city in Kazakhstan and the former capital of the Republic. Sudden exposure to the outside world has turned Almaty into Central Asia's most cosmopolitan city with shops, restaurants, hotels and casinos that would make the place unrecognizable to anyone who had been away since 1990. Almaty was the capital of Kazakhstan till December 1997. The city has long straight avenues and low-rise architecture. The Zailijski Alatau Mountains rise like a wall along Almaty's southern fringe and form a superb backdrop. There are lots of parks, space and greenery.
More about Almaty, Kazakhstan
Astana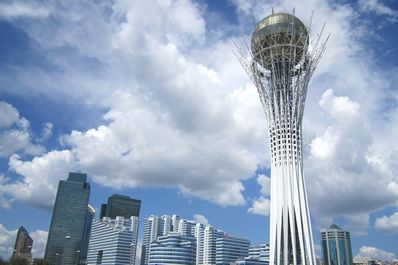 Astana is an important industry and cultural center of the republic, also railway auto-transport junction. In 1824 it was founded as the military locality, in 1868 it had got the status of the town, and in 50s of XX century it was an important center of development of virgin and disused lands in the north of the country. The industry of the town is represented by agri-mechanical engineering, food industry, refining of the agricultural raw material, and transport. Earlier it was the fortification founded by the Russian Kazak troops in 1830 on the bank of the Ishim river in Karaotkel natural boundary.
More about Astana, Kazakhstan
Aktau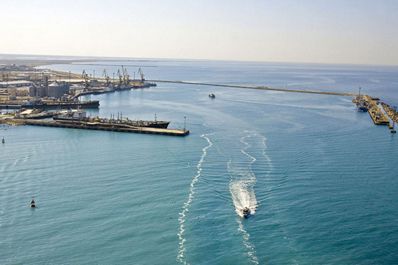 Aktau is one of the perspective towns of the South-West Kazakhstan, built in 1960s of XX century on Mangyshlak peninsula. It is the center of oil and gas industry and the Caspian seaport. The only nuclear power station of the country is built not far from town with distilling installation. The interesting places: underground mosques (X-XIIc.), necropolis (IX-XIXc.) in the territory of which there are many stone statues, Beket-Ata necropol, Karagie hollow is to 132m lower of the ocean's level and the 3d deep hollow in the world, Mangystau desert, Caspian Sea.
More about Aktau, Kazakhstan
Taraz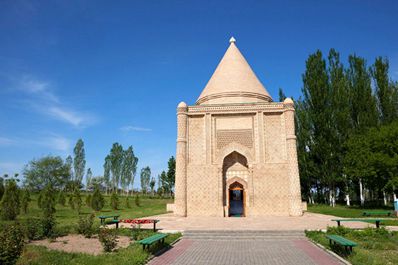 One of the largest tourist centers of Kazakhstan is Taraz, the city, standing on the "Great Silk Road". At the beginning of our era on the fertile lands, irrigated by the river, there sprang up the large trade-and-handicraft town Taraz. Up to the XIIth century it was the economic, cultural and political centre of medieval state of Karakhanidz. At the beginning of XIXth century, not far from it, on the spot of ancient Taraz there took place the rapid development of the city named as Aulie-Ata (" holy aged man"). Its first settlers were Uzbeks, those who came from Namangan.
More about Taraz, Kazakhstan
Kazakhstan Travel Attractions
Tamgaly
Aqsu-Zhabaghly Nature Reserve
Burabai
Hodja Ahmed Yasavi Mausoleum
Otrar
Tanbala Petroglyphs
More about Kazakhstan sights
Kazakhstan Mountains
Tien-Shan Mountains
Marble Wall Peak
Khan-Tengri Peak
Dzhungariya Mountains
Kazakhstan Useful Links
CIA - The World Factbook - Facts about Kazakhstan