Echmiadzin Cathedral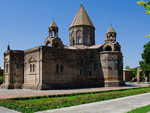 One of the main attractions of the Echmiadzin is the Cathedral — the most ancient Christian temple of Armenia , one of the first in entire Christian world. The first stone of the temple, as the legend goes, was laid in 30 by the first Catholicos of Armenian Church.
The main Armenian temple's construction, which began in the 4 th century, was under construction for a long time.
Originally the Echmiadzin Cathedral was constructed from wood in the form of basilica. But in 483 it was reconstructed and made into cross-shaped building with a dome. In the 7 th century the Cathedral was made of stone. In the 17 th century the existing dome and the three-level belfry were added. In the 18 th century the six-column rotundas were built from the three sides of the Cathedral.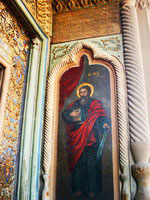 The interior decoration of the Cathedral finished in the 18 th century is impressive with Byzantine luxury and various floral ornaments of orange-red and blue-lilac shades. Besides the ornaments and other decorations the artist painted various scenes based on the Holy Scriptures, more than 120 portraits with the images of saints and apostles. During the following years many frescos were destroyed. In the 20 th century thorough restoration was accomplished. The columns and the arches supporting the dome wee reinforced and the dome itself was jacketed with lead. The new marble altar was constructed. Marble was also used for the church floor. The old frescoes inside the temple were renovated and new ones added. A number of khachkars were installed in the niches .
The distinguishing feature of the cathedral is that here are three more altars besides the main one. Two of them are located in the northern and southern niches. The other is in the center and marks the holy site where Christ descended and ordered St. Gregory the Illuminator to build the temple on that particular place.
In 2001 when Armenia celebrated the 1700 th anniversary of adoption of Christianity, Pope John Paul II brought the relics of the first Armenian Catholicos there. For five hundred years the relics of St. Gregory the Illuminatot had been kept in Naples , and now are in a cathedral of Echmiadzin.