Geghard, Armenia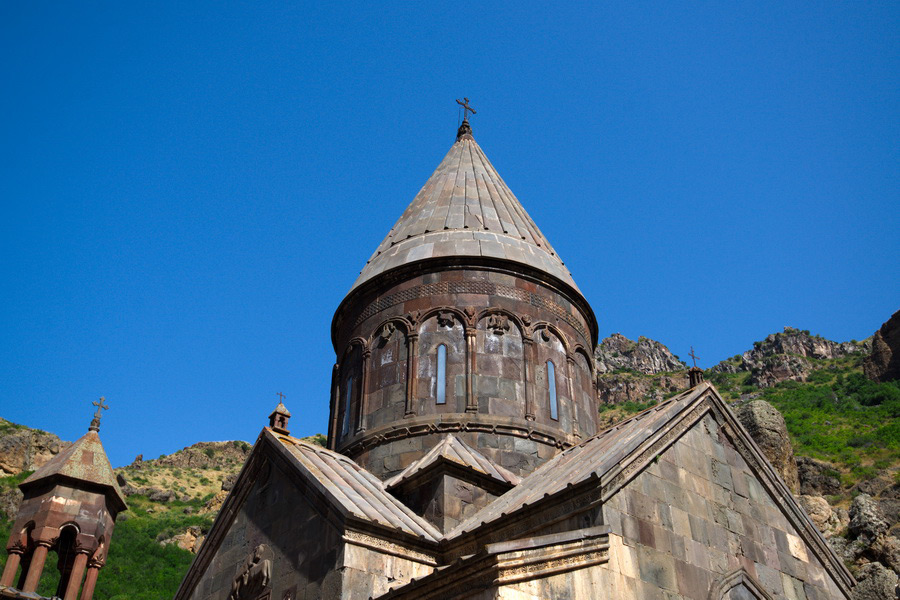 Located several miles from Garni, along the river Azat gorge to the northeast, on the amphitheatre-like slope of steep rocks, amidst severe and majestic nature is Geghard or Geghardavank monastery well-known for its rocky sights. The direction there is shown by the figure of a lioness on a high pedestal standing right at the abrupt turn after which you suddenly see the monastery.
The half of the monastic complex is indeed cut from granite monolith. The other half consists of natural grottoes and caves which were used as cells.
The monastery was founded (presumably) in the 4 th century by the First Catholicos of Armenia - Gregory the Illuminator and originally named Airivank.
The monks there gave shelter and food to the travelers who were scared of crossing the gorge at night.
It was repeatedly exposed to the attacks of Arabs and Seljuk Turks who burnt it down in 923. Not a single original monastery structure has survived.
In the 12th – 13th centuries thanks to the efforts of Armenian princes of Zakaryan and Proshyan families new cult structures were erected. Then the monastery was named Geghardavank - the Monastery of Spear. According to the legend, St. Thaddaeus, Apl brought the spear with which the Roman soldier had pierced the heart of crucified Christ, the so-called Spear of Destiny (now the spear is kept in the first capital Echmiadzin).
The structures of the monastery are surrounded by the mighty fortification and consist of the main church – Katogike, two cave churches – Avazan and the St. Mother of God, and the princes' tombs. The monastery court yard hosts the cells, refectory, and other premises. The territory of Geghard is known for a holy water spring. Behind the monastery walls there is the oldest structure - St. Gregory semi-cave church of the 12 th century as well as a number of cave khachkars. The trees in near Geghard are covered with colored wish bands.
The interiors of the temples and cells richly decorated with ornaments and bas-reliefs, the tombs of aristocratic families and other masterpieces of underground architecture have brought Geghard the glory of one of the most significant historical monuments, designated by UNESCO as World Heritage Site.