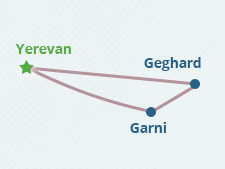 Garni and Geghard Tour in surroundings of Yerevan to the most unusual monuments of Armenia. In one eventful day you will see ancient complex of Garni that does in no ways resemble Armenian architecture but is closely related to Roman Empire traditions. Also you will visit wonderful temple of Geghard that is famous for its stone facing and bas-reliefs. So Garni and Geghard tour in only few hours will take you back to 2000 years.
Tour itinerary:
The day trip to Garni and Geghard starts after the breakfast from your hotel in Yerevan. The first milestone is Garni. Garni is one of the major villages in Armenia. It is famous for the fortress of Garni. The fortress is the only pagan sacred place from the 1st century that survived aggressive introduction of Christianity in the 4th century. It was dedicated to Mihr, the God of the sun.
This is the only Greco-Roman style temple with 24 ionic columns as in Armenia, so on the territory of the former USSR. A disastrous 1679 earthquake destroyed the temple. It was reconstructed in 20th century.
The monastery complex Geghard (means a spear in Armenian) is an outstanding medieval architecture that reached us remarkably well- preserved. The beautiful landscape of Geghard is framed with towering cliffs. Decorative art cut into rocks reflects and explains Medieval Ages development throughout the region. The complex was introduced to the history in the 4th century as a sacred spring inside a cave. Today it is included into the list of UNESCO as a World Heritage Site.
Drive back to Yerevan. End of Garni and Geghard Tour.
Duration: 5 hours (~90 km, 2 hours on road)
Price includes:
Transportation;
Service of guide;
Bottled drinking water;
Entrance fees to sights as per itinerary.
Price doesn't include:
Meals;
Personal travel insurance.