Haghpat Monastery, Armenia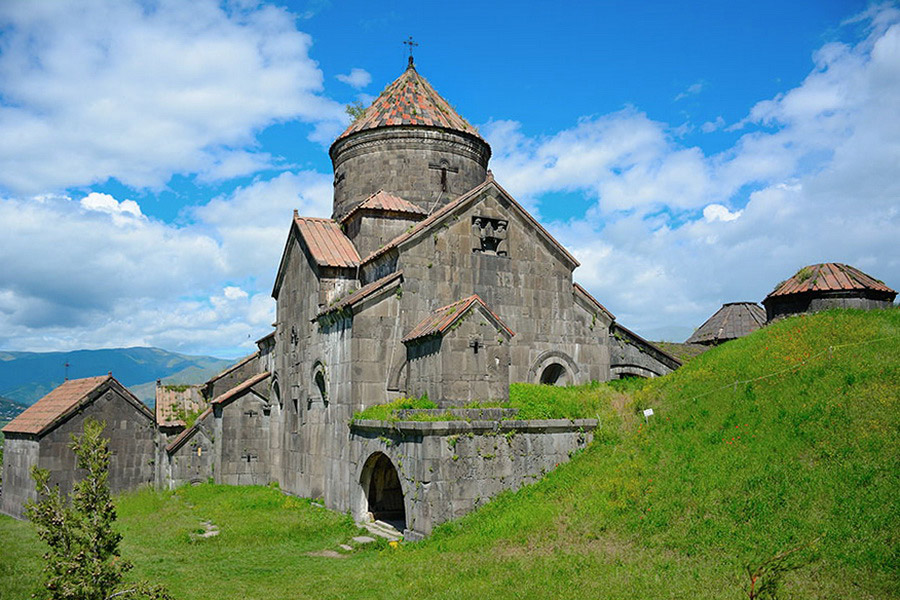 One of the most ancient attractions of Lori, Haghpat Monastery was built in the 10th through 13th centuries. Haghpat Monastery was once one of the largest centres of science, with a rich collection of manuscripts. It had premises for copying library manuscripts, plus cafeterias and universities. Of all the structures only the main church of St. Nishan (967-991) with sculptural images on the outside and frescos (13th-14th centuries) inside, St. Gregory Church (1005), the small dome church of St. Astvatsatsin (12th-13th centuries), the 13th-century cafeteria, the 13th-century book depository, the belfry (1245), and khachkars have survived.
All structures were made from stones in accordance with the strict rules of temple architecture. Small niches were made so that the stones fit together like puzzle pieces, which helped keep the churches standing during an earthquake (though earthquakes have still caused major damage). Small architectural details, like triangles around the cupolas in the center of buildings and some remaining faint frescoes, are the main decoration. Overall, the spare beauty was meant to keep the monks from getting distracted, and to keep the focus on God. Even the location of the monastery, only halfway up the hill rather than at the top, was a gesture of humility.
The book depository was used to store manuscripts and texts until the 13th century, when Mongol armies started threatening Armenia. The texts were moved to seven caves, though only three caves with their texts have been rediscovered. Even after invading armies had passed, the monks at Haghpat were reluctant to bring the treasured texts back into plain view. Instead, the cool and dark book depository (built to perfectly preserve delicate vellum) was turned into a food storage area, with holes dug into the floor and lined with ceramic pots. As for eating at the monastery, there was a large cafeteria that could hold 150 monks. The 13th-century interior is original, and features large grindstones that were used to grind grain to make flour.
One of the handful of Armenian khachkars to feature Jesus Christ is on display at Haghpat Monastery. The relatively soft stone allowed for detailed carving, and once finished, the khachkar was dyed a brilliant red, using a dye made from crushed insects.
Haghpat Monastery was a large scientific center, with a rich collection of manuscripts, plus places for copying and studying. Monks could study medicine, astronomy, music, literature, and more at Haghpat. Haghpat is now under UNESCO protection as a World Heritage Site.