Armenian Wine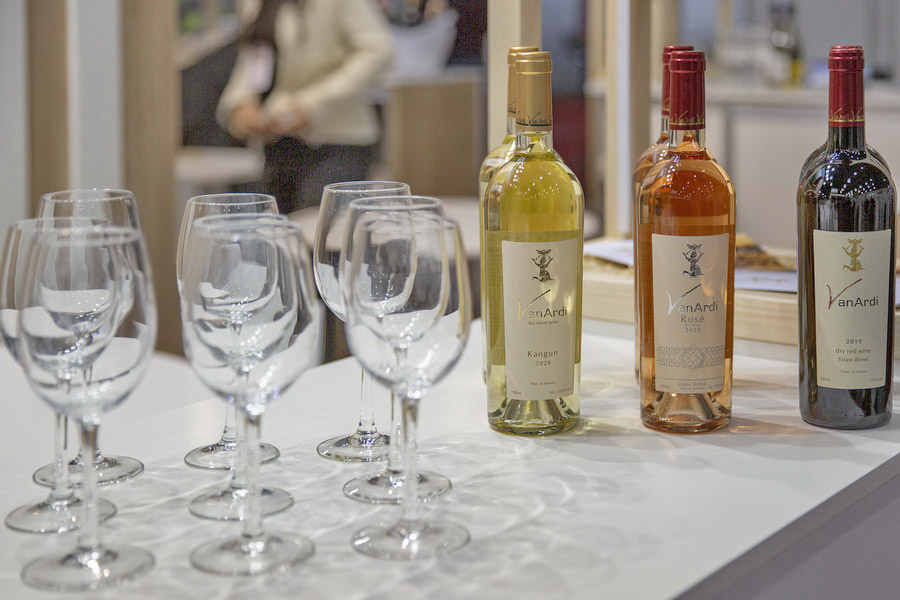 Armenian wine is not as widely known as the Armenian brandy. At the same time, few people know that the history of winemaking in the territory of modern Armenia has thousands of years. Scientists claim that one of the first wineries in the world was discovered here. In the Areni cave were found an ancient amphora and preserved fossilized grape seeds, dating back to the 4th millennium BC. This means that wine production in Armenia supposedly started six thousand years ago.
Compared to the neighboring Georgia, there are not so many wineries in Armenia yet. However, over the past 20 years, their number has been steadily growing, while winemakers are striving to revive ancient traditions and popularize their products. Wine in Armenia is becoming an increasingly popular product. Connoisseurs of the drink of the gods come here to try Armenian wine, which was not presented on the world market before.
Since Armenia is a mountainous Caucasian country, the climate here is ideal for growing grapes, which is used to create high-quality wines. Alpine terrain with an abundance of sun and fresh cold air currents, as well as volcanic soils of special mineralization, provide high sugar content for some varieties and good acidity for others. If you don't know which wine to try in Armenia, feel free to taste each of them! Wine products are produced in different regions of the country, and each type of wine will have unique flavors and aromas.
It is also worth noting that wine in Armenia was traditionally aged in clay amphorae "karas". These vessels were half buried in the ground. Today, the tradition of making wine in karas is being revived in Armenia.
Currently, more than 400 varieties of grapes are found in Armenia, which are endemic to the local climate. Most species grow in Armenia at an altitude of 600 to 1600 meters above sea level, which also affects the specific properties of local grapes.
Wine Regions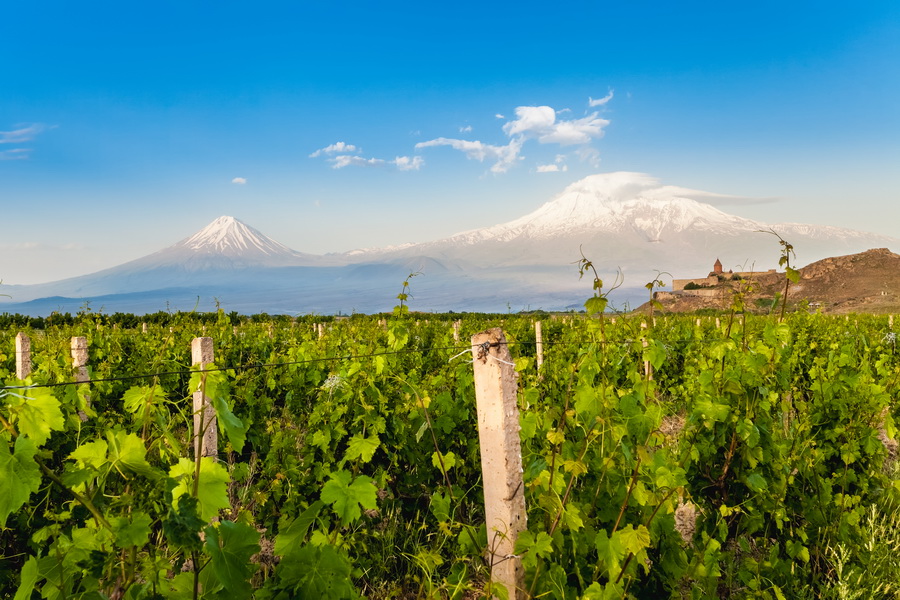 Armenian territory is mostly covered with mountains, where the grapes cannot endure the winter frosts. However, there are some regions with the ideal conditions for growing high quality grapes to make delicious wines. These are Armavir, Aragotson, Ararat and Vayots Dzor regions.
The first three are located in the western part of Armenia, and the Vayots Dzor region is located in the north of the country. The hot summer sun and mild mountain winds enable the delicate stems of the vine to grow into strong, fertile plants. Of course, careful care is required. Therefore, every connoisseur of high-quality wines should cherish the hard work of local winemakers.
Main Grape Varieties
The most popular grape varieties in Armenia are Areni and Voskehat. The first is a red variety, its color resembles ripe blueberries. Delicious wines are prepared from Areni, with a dense texture and rich aroma. While tasting it, pay attention to the characteristic aftertaste of dried fruits and cherries with a delicate bit of chocolate and coffee beans. These wines are served with meat dishes, cheeses, and walnuts. Voskehat is a white grape variety, with a specific yellow-green tint. Dessert, dry and sparkling light wines are made from it, fully combining classic sourness and expressive sweetness, with the aftertaste of citrus fruits and pears. They are usually served with vegetable and seafood dishes.
In addition to Areni and Voskehat, other varieties, like Kakhet, Tozot, Khatun Kharji, Haghtanak and many others, grow in Armenia. You can read more about them, as well as about the climatic features of the wine-growing regions of the country here (link to the article about the wine-growing regions of Armenia).
Curious facts about Armenian wine:
The revival of the traditions of Armenian winemaking was facilitated not only by the investments of entrepreneurs worldwide, but also by the return of ethnic Armenians to the country. They began to invest their strength and knowledge in the winemaking of their native country.
Armenians produce fruit wines from quince, apricots, plums, blackberries, cherries, raspberries, strawberries, and dogwoods.
Delicious pomegranate wine is made in Armenia.
Nikolai Shustov, the owner of the Ararat wine and brandy factory, arranged various performances in restaurants to advertise his company and its wines.
The recognizable taste of Armenian wines is largely due to many months of aging in barrels made of Armenian oak.
Karas can be buried underground or be kept in a dark and cold cellar.
Armenian pomegranate wine must be cooled to 12-14 degrees before drinking: this way its taste properties are better revealed.
If you are thinking about what kind of wine to bring from Armenia, check out a few recommendations:
In the markets and souvenir shops you can find a nice gift for friends and family: wine in small glass bottles made in the shape of a pomegranate.
You can buy high quality Armenian wines at an affordable price at big factories and small family wineries as well.
Armenian wines surprise wine connoisseurs. The variety of tastes, aromas and density of local grape varieties makes it possible to produce authentic wines that can be paired with various dishes or served as an aperitif. By visiting Armenian wineries, you will be able to learn about the local winemaking traditions, dating back thousands of years.
When traveling around Armenia, don't forget to sample delicious Armenian wines.