St. Katogike Church, Yerevan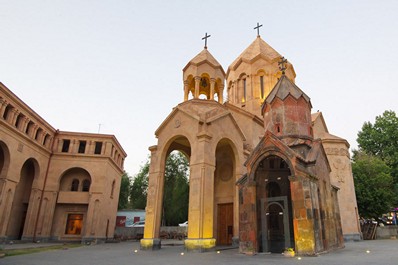 This church in the form of simple basilica without a dome was constructed in 1693-95 and used to be one of the largest churches of Yerevan. The interior furniture of the church consisted only from khachkars dated 1679, 1693, 1694 and 1695.
However, the church suffered badly during the destructive earthquake in 1679. During its restoration the deeper layers which had been the remnants of a more ancient church, St. Astvatsatsin (the Sacred Virgin) were found. The most ancient inscriptions on the found wall fragments are dated 1264. On the western wall there are the inscriptions dated 1229, 1284. In the beginning of the 17 th century St. Astvatsatsin church was adjoined by a chapel on place of which St. Katogike was constructed in the end of the century.
Today St. Katogike church is a small structure square in plan, with identical sides and cross-shaped facade. The church centre is crowned with the peaked dome on cylindrical drum. The stone walls which are partially damped give the church the spirit of olden time.