Divankhane, Shirvanshah
Divankhane in Shirvanshah Palace Complex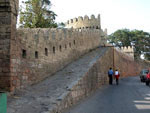 Divankhane adjoins the main building of Shirvan Dynasty Palace. The purpose of divankhane has been long discussed by historians. Some of them assume that it was a court house where justice was rendered. Their version is based on the presence of a round aperture in the center of the stone floor. They believe it was the place where the executioner put the criminal's head and then cut it off. Afterwards the body was carried along certain underground canals to the sea.
Others maintain that divankhane was a place where ambassadors and guests of honor were received, as well as where viziers and advisers held their meetings. Almost all palaces of the Middle East used to have such special rooms.
There is also a mausoleum version. It is confirmed by the presence of a two-chamber vault in the basement and a surah from the Koran carved on the divankhane portal: "the Allah calls for abode of peace and leads those who will wish to the direct path... This is the paradise that shall be their dwelling place eternally".
Whatever it was, Shirvan Dynasty divankhane is one of the best architectural monuments of Azerbaijan. Its architectural composition and lay-out have no analogues in other countries of the Orient.
All in all it is a small, but very graceful square yard surrounded by a gallery with columns from three sides. Inside the pavilion are octahedral hall covered by a stone dome and a rectangular lobby. The doorways of the hall are bordered by frameworks with carved geometrical figures and vegetative ornaments. Below the hall there is a vault precisely repeating the hall's octagonal form. One level down is another rectangular basement.
But the most outstanding in its beauty and grace divankhane part is the front entrance portal. It is crowned by stalactite semi dome and lavishly decorated by carpet type stone engraving of unusual beauty. The ornament represents intertwined leaves of fig and grape leaves and the inscriptions in kufi if seen from a distance look like an intricate geometrical ornament. Unfortunately, the construction of divankhane was not completed. But despite this, this extraordinary harmonious and tall portal is considered the most beautiful among all similar monuments of Iran and Asia Minor.