Solo Female Travel in the Caucasus
Nestled between Europe and Asia are three remarkable countries known for their awe-inspiring landscapes and rich history. Georgia, Azerbaijan, and Armenia are three remarkable countries that will provide you with endless travel memories. They are also fantastic destinations for solo and independent travelers of any gender. This next section will discuss the advantages and challenges of traveling through the dramatic South Caucasus and how you can have your trip planned for your desires with ease.
Advantages of Solo Travel in the Caucasus
The South Caucuses are some of the most beautiful countries in the world, with diverse and stunning landscapes perfect for hiking and exploration whether you are a solo traveler or part of a group. From incredible snow-capped mountain ranges to lush green plains, there is something for everyone and so much of it rarely explored by tourists. The great outdoors gives way to a vast range of amazing activities from tearing up the pistes in the mountains to hiking through the rugged scenery. Activities are plentiful year-round.
Despite each of the countries being culturally diverse, they all have strong beliefs that good hospitality is an important, if not crucial, part of life. It's not uncommon for people to see weary travelers and offer them a place to rest for a while and have something to eat and drink. Proud of their countries and region, locals will happily educate you about their culture and way of life and give you a true insight into what it is like to live in the Caucuses. This may also lead to sharing a dinner or drink together.
The culture of hospitality is built deep into the region's historical past, which has helped shaped the world like few other places. The region is considered the birthplace of Christianity and wine. This rich and ancient history is still visible today with many historical buildings dotted across the region and still in impressive conditions. This renowned history is also visible in the arts with classical art forms that are still prevalent and popular throughout the region. You can explore the history of these countries independently depending on your wishes.
Contrasting to the ancient churches and settlements, the region is home to some of the most intriguing and interesting examples of modern architecture, from examples of socialist modernism to more modern and sleeker, 21st-century styles of architecture. The feats of human engineering and design will take your breath away. These ultra-modern and clean buildings also provide a pleasant and clean aesthetic to the surrounding area.
These elements make for the perfect solo adventure- allowing you to truly experience the world through the eyes of the locals and the natural beauty of the region. The joy of traveling in this area on your own gives you the freedom to connect deeply with the rich and historic past, a true journey of discovery and adventure. As a solo traveler, you will be able to connect with the locals and embrace so much more of this unique and wonderful region.
Challenges of Traveling Alone in the Caucasus
The South Caucasus bring their own unique set of challenges that those planning a trip there need to consider. The main challenge is rooted in the region's historical past and current geopolitical situation. Despite the fact that the countries have many similarities, there are still some unmended ties in the region between certain countries (notably, Azerbaijan and Armenia).
Visiting contested territories and autonomous regions can cause massive issues when returning or entering other countries in the region and are best to be avoided. Regional maps can vary and become confusing as countries lay claim to land that isn't actually part of that country and borders may appear different to where they actually are.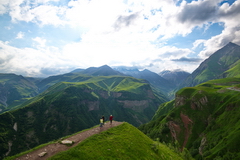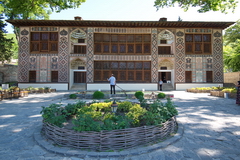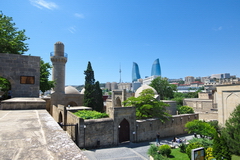 As the countries are still developing tourism and the infrastructure needed to support large volumes of tourism, public transport methods are often unreliable and do not operate on timetables but rather when the car is full they will leave, making arriving places on time difficult. Trains are available in the region but the Soviet-built architecture is old and outdated, meaning travelling a relatively short distance can take an unfathomably long time. Hiring a car is another possibility, however, and one that comes with its own challenges. Car ownership is a growing part of life there but roads are not necessarily suited for high rates of car use and congestion on highways is common. Standards of driving may also not be to the standard you are used to.
Female travelers normally experience very few issues in the region and the people are respectful. However, there is the potential for unforeseen challenges for female travelers as society and deep-rooted traditions sometime conflict with those in other parts of the world. For example, strict dress codes may be imposed when entering religious establishments. Many people in living in rural areas may also hold traditional beliefs and may not be open to the more liberal attitudes thriving throughout the world.
Solo Female Friendly Small Group Tours in the Caucasus
The best way to traipse throughout the South Caucasus is by joining a tour that is geared toward solo and independent travelers. This will give all travelers the freedom they desire with their usual travels, but also allow them the expertise of having guides that know the areas, nature, and culture. Tourism infrastructure pales in the South Caucasus and this will also allow travelers to get to places in a seamless manner with fewer issues than had they tried to embark on the adventure completely independently. The South Caucasus tour is a wonderful way to focus your efforts on making memories of the outstanding region and not the troubles of trying to plan your adventure there.