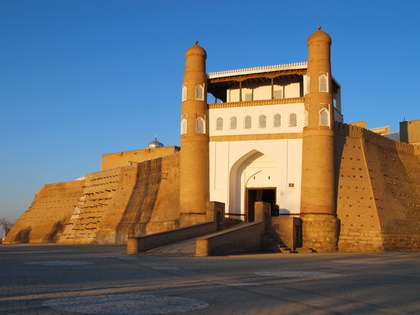 The Silk Road Group Tour has everything to bring out your adventurous side - go from modern cities to ancient ruins, from the greenest of mountains to the driest of deserts. Even across thousands of kilometers and dozens of cities, each country's local colors and flavors will leave you with a distinct impression. Start in modern Almaty, then head to the towering mountains of Kyrgyzstan, followed by a dip into Tajikistan's history in Penjikent. Take extra time at the many archaeological sites of Turkmenistan, then wander through the timeless cities of Bukhara and Samarkand. Then move to the Caucasus: travel through time as you discover Azerbaijan, let the tastes of Georgia sweep you away, and finish up with panoramas of Armenia. From rough stone walls to the softest silk, broaden your horizons and deepen your knowledge with the Silk Road Group Tour.
Explore glittering Nur-Sultan (Astana) or nature art at Charyn Canyon with pre-tours in Kazakhstan.
Participants need to be in good health, be able to walk for 4-6 hours every day at moderate speed, climb stairs and hills, and be able to carry their own luggage for up to 1 km across borders.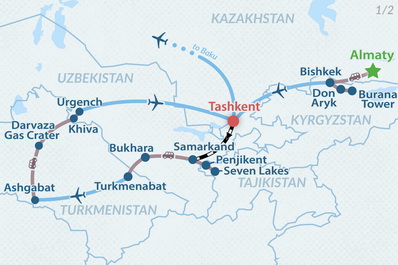 All transfers;
Accommodation based on double/twin room sharing, breakfasts included;
Sightseeing tour program in each country with local, English-speaking guides;
Entrance tickets to sights as per itinerary;
Economy-class tickets for flights: Almaty-Bishkek-Tashkent, Mary-Ashgabat, Urgench-Tashkent, Tashkent-Baku;
Economy-class tickets for trains: Tashkent-Samarkand-Bukhara (on rare occasions when the high-speed train is unavailable, we will replace this with the most-comfortable class of regular train);
Visa support for Uzbekistan triple entry visa;
Visa support for Turkmenistan tourist visa;
E-visas to Tajikistan, Uzbekistan and Azerbaijan;
National Folklore Show in Bukhara on Day 9;
Meals: welcome lunch in Almaty on Day 2, lunch at the home of a local family on Day 4, lunch and dinner on Seven lakes on Day 6, lunch in Penjikent on Day 7, lunch in Mary on Day 10, camp-style dinner at Darvaza on Day 11, dinner in Khiva on Day 13, dinner in Baku on Day 14, dinner at the local family at Akhasheni on Day 19, dinner in Tbilisi on Day 21, farewell dinner in Yerevan on Day 28;
Two wine tastings in Kakheti region, Georgia.
Full board (lunches and dinners not specified above);
Hotel charges for additional services;
Personal travel insurance;
A tax of 2 USD per night in Turkmenistan, paid to the hotel upon check out;
Consular fees for Turkmenistan tourist visas (80 USD) and migration tax (14 USD);
Consular fees for Uzbekistan tourist visa at Tashkent International Airport (60-80 USD);
Visa support for Kyrgyzstan and Kazakhstan tourist visas (if necessary);
E-visas to Georgia and Armenia (if necessary);
Outbound and inbound flight tickets.
Accommodation:
Almaty - 2 nights
Novotel, Mercure or similar
Bishkek - 1 night
Plaza, Park, Ambassador or similar
Tashkent - 2 nights
Lotte City Hotel Tashkent Palace or similar
Samarkand - 2 nights
Sultan, Platan or similar
Seven Lakes - 1 night
Homestay with a local family (bedrooms shared with other group members)
Bukhara - 2 nights
As-Salom, K.Komil, Volida or similar
Ashgabat - 1 night
Archabil
Darvaza - 1 night
Tents (optional alternative: yurt shared with other group members)
Khiva - 1 night
Malika Kheivak, Orient Star or similar
Baku - 3 nights
Four Seasons 5-star Hotel (exclusive offer on selected departures), Park Inn
Sheki - 1 night
Marxal, Sheki Palace
Akhasheni - 2 nights
Akhasheni Wine Resort
Tbilisi - 4 nights
River Side, New Tiflis
Gudauri - 1 night
Marco Polo
Yerevan - 4 nights
DoubleTree by Hilton