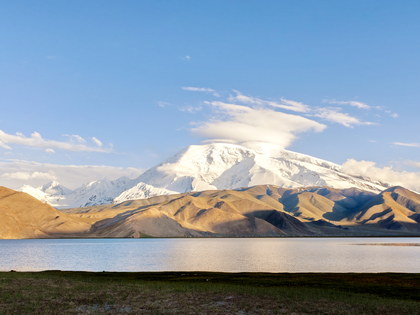 Located 200 km (125 miles) southeast of Kashgar, Lake Karakul is a spectacular high-altitude lake. To either side are large mountains, including Muztagh Ata (7546 m or 24,757 ft), aptly named "the father of the ice mountains", and Kongur Tagh (7,649 m or 25,095 ft), the highest peak in Xinjiang.
Tour itinerary:
The trip includes 200 km (125 miles) of the famous Karakoram Highway, which covers a total of 1,300 km (800 miles) across China and Pakistan. 50 km (30 miles) outside of Kashgar is the Opal Village, a summer resort of the Karakhanid Khanate a thousand years ago, and well worth a stop to wander through the ancient town and bazaar. About 40 km (25 miles) further is the Red Mountain, and another 70 km (45 miles) further is the White Sand Mountain. If the weather is good, stop and take a picture of the mountain's reflection in the nearby lake.
The final destination is Karakul Lake, an alpine lake 3600 m (11,811 feet) above sea level. The mountains around Karakul, including the peaks of Muztagh Ata and Kongur Tagh, are covered in snow year-round because of the high altitude. Take a break near the lake, enjoy a meal in a traditional Kyrgyz lake, ride a horse or camel, and then return to Kashgar later in the day.
Price includes:
English speaking guide;
Transport;
Entry fees.
Tour price does not include:
Meals;
Tips are not included, but would be appreciated;
Camel riding.