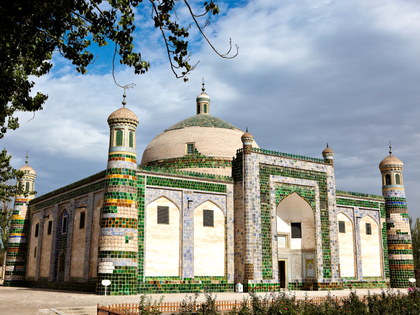 Kashgar is located in the southwest part of the Xinjiang Autonomous Region, between the Taklamakan Desert, the Karakoram Mountains, and the Pamir Mountains. Nearby are the borders of five countries, namely Afghanistan, India, Kyrgyzstan, Pakistan, and Tajikistan. In ancient days, Kashgar was the place where three main routes of the Silk Road met after crossing the edges of the Taklamakan Desert. Merchants would take advantage of the hospitality in Kashgar to stay for a while and exchange and buy goods.
Tour itinerary:
In the morning, drive to the livestock market 15 km (9 miles) outside of Kashgar. The livestock market is a lively place and a great way to see lots of animals and traders in a traditional environment. After the livestock market, we will return to the city for the Sunday Market, the best place to experience Uighur culture and the heart of the Silk Road. After lunch, visit the Abajo Khoja Mausoleum, built in 1640. The mausoleum holds five generations of Abajo Khoja's family, who were leaders in Kashgar in the 17th and 18th centuries. Next, head to the old town in the center of Kashgar, where people are still living in the original beautiful houses on narrow streets. The last stop is the Id Kah Mosque, the largest mosque in China. Built in 1442, Id Kah can accommodate up to 20,000 worshippers, and is the finest example of an Arabic-style mosque in China.
Price includes:
English speaking guide;
Transport;
Entry fees.
Tour price does not include:
Meals;
Tips are not included, but would be appreciated;
Other expenses.