Armazi Monastery near Mtskheta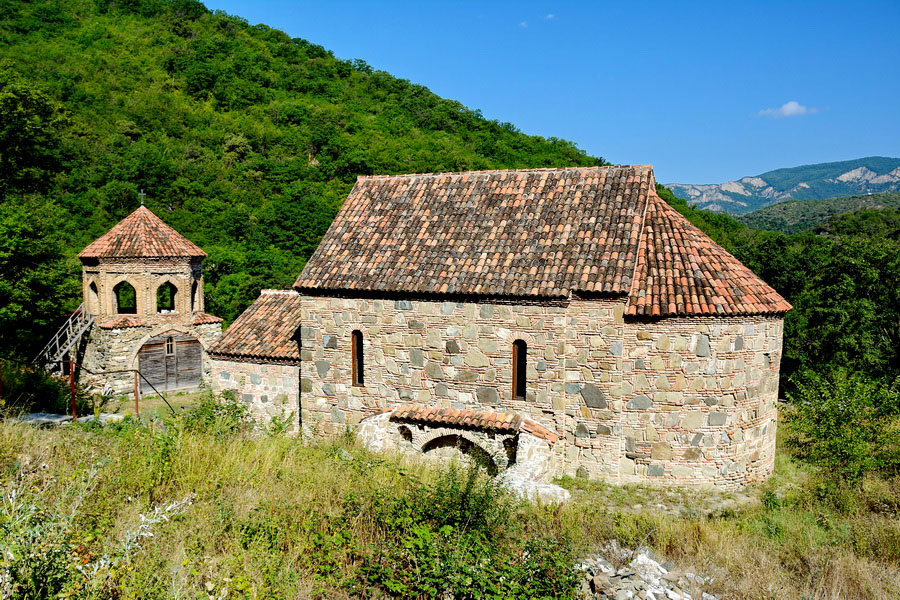 Armazi Monastery, officially known as Armazi Virgin Mary Monastery, is a medieval ensemble located 4 kilometers from Mtskheta in the country of Georgia. Its peaceful, authentic environ is nearly devoid of tourists, making it a perfect pilgrimage spot.
Please note that the road leading to Armazi Monastery is quite steep, and it is therefore advisable to travel to the site by 4WD only.
Armazi Monastic Complex
The main building of Armazi Monastery is the 12th-century Church of St. Mary, while a 16th-17th century bell tower, crypt and a monk's house complete the small complex.
Church of St. Mary is a hall church measuring 14.2 x 8.2 meters. It has a western entrance, one window on the transverse wall and an additional two on the north wall. The church was painted right after construction, and remains of its original 12th-century frescoes can still be seen on the altar and the west wall.
The bell tower stands to the west of the church. Built of stone and brick, it has two floors, the lower of which was used as storage. The second floor has eight open arches and was also transformed into a storeroom in later years.
Nearby Attractions
From Armazi Virgin Mary Monastery, you can take a 30-minute hike to Armazi Citadel, a 13th-14th century stronghold nestled on a high, rocky ridge. The route to the citadel is well-marked and the views from the fortress are simply breathtaking.
To extend your exploration of the area, you can also drive from Armazi Monastery to Armaztsikhe-Bagineti, a significant historical and archeological site where excavations have uncovered numerous artifacts dated from the 1st century AD through the Middle Ages.