Georgian Traditional Clothing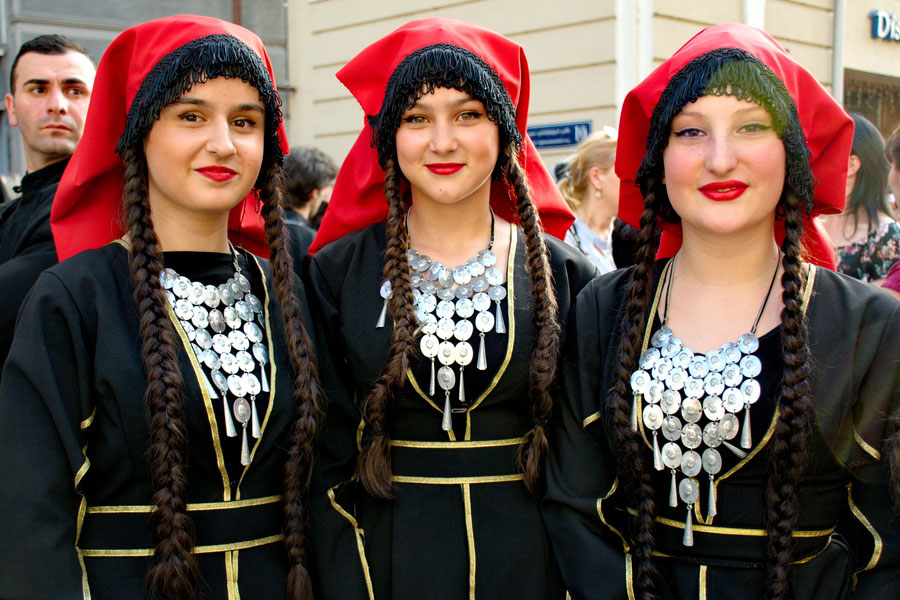 Georgian traditional clothing is an apt reflection of the cultural heritage of Georgia's native peoples. Within the conventional attire of its national clothing, the Georgian people's adaptability, devotion to tradition and appreciation of aesthetic beauty is conveyed.
Traditional lifestyles developed around the local climate and terrain, which in turn precipitated the creation of conventional clothing. Although every region of Georgia possessed its own distinct attire, an overarching similarity was seen in the chokha (Russian: cherkeska), a wool coat typically worn by men and noted for the cartridge holders sewn onto the chest. Women's clothing was much more varied between the regions, particularly in the remote mountain communities.
Prince Vakhushti Batonishvili (1696–1757) paved the way in the study of traditional Georgian clothing, giving particular attention to the attire from medieval times and that of his own generation. Foreign travelers such as Arcangelo Lamberti and Jean Chardin also made notable contributions to the topic. The latter travelled to Georgia in the 1670s, and his remarkably detailed notes provide valuable insights into local clothing of that time as well as the similarities and differences between Persian, Georgian and European attire.
Thanks to these and other such historical records, a picture of traditional Georgian clothing from each region of the country may be pieced together today.
Traditional Clothing of Kartli-Kakheti
According to Vakhushti Batonishvili, people from Kakheti and Kartli had similar clothing styles. For men in Kartli-Kakheti, the primary piece of apparel was the chokha. The Kartli-Kakheti chokha was longer than that of neighboring Khevsureti and had a triangular opening at the neck to reveal an inner cloth. The chokha, worn without a belt by men, included a slitted skirt and miniature pockets on either side of the chest that were traditionally loaded with bullets. The Kartli-Kakheti chokha was usually tan, blue, black or red in color.
In keeping with conservative Georgian culture at that time, women in Kartli-Kakheti wore long dresses with beautiful ornate bodices. The dress was tightened at the waist with a richly decorated belt that draped almost to the end of the skirt. The most important aspect of the outfit was the headdress, which was defined by a triangular white veil of tulle, a velvet rim and a dark headscarf.
Traditional Clothing of Pshav-Khevsureti
Clothing in Georgia's mountain regions was made of a durable wool fabric that provided protection against harsh alpine conditions. Despite its practical nature, the apparel was always beautifully decorated, as women in Pshav-Kvevsureti were trained from childhood in wool processing and dyeing.
Kvevsureti's chokha, known as talavari, were short with slits running down to the waist and a beautifully decorated fabric affixed to the front. Men's outfits typically consisted of knitted pants called pachichebi, woven fiber shoes known as tatebi and chokha with colorful religious symbols embroidered on the front.
Traditional women's dresses in Khevsureti were called sadiatso. Sadiatso were knee-length dresses decorated with baubles and sophisticated geometric patchwork. Just like their Kartli-Kakhetian neighbors, women in Khevsureti wore a headdress. Traditional Khevsur headdresses were greatly admired and decorated with cross-shaped ornamental patterns. Pshav and Khevsur women would also wear silver coins and cross necklaces.
Traditional Clothing of Tusheti
Tusheti's highland inhabitants were known for their use of wool in making clothes, shoes and rugs, with solar symbols and crosses regularly employed in their remarkable clothing and jewelry designs.
Both women and men in Tusheti wore colorfully knitted shoes called chitebi. Men's chitebi were plainer with polka dots, while women's chitebi were striped and multicolored. When making chitebi, the weaver would start from the tip of the shoe and continue backwards towards the heel. Chitebi shoes also played a role in local superstition: On a Wednesday during Lent, mothers would put male chitebi under the pillow of their daughters right before they went to sleep, in the hope that they would see their future husband in their dreams.
Traditionally, a Tushetian woman wore a black headscarf which reached down to her knees, a loose-fitting dress underneath her robe and an outer garment adorned with jewelry across the chest. Men's clothing consisted of a chokha and a warm black hat.
Traditional Clothing of Svaneti
No discussion of Georgian traditional clothing would be complete without mentioning Svaneti's famous hats. Svan hats were usually gray with black seams. Each hat was made from 200 grams of sheep's' wool and took about 30 hours to complete. The black seams were cross-shaped and reflected the popular Svan greeting , "May the cross protect you". Svan hats were valued for providing warmth from winter's chill and respite from summer heat.
Traditional Svan clothing consisted of a shirt, chokha, trousers and Svan hat. Women wore a woolen dress and headdress adorned with earrings and jewelry, while those who were wealthy also wore silk shirts and a velvet cloak.
Traditional Clothing of Racha
Iakob Gogebashvili, a leading 19th-century Georgian pedagogue, described female outfits from Racha in one of his writings, noting that they wore the chokha and an akhalukhi undershirt.
Women's clothing from Racha also attracted the attention of many foreign travelers. In 1874, German scientist Dr. W. B. Pfaff could not hide his astonishment towards women's clothing in Racha, exclaiming "I was amazed by the variety of women's clothing, which in many ways reminds me of Anatolia". In 1874, English explorer Philip Grove, upon seeing three local women, also noted "They wore short dresses and trousers…with grace".
Apparently men's attire in Racha was less noteworthy, as little information has reached us today regarding their traditional style of dress.
Traditional Clothing of Adjara and Guria
Traditional Georgian men's clothing in the western Adjara and Guria provinces differed dramatically from that of eastern Georgia. The typical men's outfit in Guria-Adjara, Samegrelo and the whole of southwest Georgia was the chakura, which consisted of a short waist-length chokha, wide-brimmed trousers and a colorful silk belt.
Throughout the ages, women in Adjara have worn three types of dresses. Zubun-faraga, the oldest of the three, derived its name from the Turkish word zubuni, meaning "coat". The dress was long and hemmed in at the waist, with special attention paid to lavish embellishments on the bodice. A zubun-faraga dress can be seen today on display at the Simon Janashia Museum in Tbilisi.
The zubun-faraga dress was gradually replaced by the datexili dress, which was recognizable by its long, wrinkled appearance and multicolored threads worked into the fabric. It was tightly fitted to the body and had hidden pockets sewn into the wrinkles. In later years, the datexili dress evolved into a new variation known as the forka dress.
Traditional Georgian Shoes
Traditional Georgian shoes were typically made using muted colors of black, red, green and light brown. The 17th-18th century Georgian diplomat Sulkhan-Saba Orbeliani mentions several types of local shoes in his writings:
Tsugha were worn at home by both men and women. They were sewn from leather of various colors and the edges beautifully decorated.
Kalamani were common leather shoes worn by villagers beginning in the 10th-11th centuries.
Mogvi were tall leather boots worn by kings and nobles.
Additional Information
The best places to see Georgian traditional clothing today are at the Art Palace of Georgia (formerly known as the Museum of Cultural History) and at the Simon Janashia Museum, both located in Tbilisi. Traditional clothing, which has slowly been making a comeback in the 21st century, is also sometimes donned at Georgian traditional weddings and cultural events.
The Day of National Dress in Georgia is a recently established holiday celebrated on the 18th of May. In commemoration of their heritage, Georgian dancers and ordinary people alike dress in national costumes and march across the city to demonstrate the beauty of traditional Georgian attire. If you are visiting Georgia during this time, be sure to join the celebration to become familiar with diverse costumes from every region of Georgia!