Georgian Traditions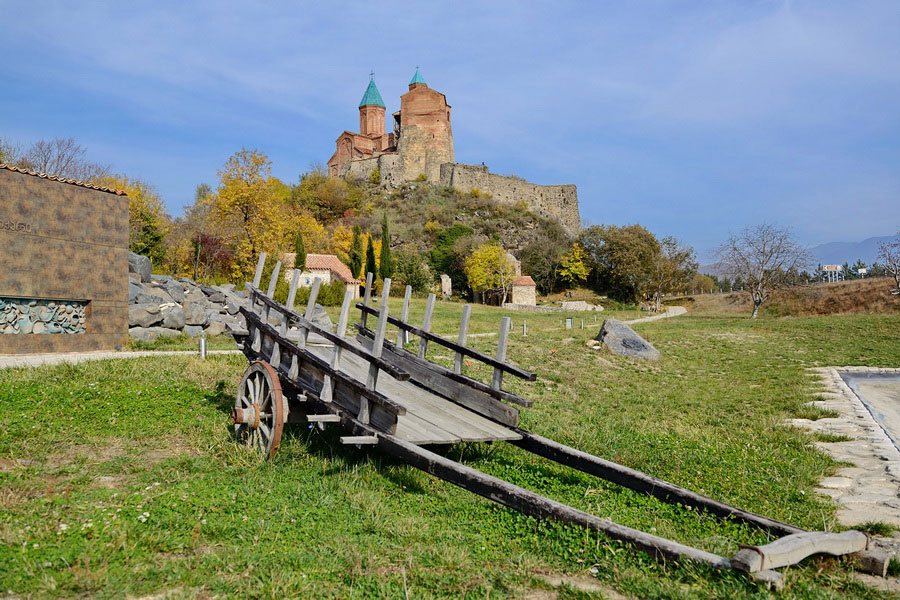 Georgian Traditions of Hospitality
Traditions of hospitality in Georgia are professed in no uncertain terms in the Georgian proverb:
"Every guest is a gift from God".
One of Georgia's best known national monuments is Kartlis Deda – Mother of Georgia. Her statue stands high above Tbilisi bearing a sword in one hand and a goblet of wine in the other. This represents Georgia's protective and hospitable attitude towards guests.
Over centuries, Georgian people developed traditions of, and a reputation for, generosity and hospitality.This can be experienced in a Georgian's home or in the street, in a village bazaar or on a Tbilisi subway.
If a tourist stops a Georgian to ask for directions, the likelihood is that they will be personally escorted to their destination. If the Georgian isn't sure, the situation instantly becomes a neighborhood affair with everyone in proximity dropping everything to assist until the dilemma is rectified.
Traditional Feast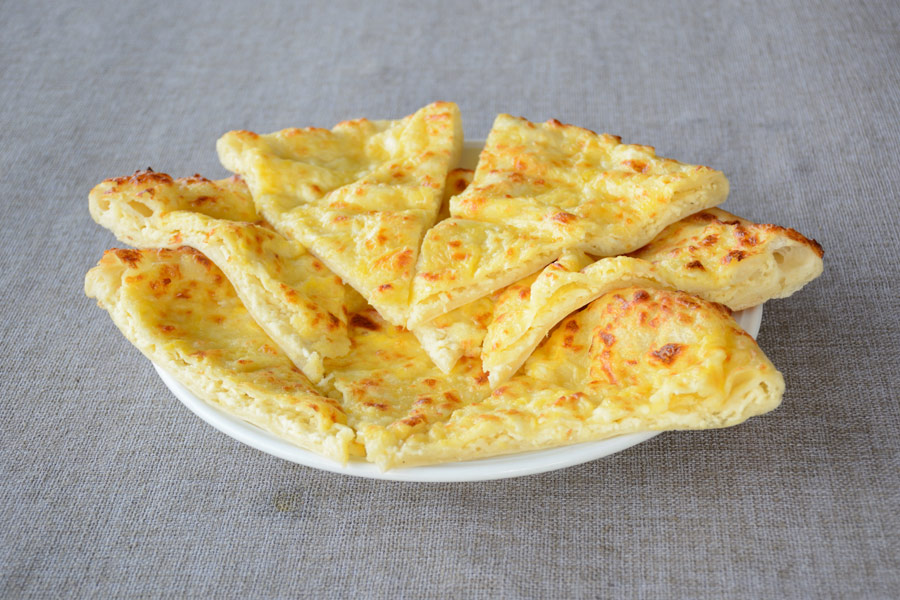 The Georgian tradition of hospitality is epitomized by the ceremonial feast of Supra. Supra is celebrated on birthdays, death days, weddings, anniversaries, national holidays, religious holidays, days of commemoration, in honor of a guest, and even ad hoc for no other reason than a fortuitous gathering of close friends. Either way, wine is consumed in ample quantities.
At supra, wine shares equal importance with food. The dinner is comprised of a series of toasts offered by Tamada ("toast master") to be embellished by the other guests. Topics include love, family, individual dedications, nationalist themes, life and death, and god. Blessings, jokes, anecdotes and humorous recollections are integral. A tourist invited to supra should expect multiple dedications which are usually translated by one of the younger attendants.
Georgian Wine Traditions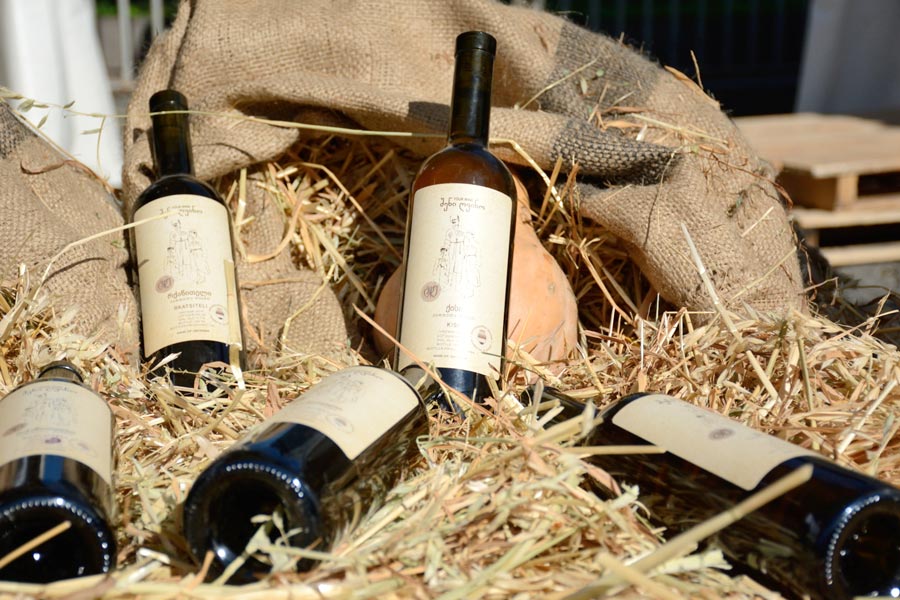 The Georgian attitude toward wine is summarized in the following stanza of a traditional song:
"If you'd had a drink and became sad - You're not a man, you are not a Georgian".
For Georgians, wine is not just a drink. Wine strengthens the national spirit and unites guests of traditional Caucasian feasts. Grapevines are mentioned in Georgian legends, stories and songs. Wine in Georgia is a national asset attracting tourists and sommeliers from all over the world.
The Georgian tradition of winemaking is thought to have originated approximately eight thousand years ago. Throughout history, winemaking has not only the basis of Georgia's economy but also a part of its spiritual culture.
Georgian Wedding Traditions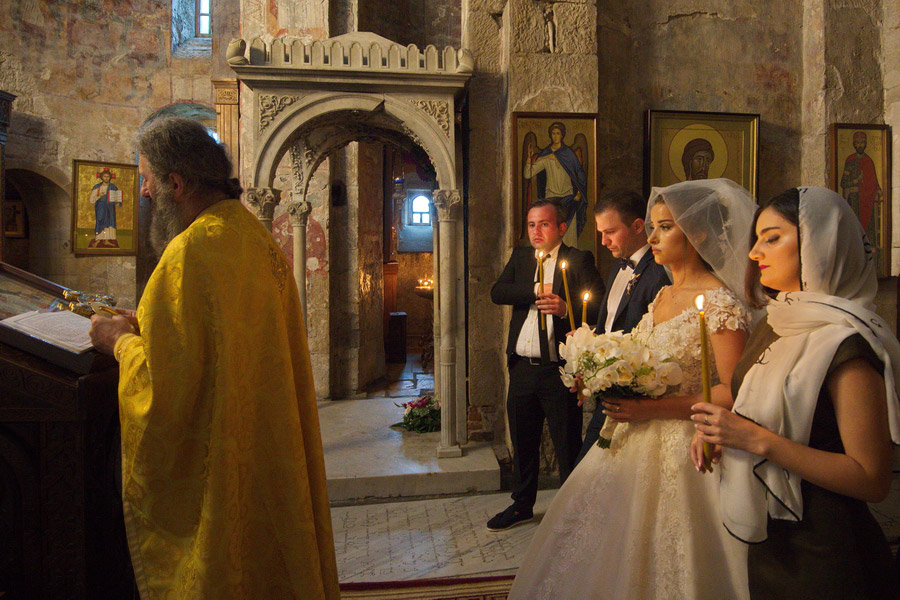 Georgian wedding tradition begins with machankloba. This is the tradition of matchmaking. It involves family members and friends who assist in arranged meetings to match prospective couples. The next step is nishnoba which represents engagement and culminates in the wedding ceremony of kortsili.
Georgian weddings are known for an immense number of invited guests which can exceed two hundred per family. All invited guests are expected to attend and to decline is considered extremely offensive, sometimes warranting the end of a friendship and possibly instigating an ongoing family feud. Bridesmaids and groomsmen are expected to refrain from romantic association with each other. This too can result in enmity among everyone involved.
Georgian Traditional Clothing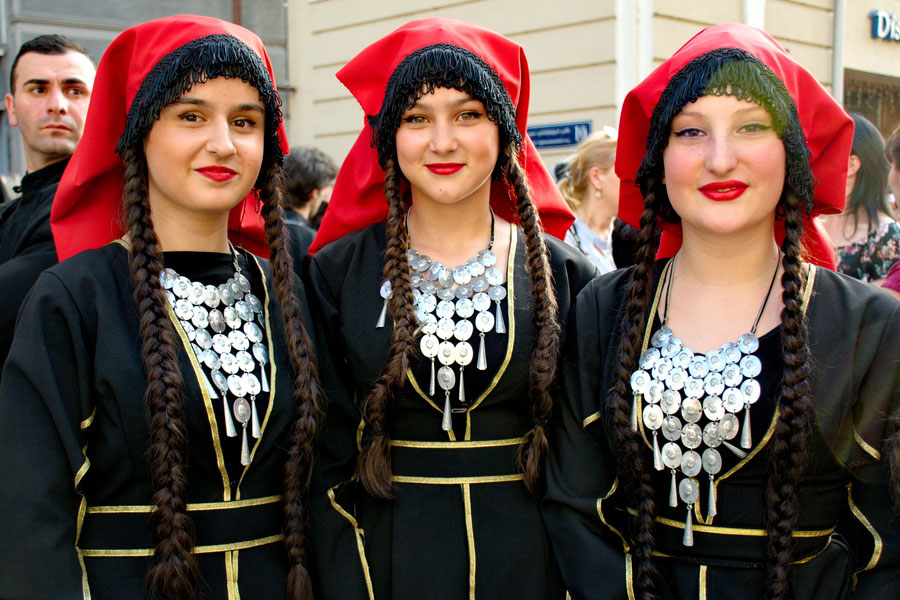 Georgian traditional clothing is an apt reflection of the cultural heritage of Georgia's native peoples. Within the conventional attire of its national clothing, the Georgian people's adaptability, devotion to tradition and appreciation of aesthetic beauty is conveyed.