Traditions in Georgia
Traditions of Georgian Winemaking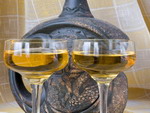 For many centuries winemaking was not only the basis of economic riches of Georgia but also a part of its spiritual culture. Wine for a Georgian is not just a drink. Wine is more like a religion there. Wine strengthens the national spirit, and unites guests of traditional Caucasian feasts. Grapevine is mentioned in the Georgian legends, stories and songs. Wine in Georgia is the national asset attracting tourists from all over the world. Read more...
Winemaking Technology
Vintage is a special and cheerful holiday for Georgians accompanied by songs and dances. The The vintage is delivered for processing to a special room called "maranii" – winery – and placed into a big vat – "satskhaneli" - a hollowed tree trunk. Usually grapes (together with peel and seeds) are feet-pressed. Read more...
Most Popular Georgian Wines
"Tsinandali"– special white wine, pride of Georgian wine makers, light straw color, with fine fruit bouquet, soft delicate taste. Produced since 1886. Read more...
Traditions of Hospitality
"Every guest is God-sent" (Georgian proverb). For centuries Georgian people developed traditions of hospitality. Love and boundless respect for guests, devotion to host's duties, traditional feast are passed from one generation to another. As a result Georgian culture is distinguished by high culture of hospitality. In the past centuries the people of Georgia even had special guest rooms or even separate houses the doors of which were at all times open so that a guest could come, eat and spend the night there. Read more...
Traditional Feast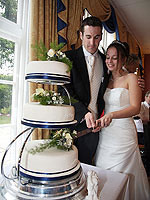 An obligatory attribute of Georgian and Caucasian hospitality is a feast arranged in perfect order, demanding good behavior and observance of appropriate etiquette. A special person who makes sure it all observed is called tamada (toastmaster). The entire holiday will depend on the wisdom and eloquence of the tamada and his toasts. As the old custom goes the host himself has to play the part of tamada. Otherwise he is chosen from among the most respected and decent people. Holding a feast is a complex and critical task: a tamada has to supervise the feast progress skillfully maintaining the order, follow the toasts, avoid verbosity, alternate toast with jokes or funny stories. Read more...
Georgian Wedding Traditions
Real Georgian wedding is a beautiful, entertaining and rich holiday with observance of all original customs of Georgian people. The first rule of Georgian wedding is abundance of invited guests. Sometimes the number of guests reaches several hundreds. By the way, it is impossible to refuse to come to a wedding since it is a big insult for the inviting party; sometimes a long-term enmity of two families might begin for this reason. Read more...