Kazakhstan National Cuisine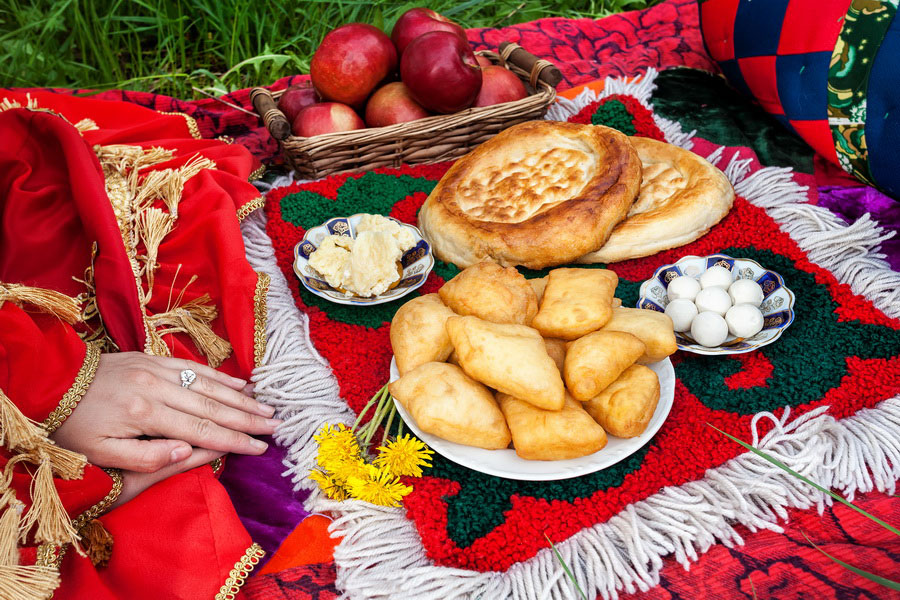 Kazakhstan national cuisine reflects the mesh of cultures present in Kazakhstan, where people have been long accustomed to living side-by-side with many other ethnicities. The population of Kazakhstan now includes immigrants from neighboring countries and foreigners who chose to relocate here after falling in love with the country. Today the cuisine of Kazakhstan includes not only traditional Kazakh food but a variety of dishes inspired by its Russian, European, Oriental and Caucasian neighbors.
Traditional Kazakh Cuisine
Although Kazakhstan has few genuine Kazakh restaurants which serve exclusively Kazakhstan national cuisine, authentic dishes can be found on the menu of most Oriental and European-style cafes and during special holidays.
The national dish of Kazakhstan is besbarmak, a filling meal of meat and noodles. Hearty soups, a fish dish called koktal and Kazakhstan's famous horsemeat sausage, called kazy, are also common. Kazakh national cuisine is also rich in fermented milk products. The most famous of these is koumiss, a mildly alcoholic fermented mare's milk which is a cultural experience in itself.
Kazakh laghman is a work of art and among the best noodle dishes in the world. Laghman is originally a Uyghur dish which became assimilated into cuisine under the influence of the 275 thousand Uyghurs who reside in the country.
International Cuisine in Kazakhstan
Russian Cuisine
Russian cuisine is very popular in Kazakhstan, where everything from boiled and steamed dumplings, jellies, crepes, sweet and savory pies, cutlets with mashed potatoes and borscht (beet soup) are eaten on a daily basis. Canned cucumbers, tomatoes and fruit jams are also popular, and it was from the Russians that Kazakhs acquired a love for fish.
Even in Kazakhstan's many self-proclaimed European restaurants you can taste colorful and creative Russian salads such as shuba (herring under a fur coat) and the holiday salad olivier. Russian kvass, a flavorful fermented drink, is also very popular.
European Cuisine
In Kazakhstan, European dishes can include meals inspired by Italian, French, German, Spanish, American, British and Brazilian cuisines. Kazakhstan now boasts of several famous American fast-food chains and Mexican restaurants as well as Italian and French-style eateries.
Astana, Almaty, Shymkent and other cities offer international cuisine for every palette. If you are in Kazakhstan and missing home, try Mexican tacos, Italian pasta and pizza, French tartin and croque or American burgers and steak. Spanish gazpachos and paellas, German sausages and sauerkraut and Czech beers and dumplings await you in select eateries, while English Yorkshire pudding and apple tart, Irish bacon and potato pancakes and Mediterranean falafel and hummus promise endless variety even on the Central Asian steppe.
Western-style meals are often offered side-by-side with Central and East Asian specialties, so most restaurants promising European foods will have something to please everyone at the table.
Asian Cuisine
While most people think of Asian cuisine as originating in China, Japan, Korea and Thailand, it also encompasses Uzbek, Turkish, Arabic, Uighur and Indian specialties. Locals who are longing for a break from beshbarmak and other heavy foods for which Kazakh cuisine is known can enjoy the variety offered at other Asian cafes.
Uzbek restaurants are especially common in Kazakhstan, particularly in the south. There is a chain of Uzbek restaurants known for its plov, the signature dish of Uzbekistan. In Almaty and Astana you can find tiny bakeries where each day Uzbeks fire up their large, clay tandoor ovens to prepare hundreds of loaves of bread and a variety of savory samsa pastries. Many restaurants also serve Uzbek barbecue called shashlyk, which is also prevalent in Kazakh culture.
Turkish food in Kazakhstan remains very popular, and there are several chains of Turkish cafes around the country where you can try delicious lahmacun (Turkish pizza), doner kebabs, kofte meatballs and borek pastries. Kazakhstan offers an increasing number of Korean, Chinese, Japanese and Indian restaurants where you can try Japanese rolls, Indian tandoori chicken, Peking duck and Uyghur laghman. Although Thai and Arabic cuisine is still hard to come by, the handful of restaurants found in Almaty and Astana are popular.
Caucasian Cuisine
Cuisine in Kazakhstan is replete with specialties from the Caucasus. Georgian cuisine is loved so much that there are several chains of Georgian restaurants in Astana and Almaty. The Georgian food craze is such that khachapuri bread, khinkali dumplings, kebabs and kharcho soup are now served in many European and Asian cafes.
There are very few Armenian restaurants in Kazakhstan, but those that exist offer khorovats shish kebabs, bozbash soup, kufta meatballs, kchuch stew, dolma grape leaves and other satisfying options.
People in Kazakhstan also love Azerbaijani cuisine, which offers grilled kutab snacks, dushbara dumplings, chigirtma eggplant appetizers and tandoori carp. Azerbaijani restaurants in Kazakhstan are mostly limited to the major cities.
Vegetarian Cuisine
There are a surprising number of people in this meat-loving country who are on a diet or have given up meat altogether. This trend has led to the opening of eateries offering nutritious entrees, including restaurants specializing in vegetarian food.
Vegetarian options for breakfast, lunch and dinner can also be found at many coffee shops and Asian establishments. As vegetarian food in Kazakhstan continue to grow in popularity, the selection of vegan and vegetarian dishes will likely continue to increase.
Kazakhstan tours should include not just sightseeing but the culinary delights of Kazakh national cuisine in all its multinational variety.