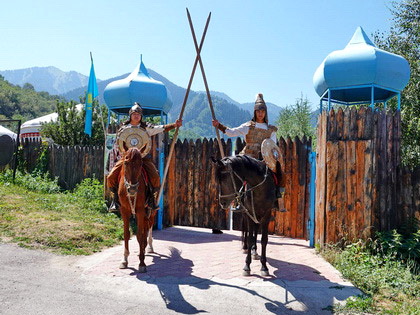 Discover the ancient culture and traditions of Kazakh nomads on this 1-day activity-packed tour to the Huns Ethno Village near Almaty. With a mix of informative talks and demonstrations, folkloric shows, food tastings, and hands-on masterclasses, this tour has something for everybody. Experience a 'day-in-the-life' of Kazakh nomads as you see how tasks like spinning yarn and grinding flour are traditionally done. Learn about the significance of the yurt to nomadic people, and enjoy a folkloric show with music and horse games. Try traditional cooking, crafts, or sports for yourself with a choice of short masterclasses. This Traditions of Kazakh Nomads tour is a unique opportunity to immerse yourself for the day in Kazakhstan's fascinating nomadic culture.
This tour operates every day (except Mondays) between April and October. Prices are valid for departures before October 15, 2020.
Tour itinerary:
Almaty – Huns Ethno Village – Almaty
Depart Almaty at 10:00 for the Huns Ethno Village (40 km, 1 h). On arrival, two warriors in Saka-period battle armour will welcome you with traditional rituals. Your hosts in the village will then take you to a yurt and explain the structure and sacred meaning of the yurt to Kazakh nomads, while you taste baursak (puffy Kazakh bread) and kumis (fermented mare's milk). They'll explain various important aspects of the nomadic way of life, such as everyday tasks like cleaning wool, making yarn with a spindle, and grinding flour. You'll also learn about the customs and rituals associated with major life events, such as besik toi (putting the child in the cradle), tusau kesu (cutting a rope between a baby's legs when he or she starts to walk), or atka otyrgyzu (the first mounting of a horse, intended to help prepare a boy for the nomadic life).
After this, you'll be invited to watch a folkloric show that includes traditional music and horse games. This will be followed by a generous lunch of traditional Kazakh dishes such as plov, baursak, salads, and tea. After lunch, you'll have the chance to take a short masterclass on traditional cooking, craft, or sport. To end the day, walk around the village, have your photograph taken in national costume, or ride on the altybakan (traditional swing).
At 16.00, depart for Almaty, arriving at your hotel at about 17:00.
Price includes:
All transfers;
Local, English-speaking guide;
Entrance to the Ethno Village and all activities listed in the itinerary;
One short masterclass – the masterclasses on offer vary from day to day, but generally include one or more of the following:
- cooking zhent, a traditional Kazakh sweet
- cooking baursak, traditional puffy bread
- making a belbay (loincloth) on a loom
- making a cup holder using the syrmak technique of stitching felt
- archery
- trick-riding on horses
Lunch (with tea and water).
Price does not include:
Accommodation;
Personal expenses;
Personal travel insurance;
Visa fees, visa support, and registration (if required);
Tips are not included, but would be appreciated.