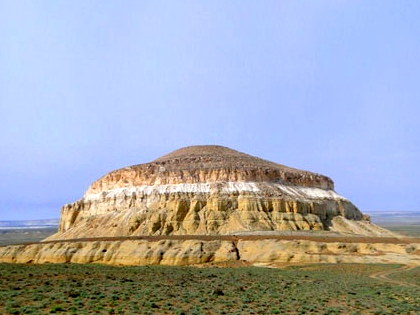 Mangyshlak is an unusual place in the south-west of Kazakhstan. The desert is between two seas where the northern route of the Great Silk Road passed. The main landmark was the city of Sherkala translated as "Lion Mountain". It indeed resembles a lying lion, and from the other side looks like a Kazakh yurt. Besides, the tour will also include visiting monuments of the Stone and Early Iron Age.
Tour itinerary:
Our guide and driver will meet you at your hotel in Aktau. In the Middle Ages Mangyshlak became a trade field and economic relations arena between East and West. Mangyshlak's main landmark is Sherkala mountain. What makes Sherkala mountain unique is that it looks different from different points of view. On one side its shape resembles yurt or turned upside down piala (cup), from the other side it reminds a lurking lion. Sherkala is difficult to climb, and even harder to get off. According to old residents is not recommended to go inside local caves, as it is believed that spirits dwell there. Sherkala is considered to be one of shrines of Mangystau. During sightseeing you will have a chance to visit two cemeteries - Koshkar-Ata and Kalipan. Visit to Tortysh (the Valley of Balls). Tour will be finalized with a transfer back to the hotel.
Duration: 10 hours
Photos by Alexander Petrov.
Price includes:
Guided sightseeing tour;
Entrance fees to the museums, mausoleums and other sights;
Lunch;
Water;
Transport throughout the city tour.