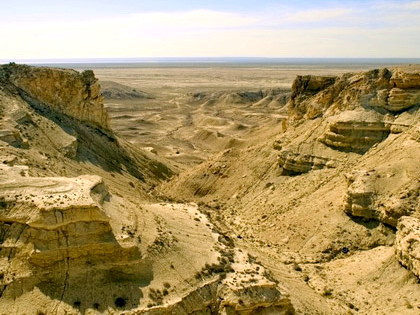 Karagie is a unique natural site in the south-west of Kazakhstan. Its name is translated from Kazakh as "a black hollow". And even though it is not of a black color, but with dominating yellow and white, it is considered as one of the lowest points in the world – it reaches 132 meters below the sea level. They say there used to be a salt lake Batir in place of the hollow some time ago, but now there is only lifeless desert surrounded by massive steeps. One-day tour to these places will allow you to see the beauty of Kazakh deserts, besides they are located only 50km away from Aktau.
Tour itinerary:
Our guide and driver will meet you at your hotel in Aktau. Depart Aktau and drive 50 km to Karagiye depression, one of the deepest in the world. Karagiye depression is the lowest point of Kazakhstan at 132 meters below sea level. It is believed that Karagiye is a bottom of an ancient salt lake Batyr. The southern part of the depression belongs to Karagiye-Karakol reserve, which also protects the lake Caracol. During sightseeing you will also visit the History Museum of Aktau, located at the Caspian engineering complex. Transfer to the hotel. End of the tour.
Duration of sightseeing tour: 5 hours
Price includes:
Guided sightseeing tour;
Entrance fees to the museums, mausoleums and other sights;
Transport throughout the city tour.