Son-Kul Lake, Kyrgyzstan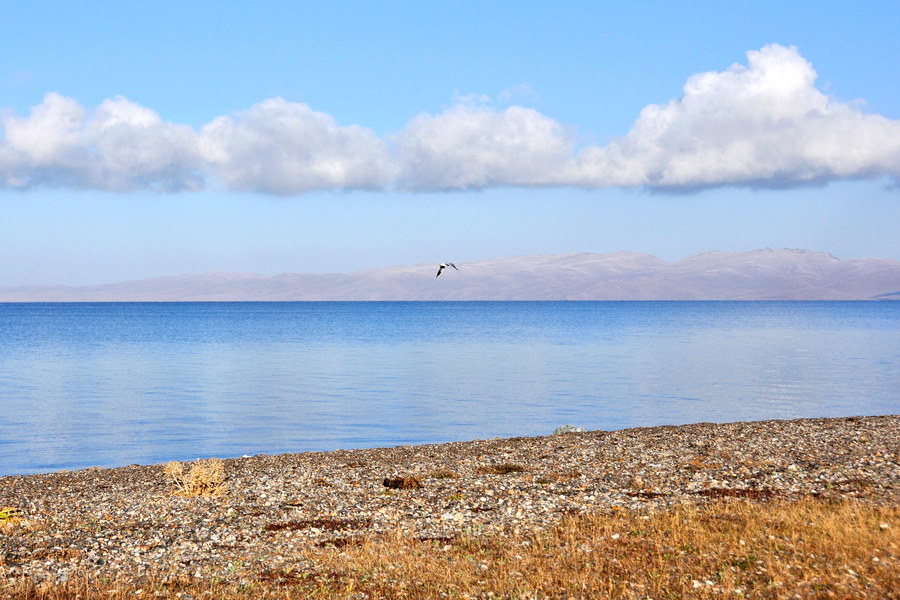 Son-Kul is one of the most famous alpine lakes and mountain meadows in Kyrgyzstan. At an altitude of 3016 m (9895 feet) above sea level, Son-Kul is a startlingly blue lake surrounded by wide, fertile meadows that have long been used by nomadic herders for their animals. Son-Kul is only accessible in the summer (from roughly June to early September), since snow and ice block the road for the rest of the year. There are a number of yurt camps where visitors can stay for a taste of traditional nomadic culture, and the surrounding mountains are great for horseback rides or treks. Located roughly 100 km (60 miles) from Kochkor and 300 km (190 miles) from Bishkek, the road to Son-Kul takes roughly 6-7 hours, and though much of it is paved, some parts are gravel.
In the winter, temperatures at Son-Kul can reach as low as -20° C (-4° F), and there are roughly 200 days of snow a year. During this time, shepherds stay in nearby cities like Kochkor, At-Bashi, and Naryn, where there are more protected spaces for herds to stay during the long winter. This means that there is no one living around Son-Kul in the winter, and the lake itself is practically inaccessible. After the ice on Son-Kul melts in the late spring, the herds and their owners move up to the jailoo, to the broad, rich pastures around the lake. There are no permanent buildings around Son-Kul, only yurts, so people live the same way that they have for centuries.
In the summer, Son-Kul is still relatively chilly because of the high altitude, with temperatures averaging only 11°C (52° F), and dipping below freezing at night. While the yurts often have small stoves that can heat up at night, there is no electricity and running water up at the jailoo. This makes Son-Kul a prime destination for those wanting to live like a nomad for a couple days. Yurts are filled with thick mattresses (but not typical western beds) and blankets, and there are outdoor toilets not far from yurt camps. There are yurt camps that are specifically organized for visitors, and there are also the yurts of local shepherds who live at Son-Kul. Though many locals are friendly and welcoming, it's best to coordinate your visit ahead of time to ensure you have a place to stay and food to eat.
The area around Son-Kul is also a rich ecosystem, with wetlands and mountains right next to each other. There are no trees on the high plains around the lake, but there are lots of herbs and plants that are used for their medicinal properties. Plenty of birds, including falcons and golden eagles, live around Son-Kul, and the mountains are home to deer, foxes, Marco Polo sheep, leopards, and wolves (though these animals tend to stay high in the mountains). The mountains around Son-Kul are popular for hikes and horseback rides, and long and short treks can be organized from the yurt camps at the lake.