Tash Rabat, Kyrgyzstan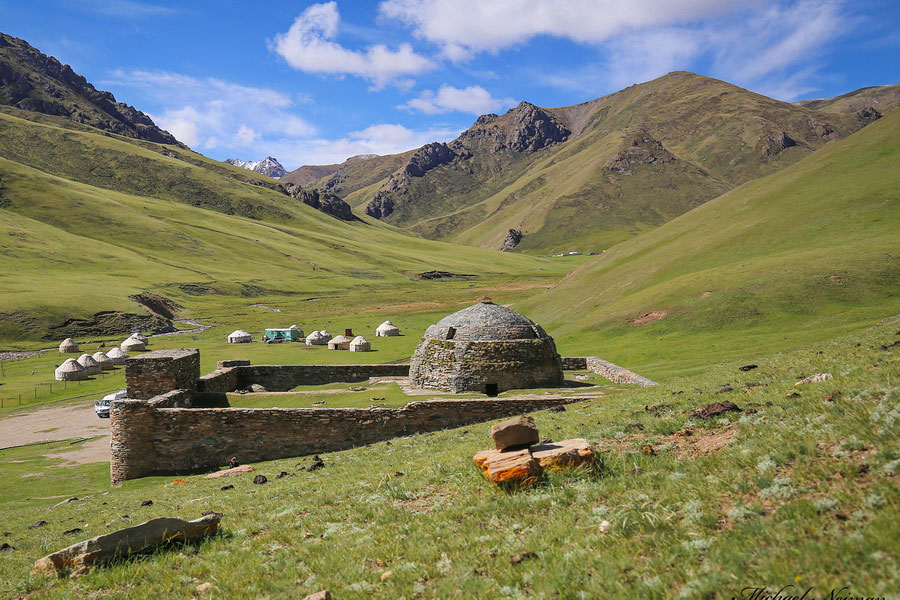 About 520 km from Bishkek, 125 km (1.5 hours), from Naryn, 17 km from the end of the paved road (just after the emergency airstrip) 90 km (1.5 hours) short of the border at Torugart, and at an altitude of about 3500m above sea level is the ancient caravanserai of Tash Rabat. According to one author, this is probably the best-preserved Silk Road site you will find and "no other retains as much of its original atmosphere".
This is a carefully restored stone building that once housed an inn on the Great Silk Road. Its date of origin is strictly unknown - but there is archaeological evidence to suggest that the site was occupied in the 10th century. Set some 15 km up a small, beautiful valley in the foothills of the Tian Shan, embedded against the hillside. There is evidence that it was a place of both rest and worship and would have served to protect caravans to and from China from both the ravages of the weather and of bandits - from before the time of either Tamerlane or Genghis Khan.
There is a legend that says the caravanserai was built by a father and son. As they were finishing their work, only the top of the cupola remained to be finished ... a few stones left to be put into place, a caravan approached over the mountains. The son made to go and greet the travelers - but his father said, "No, let us finish this work first," but the youth did not listen to his father ... he went to greet the caravan. Amongst the travelers was a beautiful young woman, and he fell in love with her ... and when the caravan left, he left with it ... and the father never saw his son again ... and the cupola was never finished.
Maybe one of the reasons it has retained its character is that it is set on the main road from Bishkek/Naryn to Torugart, but some 15 km up a side valley – the Kara Kojun Gorge. For many years the turn-off was not sign-posted and so travelers simply passed by unaware of what they were missing.
Leaving the asphalt road, vehicles have to take a gravel road along the valley of the Tash Rabat river. The slopes are covered with a tussock grass that gives the impression of corduroy and you see herds of horses and yaks, flocks of sheep and goats - and even the occasional camel grazing on the hillsides.