Adventure Tourism in Kyrgyzstan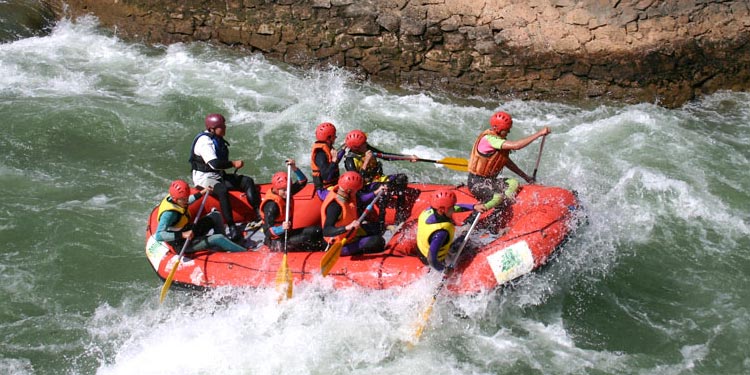 Rafting in Chon-Kemin
Adventure tourism in Kyrgyzstan is boundless exploration of mountains, rivers and valleys, a seemingly continual rush of adrenaline in a land defined by daring peaks and rugged outdoor lifestyles. Practically synonymous with adventure, Kyrgyzstan offers year-round possibilities for intrepid travelers and enthusiastic tourists wishing to live life to the fullest.
Seemingly endless gorges, footpaths and trails in Ala Archa National Park, Jeti Oguz (Seven Bulls) Canyon, Altyn Ararshan Valley and Karakol Region beckon novice and experienced hikers to Kyrgyzstan trekking tours, which can range from half-day jaunts to dayslong excursions. Ride on horseback around Son-Kul Lake or Chaar-Archa Valley, overnighting in yurts with semi-nomadic Kyrgyz along the way. Cycle around pristine lakes and through mountain passes on a biking tour, passing through villages and camping with locals each evening.
If you're not into trekking Kyrgyzstan, why not raft through finely chiseled canyons down the Chon-Kemin, Chu or Naryn Rivers, a great way to appreciate the scenery from a unique angle. Off-road through Altyn-Arashan Gorge on a jeep tour, with the sweeping Tian Shan peaks as your backdrop and bands of evergreen trees as your companions. Cool off in the summer months with a swim at Lake Issyk-Kul near Karakol, where kayaking, paragliding and other sports activities are also available.
Experienced alpinists can set their sights on an ascent to Khan Tengri, Pobeda or Lenin Peak, the three highest points in Kyrgyzstan and some of the tallest mountains in the former USSR. Those who wish to experience their majesty without attempting a full ascent can still fly to the base camp at Khan Tengri Peak for shorter excursions around the mountain.
Although adventure tourism in Kyrgyzstan is generally geared toward the warmer seasons, winter affords the perfect opportunity for a ski tour. Kyrgyzstan boasts of several ski-worthy slopes, the most notable being Karakol Ski Resort, the country's most developed winter resort.
Consider adventure-based Kyrgyzstan tour packages for your next vacation and prepare to let loose on a thrilling discovery of this outdoor paradise.