Cultural Tourism in Kyrgyzstan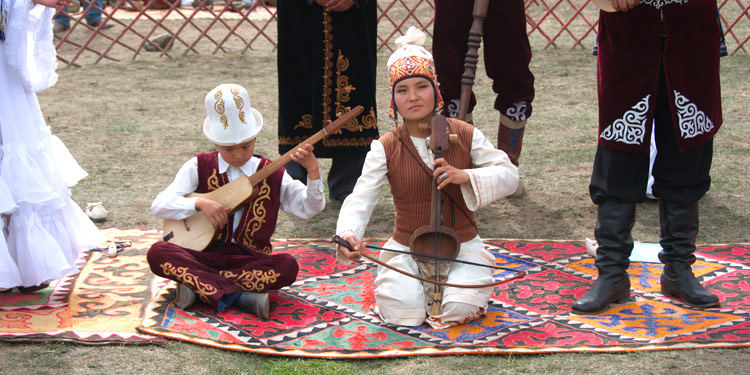 Kyrgyz Musical Instruments
Cultural tourism in Kyrgyzstan is one of the most delightful and unforgettable ways to travel this mountainous Central Asian land.
Embrace the nomadic heritage which forms the backbone of Kyrgyzstan culture by camping out in a traditional yurt. You'll spend your time with semi-nomadic Kyrgyz families who flock to the mountains around Lake Issyk-Kul in the warm summer months to graze their animals and escape the heat. Opt for a homestay when overnighting in small towns and villages, where you'll be further introduced to local customs and friendly families.
Local cuisine is a tantalizing component of Kyrgyz culture and a great excuse for bonding with new friends. Watch women in the yurt camps make kymyz, a favorite local drink made from mare's milk, or learn how to make tasty fried dough balls called boorsok at a cooking masterclass in the village of Jergalan. Enjoy homemade national dishes at local festivals and holidays such as Navruz. Have an ethnic lunch with a minority Uyghur or Dungan family in the eastern Kyrgyzstan city of Karakol, and be sure to try unbeatable Uzbek plov in the cafes of Osh and Jalalabad.
Learn the intricacies involved in the ancient art of falcon and eagle hunting at the Birds of Prey Festival near Kochkor, held each year in early August, or at an eagle-hunting show in Bokonbaevo. Cheer from the sidelines during a lively round of Ulak Tartysh (Goat Pulling), the national game of Kyrgyzstan. You can even participate in various local games such as "Arkan Tartmai" (Tug of War) during gatherings and cultural demonstrations in Issyk-Kul Region.
The arts are integral to local culture and a colorful component of cultural tourism in Kyrgyzstan. Enjoy national song and dance performances at festivals, yurt camps and cultural centers, where you can also learn about unusual local instruments. Participate in felt and carpet workshops in Kochkor and shop for homemade handicrafts at Bishkek's Osh Bazaar or at regional crafts centers designed to promote sustainable and ecotourism in Kyrgyzstan.
Unusual landmarks such as the colorful Dungan Mosque and wooden Holy Trinity Cathedral in Karakol, the Rukh Ordo Cultural Center in Cholpon-Ata and multiple museums scattered throughout Kyrgyzstan's cities can add another dimension to your understanding of local culture.
Kyrgyzstan tourism is replete with fun, authentic and unusual opportunities to engage with the hospitable Kyrgyz people. Come and experience it all for yourself!