Tourism in Kyrgyzstan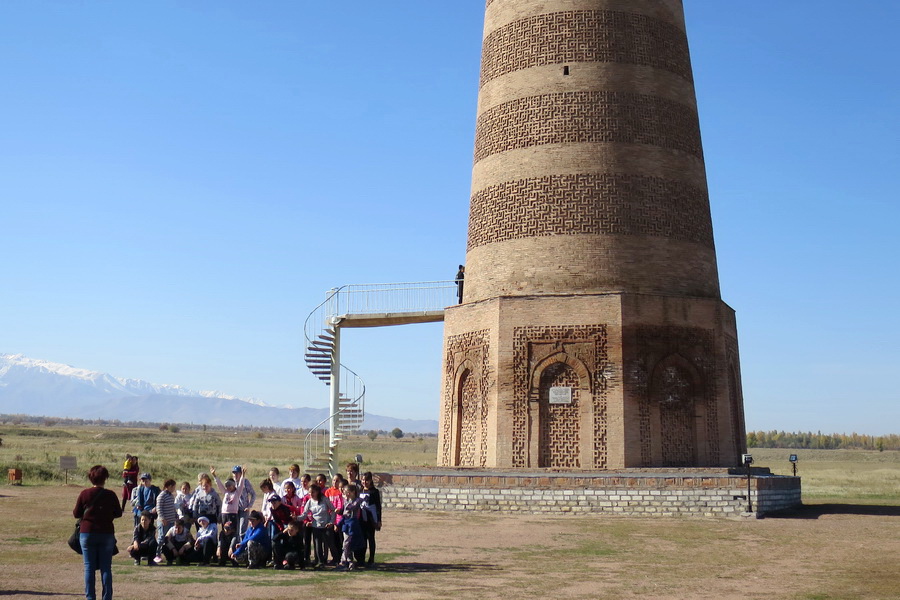 Tourists visit the archaeological and architectural complex «Burana Tower»
Kyrgyzstan is most famous for snowy peaks, high alpine meadows, broad grasslands filled with the fragrances of plants and flowers, clear mountain rivers, and serene mirrored lakes scattered among the tall peaks. Tourism in Kyrgyzstan introduces you to these wild natural spots, as well as the ancient history of the Silk Road. Any tour in Kyrgyzstan will be a unique, off-the-beaten-track experience that will be sure to create memories for a lifetime.
Kyrgyzstan is at the peak of the Eurasian continent, at the center between east and west. Despite being a relatively small country, Kyrgyzstan is home to three peaks over 7,000 m (22,965 feet). This figure is not very surprising, considering that 94% of the country is over 1,000 m (3,280 feet) above sea level, and 80% is taken up by the rugged Tian Shan range. The best way to experience the variety of climate zones is to simply go hiking, since trails pass through coniferous forests, tundra vegetation, high pastures, and rocky mountain peaks.
Historical Tourism
Historical tourism in Kyrgyzstan spans the events of millennia and digs into layers of half-forgotten history as it resurrects the memory of nomads, settlers and merchants of the past. Step into early history at Cholpon-Ata Petroglyphs, which offer a rare glimpse into the pre-Islamic lifestyle of the Tian Shan Mountain's early inhabitants. Piece together portions of the past at nomadic museums and interactive demonstrations of yurt constructions, or visit the remains of the medieval captial cities Uzgen and Balasagun. Uncover Kyrgyzstan's most glorious Silk Road site at Tash Rabat Caravanserai, whose dubious origins and remote mountain locale only add to its mystique and enduring allure. Historical tourism in Kyrgyzstan certainly would not be complete without a look into modern history in Bishkek, Karakol and other cities. Read more about historical tourism in Kyrgyzstan here.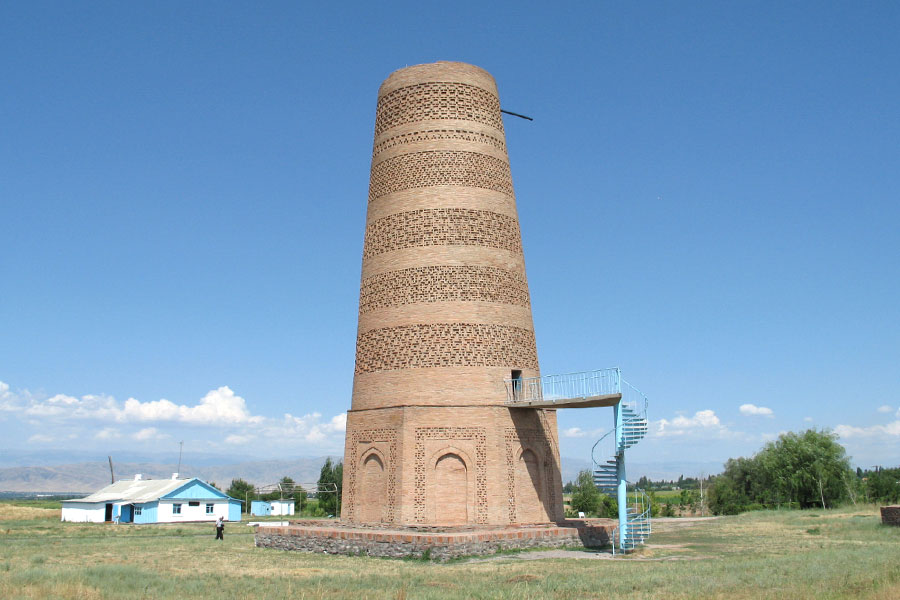 Adventure Tourism
For those who love mountain sports, tours in Kyrgyzstan are ideal. The mountain rivers have recently become famous among lovers of rafting. Hiking and climbing have long been popular, with plenty of established routes, as well as plenty of new and remote destinations. In the winter, skiing and snowboarding are popular, and in the summer, mountain biking is one of the best ways to take advantage of the slopes. Particularly courageous visitors can try hang gliding, parachuting, or base jumping. For those who want to go far and wide, treks (both on horseback and on foot) are the ideal way to go deep into the mountains and reach isolated lakes and gorges. Read more about adventure tourism in Kyrgyzstan here.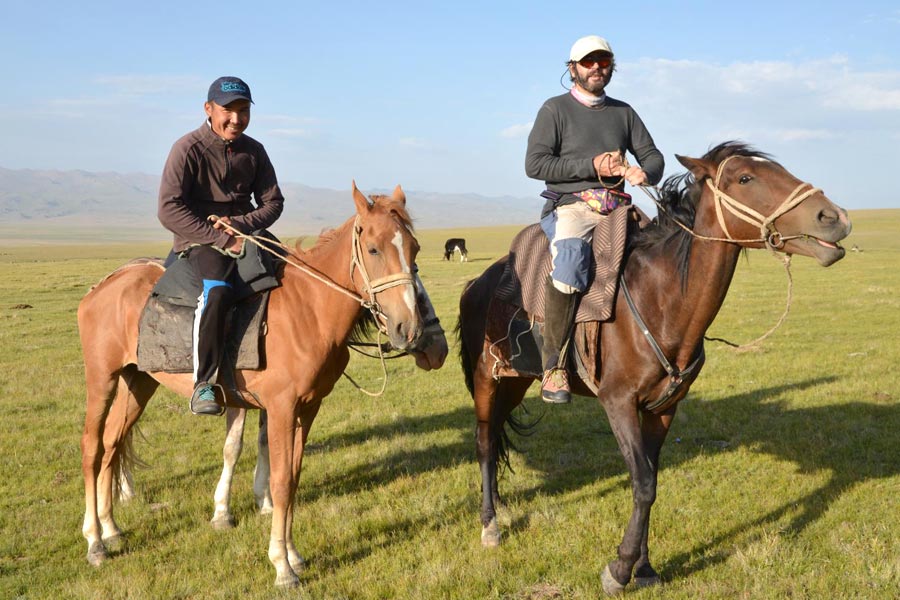 Cultural Tourism
Tourism in Kyrgyzstan can also offer a lot for the tourist who isn't interested in extreme sports. Museums around the country show off Kyrgyzstan's culture and history, both of which are storied and rich. Kyrgyzstan's history stretches back centuries, back to when the Silk Road brought traders and merchants crossing back and forth Eurasia, and when Kyrgyzstan was in the center of empires and civilizations. Influences from China, Persia, Turkey and Russia are still prominent today, both in the historical sites and in Kyrgyzstan's art. The archaeological sites and petroglyphs attest to Kyrgyzstan's long history, and the bazaars are a slice of the ancient Silk Road that lives on to this day. Yurt camps and different festivals give visitors the opportunity to immerse themselves in traditional nomadic life and its traditions and customs. Read more about cultural tourism in Kyrgyzstan here.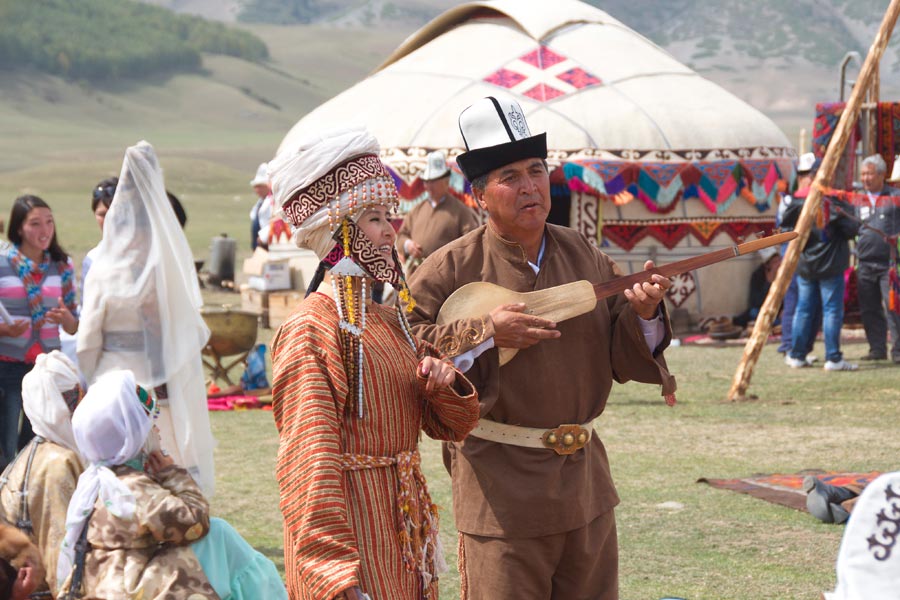 Nature Tourism
The most famous site in Kyrgyzstan is Lake Issyk-Kul, the second largest alpine lake in the world. Surrounded by ice-capped peaks, Issyk-Kul is famous because it never freezes, even in the depths of winter (evaporation leaves the lake slightly salty, which makes Issyk-Kul also the second largest saline lake in the world, after the Caspian Sea). The north shore is lined with famous resorts and beaches, including Cholpon-Ata, home to ancient petroglyphs. The south shore is known for its natural attractions, with treks heading out into the Terskey Ala-Too range, and to the glaciers beyond Karakol.
Those who prefer to experience nature at a more leisurely pace can enjoy the pristine mountain pastures commonly found in Kyrgyzstan. These valleys, gorges, lakeshores, and meadows have been used by shepherds for thousands of years as summer pastures, or jailoos. Here, far from civilization and surrounded by yurts and clean air, one can feel relaxed and refreshed, and in harmony with nature. Many locations have short treks or horse rides, lasting from a couple hours to a couple days, for those who want to try a little adventure without a huge time commitment. Read more about nature tourism in Kyrgyzstan here.
Tourism in Kyrgyzstan has something to offer every tourist, from the thrill-seeker to the escapist to the cultural enthusiast. The mountains are the perfect place for hiking, riding, skiing or rafting, or even just for relaxing in the crisp, fresh air. Issyk-Kul is ideal for a vacation with all the amenities, but that's still gorgeous and unique (and the swimming can't be beat). Even besides the spectacular nature, Kyrgyzstan has archaeological sites and cultural centers that will leave impressions with visitors for a long time to come.