Historical Tourism in Kyrgyzstan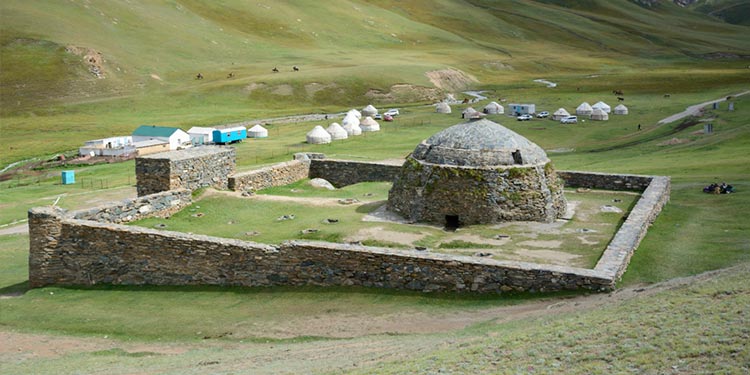 Torugart Pass
Historical tourism in Kyrgyzstan spans the events of millennia and digs into layers of half-forgotten history as it resurrects the memory of nomads, settlers and merchants of the past.
Step into early history at Cholpon-Ata Petroglyphs, which offer a rare glimpse into the pre-Islamic, sedentary lifestyle of the Tian Shan Mountain's early inhabitants. Hundreds of impressively preserved rock carvings depict animals, chariots and hunters in a vast outdoor arena believed to have been an open-air temple to the sun. Meanwhile, Tamga Tash and Ak-Sai Petroglyphs near Issyk-Kul Lake are attributed to Tibetan settlers of the early medieval period, a tangible reminder of the region's diverse influences over the centuries.
Early nomadic Kyrgyzstan people did not, by nature of their transitory lifestyle, leave abundant traces of their wanderings in their wake. Yet determined travelers today can still piece together fragmented portions of the past at the Museum of Nomadic Civilization in Issyk-Kul Region and the Issyk-Kul Historical and Cultural Museum in Cholpon-Ata. Overnighting in a mountain yurt with today's small population of semi-nomadic Kyrgyz in the east, interactive demonstrations of yurt constructions near Bishkek and various festivals which celebrate the traditional Kyrgyz lifestyle all serve to bring this essential heritage to life.
Kyrgyzstan wasn't only tents and travelers, however. In the 9th century the formidable Karakhanid Empire rose to power in the region, with ancient Uzgen near Osh and Balasagun near Bishkek serving as regional capitals for centuries. Today, visitors can admire the minarets, mausoleums and bathhouses in still-inhabited Uzgen and the famous Burana Tower marking the location of Balasagun, which now lies deserted.
By the Middle Ages, Silk Road caravans had carved crude passageways through the treacherous mountain territory on their journey to and from neighboring China. The present-day city of Naryn was one such ancient stopover, as was the city of Osh. The long-revered Sulayman-Too Mountain in Osh still marks a halfway point on the Silk Road, while the lingering shadow of bygone travelers takes on living, breathing form at the lively Jayma Bazaar. Yet Kyrgyzstan's most glorious Silk Road site is Tash Rabat Caravanserai, whose dubious origins and gorgeous remote mountain locale near the Chinese border only add to its mystique and enduring allure.
Historical tourism in Kyrgyzstan would not be complete without a look into modern history. Anyone curious about Kyrgyzstan's Soviet era will appreciate the Kyrgyz State Historical Museum and Victory Square in Bishkek, as well as the Przhevalsky Museum in Karakol. Much of Bishkek, including the central Ala-Too Square, provides a classic example of Soviet-era architecture. If you time your visit to Ala-Too just right, you may even get to watch the changing of the guards. Further south, the giant Lenin statue in Osh stands in strange juxtaposition with a giant Kyrgyzstan flag, a fitting reminder of the nation's hard-earned independence.
Come interact with local history through independent travel or pre-arranged Kyrgyzstan tourism packages as you deepen your understanding of this ancient land.